Published 07-12-18
Submitted by Sodexo
Sodexo, a food services and facilities management company committed to improving Quality of Life, announced that is has been named as Purchased Services Supplier of the Year by Vizient, Inc., the largest member-driven healthcare performance improvement company in the country.
Sodexo provides Vizient members with Food and Nutrition Management, Environmental Services, including Patient Transport and Service Response Center, along with Clinical Technology Management and Facilities Management.
Vizient represents a diverse membership base that includes academic medical centers, pediatric facilities, community hospitals, integrated health delivery networks and non-acute healthcare providers with more than $100 billion in annual purchasing volume.
"We are honored to partner with Vizient to offer customized approaches for its members' unique needs," said Catherine Tabaka, CEO of Sodexo Healthcare North America.  Ultimately, our goal is to help healthcare providers deliver outstanding care."
Sodexo Healthcare in North America provides Quality of Life Services in Facilities Management, Environmental Services, Clinical Technology Management and Food & Nutrition at 1,200 client sites with more than 35,000 employees. 
For more information, please see the following release on Vizient's website: Press Release
About Sodexo North America
Sodexo North America is part of a global, Fortune 500 company with a presence in 80 countries. Sodexo is a leading provider of integrated food, facilities management and other services that enhance organizational performance, contribute to local communities and improve quality of life for millions of customers in corporate, education, healthcare, senior living, sports and leisure, government and other environments daily.  The company employs 133,000 people at 13,000 sites in all 50 U.S. states and Canada and indirectly supports tens of thousands of additional jobs through its annual purchases of $9.2 billion in goods and services from small to large American businesses. In support of local communities across the U.S., the Sodexo Stop Hunger Foundation has contributed close to $32 million over the past 20 years to help feed children in America impacted by hunger.  To learn more about Sodexo, visit SodexoUSA.com, SodexoInsights.com and connect with us on Facebook and @SodexoUSA on Twitter.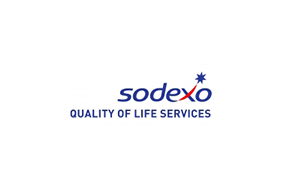 Sodexo
Sodexo
Sodexo, Inc. (www.sodexoUSA.com ) is a leading integrated facilities management services company in the U.S., Canada, and Mexico, with $7.7 billion (USD) in annual revenue and 120,000 employees. Sodexo serves more than ten million customers daily in corporations, health care, long term care and retirement centers, schools, college campuses, government, and remote sites. Sodexo, Inc., headquartered in Gaithersburg, Md., is a member of Sodexo Group, and funds all administrative costs for the Sodexo Foundation (www.sodexofoundation.org ), an independent charitable organization that, since its founding in 1999, has made more than $11 million in grants to fight hunger in America.
More from Sodexo