Published 05-03-18
Submitted by Centre for Sustainability & Excellence (CSE)
Improved sustainability performance is linked to professional sustainability education, as shown in the recent research of the Centre for Sustainability and Excellence (CSE) on Sustainability Reporting Trends in N. America.
US and multinational corporations and organizations alike need a critical mass who understand sustainability and all its components.  More and more companies are managing sustainability to improve processes, pursue growth, and add value to their companies rather than focusing on reputation alone. To achieve this in a cost-effective way, companies are looking for options to educate their employees and other stakeholders, not only as part of their social commitment, but also to establish a 'common language' across departments which will lead to increased productivity, increased morale and improved carbon footprint.
The ROI is indisputable:
Shareholders – the American Society for Training and Development found that an increase of $680 in training per employee generates nearly a 6% improvement in shareholder return.  Firms investing the most in training and development yielded a 45% higher return than the market average, along with higher profit margins and higher income per employee.
Increase market share – a Nielsen survey in 2015 found that 72% of Millennials "are willing to pay more for products and services that come from companies who are committed to positive social and environmental impact."
Increased efficiency – after training, an HSBC "Climate Champion" activated software to automatically shut down computers along with an awareness program which together saved 4 million kilowatts per year of electricity and nearly 900 metric tons of carbon dioxide, saving $332,000 on energy bills.
Satisfied employees – research has found that a 2% increase in productivity can net a 100% return on investment in training (CompTIA and Prometric).  For every dollar on training, Motorola found an almost 30% gain in productivity over three years, reduced costs by over $3 billion and a 47% increase in profits.
Employee retention – Louis Harris & Associates found that 41% of employees without training opportunities plan to leave within one year versus only 12% of those with excellent training opportunities.  AON found that employees rank "opportunities for personal growth" ahead of salary!
Flexible, affordable, certified sustainability practitioner training is the rationale behind the advanced group online courses offered by CSE's Sustainability Academy, recently awarded by Silicon Valley Community Foundation  as Gold Standard in Corporate Responsibility.
These group courses, already trusted by hundreds of Fortune 500 organizations, such as Coca-Cola, Workday, United Nations Federal Credit Union, Elanco, Dematic, Pepsico, Timberland, offer updated and practical information on the business case for sustainability, sustainability reporting, stakeholder engagement, carbon reduction, ESG performance and the use of standards and guidelines to implement successful sustainability strategies organization-wide.
For more information, please contact communications@cse-net.org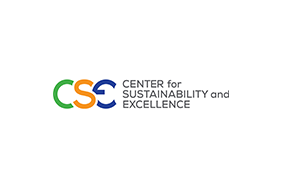 Centre for Sustainability & Excellence (CSE)
Centre for Sustainability & Excellence (CSE)
CSE is a global Leading network providing Sustainable Development Solutions to organizations & a Think Tank with offices in Brussels Athens & Dubai. CSE cooperates with international organisations, such as the EFQM (European Foundation for Quality Management), GRI (Global Reporting Initiative), UN Global Compact (United Nations Global Compact), EBEN (European Business Ethics Network), Forum for International Communications and the European Commission. CSE supports, on their journey towards sustainability, leading organizations such as Lloyds TSB, Eurocontrol, Dell, BP, DHL, Lafarge (Aget Heracles), Mc Cain, Bank of Cyprus and many others including the European Investment Bank, the largest financial Investment Institution of the European Union and the Government of Dubai (Dubai Center for Corporate Values ,DIFC, TECOM, DAFZA). The global presence of CSE is enhanced by numerous activities carried out in many countries/regions including the United Kingdom, Belgium, Luxemburg, Germany, Spain, Italy, Cyprus, Bulgaria, Romania, Turkey, Russia, China and the Middle East.