Published 03-16-18
Submitted by ACRE Investment Management
Our conservation finance mission is to put a price and value on our natural capital and enlarge the spirit of capitalism, creating Conservation Capitalism --- where Conservation has a purpose and Capitalism a heart. 
To have begun with a bold new vision of forestation to help "replenish the earth;" conceive a path that values the nobility of land; examine its modern limits inside the spheres of tax, ownership principle, capital markets, and policy; forge constituencies who have never negotiated in the same room before, and earn their trust; mesh designs of nature to those of mathematics well; succeed with high quality companies in a world of competing corporate loyalties; adjust a new set of ecological equivalencies to a world of old economic understandings; build a product without a market or price structure in place; assume demand that will appear, when there is none; spend money that may not return, promise landowners 50% of every dollar which does, and attach belief to an asset - carbon - no one can see; press a proposition that "if it pays, conservation stays," and only a sustainable financial investment process can hitch itself to success and scale; work on land with strategic value, in an region too few have come to value enough; endure with a project during the 2008 national wealth compression; witness, concurrently, the collapse of a carbon "cap and trade" market floor; watch the flight of traders flee the field; see our first young trees by the millions, during two century high flooding seasons, overcome nature's hardship; adapt the vision continually while never changing its purpose, coherence, or direction; make every problem whole, every obstacle dissolve; turn each stumbling block into a stepping stone; every opportunity into an asset; then assets into achievements; and achievements into brand; and, finally, draw lines rather than give in to them, sculpt a future rather than imitate a previously carved one, and create a broad and permanent new legacy - is to accomplish much since C2I's founding on March 17, 2003. The expression of which is codified under ACRE Investment Management (AIM) platform. 
Today, ACRE Investment Management (AIM) platform has four distinct divisions. Big River is the leading cottonwood nursery producing 10 million cuttings per year. Forest Green works with consumer-facing companies to offer decarbonized products. GreenTrees is the leading carbon reforestation in North America. With its 500-landowner partners, the GreenTrees program is comprised of 120,000 acres of bottomland hardwood forests producing 99% of all issued reforestation credits in North America to date. Finally, Conservation+ works with landowners to create a portfolio approach to their land holdings incorporating carbon, nutrients, wetlands, stream, water storage credits, land preservation credits and so much more.
Creating Scale Through Vision and Velocity requires a special team! To this end, we would like to thank all our partners, our landowners, our clients, our employees both present and past, our professional consultants, our friends and our families. We would not be where we are without you. While much has been accomplished, it is also a new beginning. Today is Day One!
For more info visit us at www.acre-investment.com or download our brochure.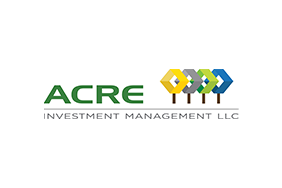 ACRE Investment Management
ACRE Investment Management
ACRE Investment Management, LLC (AIM) is a wholly owned investment platform created by C2I, LLC. The AIM platform is designed to both deploy the ACRE mechanism across a portfolio of companies while driving scaled impact into the restoration economy.
The ACRE (Advanced Carbon Restored Ecosystem) represents all the environmental and conservation attributes associated with the restoration and/or conservation of one physical acre of property. We recognize that there is a genius to nature. Ultimately, ACRE is about putting a price and value on its services—water, wildlife, carbon and so much more.
A recent study commissioned by C2I, the parent company of AIM, states that reforestation brought to scale around the world can sequester as much as 15% of the world's current emission output. This scale will lead to a ten-percent reduction of of Global Mean Temperature (GMT) in absolute terms.
As the world races to prevent a 2 degree C rise of GMT, reforestation is the only immediately scalable solution. Given 1/3 of all the emissions has come from deforestation, it only makes sense that we embrace the power of nature and restore ecosystems around the world and do it on scale.
More from ACRE Investment Management