Published 02-12-18
Submitted by Sodexo
 Sodexo, a food services and facilities management company, announced today that it has been named to Bloomberg's 2018 Gender-Equality Index (GEI) for its advancement in gender equality.
"We are thrilled to be recognized for our efforts to advance women in workplace," said Rohini Anand, PhD., Senior Vice President Corporate Responsibility & Global Chief Diversity Officer, Sodexo. Dr. Anand who is Co-Chair of Sodexo Women's International Forum for Talent (SWIFt), a committee of senior executives with the purpose of advocating for gender balance within the organization, added  "While we are excited about our progress, we recognize that there is more to do and we cannot rest on our laurels."
In 2017, Sodexo made a commitment to have 40 percent of senior leadership made up of women leaders by 2025. The company has 32 percent of women in leadership positions currently.
The Bloomberg GEI comprises a global universe of companies from all sectors with a market capitalization of USD 1B or greater and have at least one security trading on a U.S. exchange. Companies that earn a Bloomberg Gender-Equality Index score at or above a globally established threshold is featured as an annual member of the index. The 2018 GEI features 104 companies from 24 countries and regions.
Sodexo has been recognized for many of its diversity initiatives including being named as a Catalyst award winner in 2012. In 2017, Sodexo ranked in the top 10 of DiversityInc magazine's 'Top 50 Companies for Diversity' list for the 9th consecutive year and the Best Companies for Multicultural Women list by Working Mother Magazine. Sodexo was also recognized by FORTUNE Magazine three times in 2017 making FORTUNE Magazine's World's Most Admired Companies list, FORTUNE Magazine's Change the Word list and the FORTUNE 500 list. 
About Sodexo USA
Sodexo USA is an American business that is part of a global, Fortune 500 company with a presence in 80 countries. Delivering more than 100 services across North America that enhance organizational performance, contribute to local communities and improve quality of life, Sodexo is a leading provider of sustainable, integrated facilities management and food service operations. It employs 123,000 Americans at 12,500 sites across the country and indirectly supports tens of thousands of additional U.S. jobs through its annual purchases of $9.2 billion in goods and services from small to large American businesses. In support of local communities across the U.S., the Sodexo Stop Hunger Foundation has contributed close to $30 million over the past 20 years to help feed children in America impacted by hunger.  To learn more about Sodexo, visit SodexoInsights.com and connect with us on Facebook and @SodexoUSA on Twitter.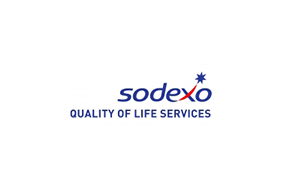 Sodexo
Sodexo
Sodexo, Inc. (www.sodexoUSA.com ) is a leading integrated facilities management services company in the U.S., Canada, and Mexico, with $7.7 billion (USD) in annual revenue and 120,000 employees. Sodexo serves more than ten million customers daily in corporations, health care, long term care and retirement centers, schools, college campuses, government, and remote sites. Sodexo, Inc., headquartered in Gaithersburg, Md., is a member of Sodexo Group, and funds all administrative costs for the Sodexo Foundation (www.sodexofoundation.org ), an independent charitable organization that, since its founding in 1999, has made more than $11 million in grants to fight hunger in America.
More from Sodexo