Published 01-23-18
Submitted by Ray C. Anderson Foundation
The Trustees of the Ray C. Anderson Foundation have granted an additional $2 million to The Ray over the next two years, to fund important research, pilot projects and emerging technologies with the potential to shape the transportation infrastructure of the future.
The Ray C. Anderson Foundation is a private family foundation that honors and shares the values that Ray C. Anderson (1934-2011), Founder and Chairman of Interface Inc., set forth when he put his company on a path to sustainability in 1994.
The Ray was one of the Foundation's first key funding initiatives, beginning with the 2014 naming of an 18-mile corridor on Interstate-85 in West Georgia as the "Ray C. Anderson Memorial Highway." In the year that followed, the Foundation created The Ray as an independent nonprofit, empowering it to catalyze the corridor into a global model for regenerative transportation.  Between 2015 and 2017, the Foundation granted approximately $2.5 million in funding to pursue this work.
"The Ray began with a single idea from Harriet Langford, Ray's daughter and Trustee of our Foundation," says John A. Lanier, Executive Director of the Ray C. Anderson Foundation. "Just as her father did with Interface, Harriet asked, 'What if we made this sustainable?' That question was a seed that has grown into so much more, and we are proud to be the lead funders of such a remarkable project."
"I think of The Ray as an epiphany of the Ray C. Anderson Foundation," said Harriet Langford, President of The Ray. "It has given me the opportunity to carry on my father's work. We're not putting solar panels on the side of the road and calling it green; we're fundamentally changing our assumptions and expectations of highway infrastructure. Roads can be safe, sustainable, and regenerative. We're proving that and the world is starting to notice."
The Ray has become a proving ground for the evolving ideas and technologies that will transform transportation infrastructure.  Current pilots and demonstrations on The Ray include: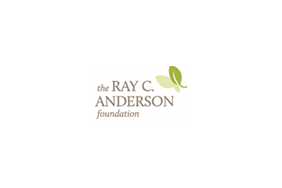 Ray C. Anderson Foundation
Ray C. Anderson Foundation
The Ray C. Anderson Foundation was created in honor of the late Ray C. Anderson (1934-2011), founder of Interface, Inc. During his time at Interface, Ray championed the notion of businesses doing well by doing good. It's these noble qualities of advancing knowledge and innovation around environmental stewardship and sustainability that recognized Ray as a pioneer in industrial ecology.
The purpose of the Foundation is to perpetuate these shared values and continue the legacy that Ray left behind. Through research and funding, the Foundation aims to help create a better world for future generations—tomorrow's child. Join us as the story of the Foundation continues to unfold.
More from Ray C. Anderson Foundation