Published 12-29-17
Submitted by Sodexo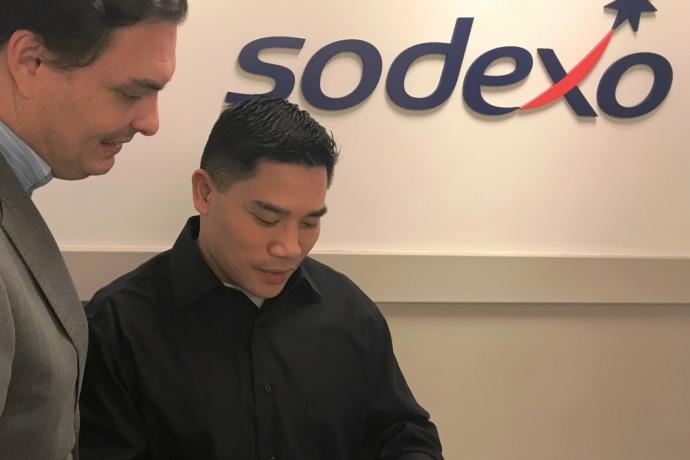 Chief Warrant Officer Four Joey Espanola (black shirt) is spending a year with Sodexo, the nation™s largest federal foodservice contractor participating the United States Army's highly coveted Training With Industry Program.
Sodexo, a food services and facilities management company, is working directly with the United States Army in support of its highly coveted Training With Industry Program, an initiative developed to create a group of soldiers experienced in higher level managerial techniques and who have an understanding of the relationship of their industry as it relates to specific functions of the Army.
Through the Training With Industry Program, which was initiated in the 1970s in response to the Army's critical need for officers with state-of-the-art skills in industrial practices and procedures not available through military or civil education programs, Chief Warrant Officer Four Joey Espanola is spending a year with Sodexo, the nation's largest federal foodservice contractor.
"The Training With Industry Program offers me a tremendous opportunity to learn best practices from a leading organization in my industry," said Joey Espanola, Chief Warrant Officer Four, United States Army. "Not only will this year-long program allow me to grow both as an Army officer and foodservice professional, but the lessons I learn from Sodexo and its talented team of professionals will directly benefit the Army and the way we operate.
During his time with Sodexo, Esanola, who served as the Installation Senior Command Food Advisor at Fort Irwin in California, will take a deep dive into both the company's procurment and offer development processes. For the latter, Espanola will explore the development and implementation of the offer, conclusing with a focus on how it is operationalized at Sodexo locations.
"When the opportunity arose, we jumped at the chance to share our expertise with the Army through the Training With Industry Program," explained Deborah Roberts, CEO, Sodexo Government, North America.  "As an organization that works directly with multiple military branches, we understand how industry best practices can benefit those groups. We are excited to have Chief Warrant Officer Four Espanola join our team for the next year. We will both share learnings as he explores the many different facets of our offer development process," added Roberts.
With more than 40 years of experience working municipal, state, federal and military clients, Sodexo's Government segment and its nearly 3,000 employees, improve the Quality of Life for the people it serves at 150 military and U.S. Federal Government locations in 26 states. Headquartered in the Washington, D.C. metropolitan area, Sodexo provides a variety of integrated food and facilities management solutions and is the nation's largest federal foodservice contractor – serving 45.6 million meals annually with a focus on wellness and nutrition.
-XXX-
Sodexo USA is an American business that is part of a global, Fortune 500 company with a presence in 80 countries. Delivering more than 100 services across North America that enhance organizational performance, contribute to local communities and improve quality of life, Sodexo is a leading provider of sustainable, integrated facilities management and food service operations. It employs 123,000 Americans at 12,500 sites across the country and indirectly supports tens of thousands of additional U.S. jobs through its annual purchases of $9.2 billion in goods and services from small to large American businesses. In support of local communities across the U.S., the Sodexo Stop Hunger Foundation has contributed close to $30 million over the past 20 years to help feed children in America impacted by hunger.  To learn more about Sodexo, visit SodexoInsights.com and connect with us on Facebook and @SodexoUSA on Twitter.
Contact: Enrico Dinges, Sodexo, Inc., 301-987-4393, enrico.dinges@sodexo.com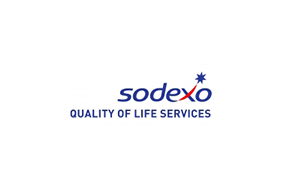 Sodexo
Sodexo
Sodexo, Inc. (www.sodexoUSA.com ) is a leading integrated facilities management services company in the U.S., Canada, and Mexico, with $7.7 billion (USD) in annual revenue and 120,000 employees. Sodexo serves more than ten million customers daily in corporations, health care, long term care and retirement centers, schools, college campuses, government, and remote sites. Sodexo, Inc., headquartered in Gaithersburg, Md., is a member of Sodexo Group, and funds all administrative costs for the Sodexo Foundation (www.sodexofoundation.org ), an independent charitable organization that, since its founding in 1999, has made more than $11 million in grants to fight hunger in America.
More from Sodexo