Published 12-19-17
Submitted by Maala - Business for Social Responsibility
Above: Photo by Sharon Amit Below: Photo by Yoav Zohar - Click to watch video
Recycled shampoo bottles and two new CSR bond-indexes were launched at the second annual Maala International Conference, which was held on 29-30 November by Maala – Israel's Corporate Social Responsibility (CSR) organization, with the theme of innovation for good life.
The next steps in sustainability via innovation were presented by global corporations such as Microsoft and P&G, as well as leading Israeli companies like Strauss, Teva, Bank Hapoalim and Shikun & Binui. Innovative products that support meaningful relationships; solutions for smarter sustainable cities; and food-tech to improve people's nourishment. "What was really impressive was to actually see how in banking, hi-tech, pharma, utilities and construction – sustainability is authentically imbedded in R&D work, in a way that makes one optimistic on how Israel can contribute to the SDGs" said Maala CEO, Momo Mahadav.
Standing out in the connection between sustainability and innovation was Virginie Helias, VP Global Sustainability at P&G, who presented the first ever recycled plastic shampoo bottle, comprised of 10% plastic washed up on shores and 90% plastic recycled by consumers. The participants were handed samples of the shampoo bottles, which will be available in Israel in April 2018.
The conference featured roundtable discussions with international ESG investors, analysts and raters, alongside top Israeli companies with the topic of how can Israeli market leaders attract sustainable investors. The session was moderated by Yael Almog, who heads a unique new C-suite position at Bank Hapoalim of engagement and stakeholder dialogue. As part of the discussion, Sasja Beslik, Head of Group Sustainable Finance at Nordea Bank, emphasized his commitment to fully explore on the ground the positive impact on local communities that each investment could bring. This was echoed by Ulrika Hasselgren, Global Head of Responsible Investment Strategy and ESG Integration at ISS, who reminded the importance of putting local stories into an outsiders perspective and warned investors from the hazard of the stories being lost in translation.
This session coincided with the launching of two new ESG bond indexes on the Tel Aviv Stock Exchange (TASE). As the CEO of the TASE, Ittai Ben Zeev, explained, "Given the high performance of the existing Maala index, we found it fit to expand the family with new CSR indexes, thus creating a new platform for international investors to invest in the Israeli market".
Participants from more than 120 businesses, 80 organizations and government agencies were among the 800 attendees of the two-day Conference. Among others, the conference showcased a unique side event where, Bank Leumi, one of Israel's largest banks, acknowledged a number of its suppliers that entered the Maala mid-size CSR index, thus expressing that the company will reward its suppliers who are committed to CSR. Maala pointed out that this is a way to expand CSR work to the tier of small and mid-size companies.
During the conference's second day, participants had the opportunity to explore some of the innovative CSR practices executed by Israeli companies in a range of field tours throughout the country. As one of the participants expressed, "it was mesmerizing to feel the sustainability work on site. As was shown on my tour, Shikun&Binui's innovation lab, 'Buildup', exemplifies how companies and startups from all sectors join forces to innovate and create our future cities". Building on their success, the tours will also be featured in the 2018 conference.
In addition, there were numerous other companies and organizations involved in the conference, such as Noble Energy, ICL, Israel Discount Bank, El Al, Unilever, Adama, G1, Netafim, Intel, Thinkstep, Goodvision, BDO, The Israeli Forum for Diversity, JDC Israel Tevet and The Association of Oil and Gas Exploration Industries in Israel.
Look out for more stories on Israeli innovation in the next few months, and stay tuned for the Maala 2018 conference.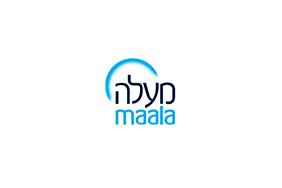 Maala - Business for Social Responsibility
Maala - Business for Social Responsibility
Maala - Business for Social Responsibility is the leading advocate for corporate social responsibility and good corporate citizenship in Israel. Founded in 1998, Maala is a non-profit membership organization that works with businesses to develop and implement CSR strategies. Our membership includes over 100 of Israel's most prominent companies, representing almost a quarter of the country's workforce and around half of Israel's economic product. Our activities include:
Creating and strengthening awareness of corporate social and environmental responsibility in Israel
Training CSR managers
Producing a variety of tools and resources to help companies become better corporate citizens
Nurturing dialogue and exchange of ideas between business, government and the nonprofit sector
Introducing standards and indices for CSR in Israel
Maala's annual conference serves as the primary platform for discussion of CSR in Israel. Maala is a partner of Business for Social Responsibility (BSR), a US-based global business organization with more than 1,400 members and affiliated companies worldwide.
For more information, visit www.maala.org.il/eng.