Published 11-03-17
Submitted by Association of Corporate Citizenship Professionals
ACCP will kick off a new program format of Summits with The Measurement Summit at KPMG LLP in Washington, D.C. on December 5th.
ACCP, the Association for Corporate Citizenship Professionals, widely known for The Conference and The Forum, is expanding its offerings to include Summits.  Unlike The Conference and The Forum, which are open only to professionals currently employed in a Corporate Citizenship capacity, Summits will have an open door policy.  The broader corporate citizenship community stakeholders are welcome to attend Summits.
"ACCP recognizes that there are many topics and issues that require collaboration with vendors, consultants, academia, NGOs and other community partners. The goal was to create a new format that will allow us to convene stakeholders from all corners of the corporate citizenship community," said Mark W. Shamley, President & CEO of ACCP. "We don't know a better topic than Measurement to kick off our inaugural Summit. What in concept sounds simple, is undoubtedly one of the more complex aspects of what is already a complex field."
The Measurement Summit will bring together all the stakeholders to discuss the different approaches being taken to measure both social and business impacts. Julie Gehrki, Walmart, will discuss the measurement journey at Walmart.  Today, Walmart and the Walmart Foundation design evaluations for outcomes – thinking about the role that learning and evaluation will play in shaping future work.  Julie will highlight the evolution of the thinking and processes around measurement, ways they engage their grantees in designing measurement frameworks, and detail the successes and learnings along the way.
"KPMG LLP is proud to host the ACCP for its first Summit. The opening topic of 'measuring impact' is important not only to tracking progress on corporate citizenship goals, but also to informing business strategies that can drive competitive advantage," said Anita Whitehead, Principal, KPMG LLP.
Registration for The Measurement Summit is now open. You can learn more here.
Founded in 2005, ACCP is the sole membership-based organization chartered to champion the Corporate Citizenship professional. ACCP connects members to information, peers and resources and cultivates educational opportunities that promote better stewardship of corporate resources thereby magnifying social and business impacts. For more information on ACCP, please email Maryann Fiala at maryann@accprof.org or visit www.accprof.org.
###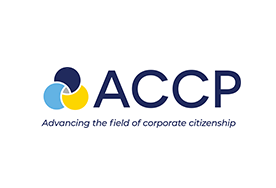 Association of Corporate Citizenship Professionals
Association of Corporate Citizenship Professionals
The Association of Corporate Citizenship Professionals (ACCP) is the nation's leading independent organization providing services and support for corporate contributions, community relations, and employee volunteer managers.
ACCP is a nonprofit advocacy and continuing education organization that helps corporations identify and adopt best practices and provides training for contributions professionals in the contributions, community relations, and volunteerism fields.
More from Association of Corporate Citizenship Professionals