Published 11-01-17
Submitted by Vestergaard SA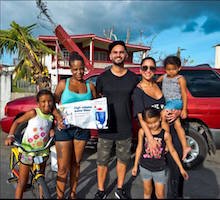 LifeStraw, a global leader in developing innovative filtration and purification products for safe drinking water, is deploying thousands of its high-impact water filters and purifiers to Puerto Rico to provide much needed access to safe drinking water following Hurricane Maria. The filters are made possible through donations to the LifeStraw Safe Water Fund, which is powered by consumer contributions to support communities devastated by natural disasters. LifeStraw is working with emergency responders on the ground in Puerto Rico to distribute its products to areas of the island that need them most.
One critical issue impacting Puerto Rico is an overwhelming lack of access to safe drinking water for the unforeseen future, as the storm dramatically affected the island's infrastructure. One month after the hurricane, CNN reported that nearly one million Puerto Ricans still remain without running water. LifeStraw's purifiers and filters serve as one solution to the country's long-term recovery effort, as they remove virtually all bacteria and parasites from contaminated water, making it safe to drink.
In just one month, more than $150,000 has been raised for the Safe Water Fund by consumers to support hurricane relief efforts following the storms that damaged parts of the Caribbean, Texas, Florida, and other areas in the Gulf of Mexico. Thanks to these donations, LifeStraw has provided access to safe water for more than 20,000 residents of Puerto Rico, but the need for support continues.
Contributions to the Safe Water Fund have resulted in a mix of LifeStraw, LifeStraw Go, LifeStraw Community, LifeStraw Family and LifeStraw Mission filters and purifiers deployed to Puerto Rico to provide individuals, families and entire communities access to safe water. In addition to funds raised by individual donors, LifeStraw is donating products directly, matching donations and devoting hundreds of man hours to coordinate relief efforts with partners, manage complex logistics, and conduct on-site education and training to ensure that the LifeStraw products are used effectively and properly maintained to have a sustainable impact.
"The lives of the people of Puerto Rico have changed overnight due to the catastrophic impact made by Hurricane Maria. We're so grateful for the contributions made to the LifeStraw Safe Water Fund that have allowed us to help provide much needed access to safe drinking water for these people that have lost so much," explained Alison Hill, Managing Director–Water, for LifeStraw. "This fund provides consumers an opportunity to truly make a difference for the people impacted by natural disasters – and know that their donations are providing people with life-changing products that improve their health and wellbeing during difficult times."
Individuals and organizations can continue to make an impact for people in Puerto Rico by donating to the LifeStraw Safe Water Fund. The fund is managed by an independent 501-c3 public charity and all donations are tax-deductible. In addition to hurricane relief efforts, consumers can choose to support the expansion of safe water programs in primary schools in Kenya or India or suggest a new safe water program for consideration. To date, the fund has provided safe water for victims of the Ecuador earthquake and the Haiti floods in addition to supporting the victims of the hurricanes that hit Texas, Florida and the Caribbean.
For more information, visit the LifeStraw Safe Water Fund.
LifeStraw is a global company built on the foundation that doing good is good business. We put this mission into action by innovating game-changing solutions that contribute to a healthier, more sustainable planet. Technologically advanced LifeStraw water filters and purifiers are ideal for outdoor recreation, travel, emergency preparedness and humanitarian purposes. This year LifeStraw is expanding its safe water technology beyond removal of microbiological contaminants to also include removal of heavy metals including lead. 
###

Vestergaard SA
Vestergaard SA
Vestergaard is a family owned global health company dedicated to improving the health of vulnerable people, most of whom live in developing countries. Our game-changing solutions contribute to a healthier, more sustainable planet by fighting malaria, HIV/AIDS, diarrheal diseases and neglected tropical diseases. Additional company initiatives are focused on enhancing food security. Vestergaard is the largest producer of long-lasting insecticidal bed nets. Our PermaNet® bed nets have played a significant role in last decade's highly successful fight against malaria. More than one billion people have benefited from PermaNet® bed nets, which have contributed to the reduction in deaths from malaria by more than one third. Breakthrough solutions also include the award-winning LifeStraw® water filter, which was named "One of Ten Things that Will Change the Way we Live" by Forbes magazine. Vestergaard is headquartered in Switzerland and has offices around the world where highly skilled staff members work with stakeholders to ensure global reach with local support. We're proud to be a valued and trusted partner to governments, aid agencies, NGOs, faith-based groups and the private sector.
More from Vestergaard SA