Published 05-23-17
Submitted by The Soil Health Institute
Agricultural and conservation leaders have committed to a national Soil Health Action Plan that will advance science-based research and drive productivity, profitability and resilience on U.S. farms and ranches, while benefiting the environment. 
The plan "Enriching Soil, Enhancing Life: An Action Plan for Soil Health" (http://soilhealthinstitute.org/soil-health-institute-announces-action-plan/) follows four years of stakeholder input that began with the Soil Renaissance in 2013. Agricultural industry thought leaders, farmers, ranchers, scientists, government agency leaders, and non-governmental organizations provided input into the plan.
Unveiled Thursday at the National Press Club, the 48-page plan supports the Soil Health Institute's mission to safeguard and enhance the vitality and productivity of soil through scientific research and advancement. It identifies critical goals, priorities, and gaps in knowledge and implementation; along with specific, actionable steps to address those gaps.
Wayne Honeycutt, President and CEO of the Soil Health Institute was joined by Bill Buckner, President and CEO of The Samuel Roberts Noble Foundation and Noble Research Institute; Keith Alverson, a 6th generation farmer on the Board of Directors for the National Corn Growers Association; Leonard Jordan, Acting Chief of USDA's National Resources Conservation Service; Jerry Lynch, Vice President and Chief Sustainability Officer at General Mills; and Michael Doane, Director of Working Lands at The Nature Conservancy. Bruce Knight, former NRCS Chief and Principal/Founder of Strategic Conservation Solutions, moderated the announcement and panel discussion.
The plan focuses on action-based priorities, including:
MITIGATE DROUGHT
Increase soils' available water holding capacity;

Increase water infiltration.
SAVE, IMPROVE SOIL
Decrease runoff;

Decrease nutrient loss.
PROTECT THE ENVIRONMENT
Decrease greenhouse gas emissions;

Increase carbon sequestration;

Improve water quality in the nation's watersheds.
GENERATE HIGHER YIELDS PER ACRE
Increase nutrient availability;

Suppress soil-borne diseases;

Respond to the increased demand for food as the population rises to a projected 9 billion persons, despite the projected decrease in farmland.
ENABLE FIELD AND PASTURE DECISIONS
Standardize measurements and assessments of physical, chemical and biological properties of soil so researchers can document practices that make a difference and create models that producers and consultants can use to make management decisions;

Ground-truth research with producers so future recommendations are known to improve yield, protect the environment, and add economic resilience, creating a positive return on investment to land ownership and annual production profits;

Evaluate advanced technology to inform producers and promote soil health practices that reduce input costs and mitigate risk.
DISSEMINATE ACCURATE, SCIENCE-BASED INFORMATION QUICKLY
Continually assess public policy for its impact on soil health;

Provide evidence-based soil health information to policy makers, researchers, and others interested in food security, environmental protection, and agricultural programs;

Research the relationships between soil health and human health.
"Soil health represents one of those rare win-win situations where what is good for the farmer and rancher is also good for the environment," said Honeycutt. Industry leaders say the plan also will enhance rural economies and provide greater food security.
"We see value in the entire action plan," explained Lynch, while Jordan called the forward-thinking emphasis on soil health a "game changer for all of society."
Leaders noted that while agricultural producers work daily to protect the environment and continue to make great strides in conservation and sustainability, further advances in soil health research and adoption will lead to greater benefits for farmers and the public.
Alverson said he has already seen the impact of modern soil management on his 2,600 acre corn and soybean operation. He said he's excited to see a commitment to advance research that farmers can use to make field-by-field production improvements.
"A couple of years ago, we hired a firm to do some intensive testing from the 0- to 36-inch (depth) range and found that our organic matter levels have increased over the past 30-plus years of ridge-till … about 1 1/2 percent overall, which is really quite startling," said Alverson, adding that a 1 percent increase in organic matter is the equivalent of adding 1.43 acre-inches of water holding capacity per season, and if a grower can improve corn yields by 10 bushels for every acre-inch of water applied, the yield increase will bring vital economic resources to growers and rural communities, as well as benefit wildlife and the environment.
The plan calls for a systems approach to soil health that integrates ideas from leaders in research, measurements and standards, economics, and public policy. Data will be used to establish a national soil health assessment, which will provide information on the functioning of essential biological, physical and chemical soil properties and processes. Future research will establish links among metagenomics data, pathogen suppression, plant growth and yield, as well as the economic and environmental impact.
The "living" plan also enables leaders to coordinate and consolidate future research, maximizing impact and speeding the process of getting comprehensive knowledge to the producer, policy makers and consumers. 
"In the 13th century, Leonardo DaVinci said that 'we know more about the movement of celestial bodies than about the soil underfoot,'" said Buckner, SHI's board chairman.
"With the rollout of today's strategic action plan, created by concerned agriculturalists from across the country and the ag sector, and…….with the ongoing support of NRCS, NACD, Soil Science Society, our nation's soil testing labs, our land grant institutions and financial support from private, public and corporate foundations, family offices, NGO's, government entities and volunteers, and with new technologies developed by the new aggies from Silicon Valley, RTP, Boston and other tech centers and incubators around the world, we will finally start the process, in earnest….7 centuries later….of understanding more about the biological life underground than we do in the heavens above," Buckner said. "The Soil Health Institute will be to soil what NASA is to space. With your ongoing support and encouragement, we will achieve this ambitious challenge."
The plan comes at a critical time, according to Doane.
"The demand for food and water and energy will be greater over the next two generations than any other generations prior to us (as we increase population and endure decreases in arable farmland)…. In the next few generations, we will have to cope with these challenges but also with the tremendous headwind and the looming threat of climate change.…  It's the right plan at the right time."
Honeycutt says SHI is eager to add partners who are committed to soil health, and he looks forward to ongoing collaboration that's focused on ambitious outcomes.
To subscribe to the Soil Health Institute's newsletter and learn more about the plan, SHI's annual meeting in July, funding opportunities or research grants, please visit www.soilhealthinstitute.org. 
About the Soil Health Institute
The Soil Health Institute's (www.soilhealthinstitute.org) mission is to safeguard and enhance the vitality and productivity of soil through scientific research and advancement. An evolution of the Soil Renaissance, an initiative established in 2013 by the Noble Foundation and Farm Foundation to advance soil health and make it the cornerstone of land use management decisions, the Soil Health Institute serves as the primary resource for soil health information.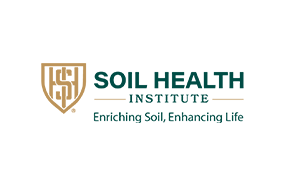 The Soil Health Institute
The Soil Health Institute
About the Soil Health Institute
The Soil Health Institute is a global non-profit with a mission to safeguard and enhance the vitality and productivity of soil through scientific research and advancement. We bring together leaders in soil health science and the industry to help farmers, ranchers, and landowners adopt soil health systems that build drought resilience, stabilize yield, and benefit their bottom line.

The Institute's team of scientists, holding doctorates in various soil science and related disciplines, has developed highly effective soil health targets and standardized measurements to quantify progress at achieving regenerative and sustainable agricultural systems, and leads the cutting-edge fields of carbon sequestration and decoding the soil microbiome.

Healthy soils are the foundation for rejuvenating our land. Together, we can create a secure future for all, mitigate the effects of climate change, and help agriculture and organizations meet production and environmental goals at scale.

Visit soilhealthinstitute.org to learn more and follow us on LinkedIn, Twitter, and Facebook.
More from The Soil Health Institute