Published 02-16-17
Submitted by Sodexo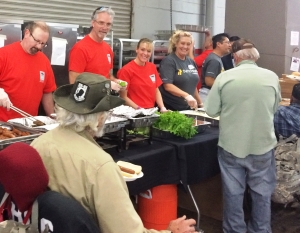 Sodexo volunteers served 4,000 meals to vets at Arizona StandDown event February 9th and 10th
 Sodexo, world leader in Quality of Life services, partnered with Arizona StandDown on February 9 and 10, to provide 4,000 meals and employment services to more than 2,000 veterans attending the annual outreach event at the Veterans Memorial Coliseum in Phoenix, Arizona. Over 40 volunteers representing five Sodexo segments including government services, healthcare, schools, universities, and corporate services, hosted breakfast and lunch for the veterans and provided an employment resources table to help the veterans find job opportunities.  
According to the National Coalition for Homeless Veterans, about 11% of the adult homeless population is veterans. About 1.4 million other veterans are considered at risk of homelessness, due to a range of factors including extreme shortage of affordable housing, livable income and access to health care.
While visiting the Arizona StandDown, Mayor of Phoenix, Greg Stanton spoke with a group from Sodexo and shared his thoughts on the benefits of private public partnerships. "Phoenix has brought an end to chronic veteran homelessness through the contributions from organizations like Sodexo," said Stanton. "And now Sodexo is working to help us bring an end to all veteran homelessness." 
For the past few years, Arizona StandDown has been the largest, singular outreach event for homeless veterans in the country. Brad Bridwell, former chair of the Arizona Coalition to End Homelessness, who organizes the Arizona StandDown, explained, "The success of the event depends on the contributions from organizations like Sodexo who provide volunteers to prepare and serve nutritious meals and recruiters to help with employment assistance services."
Sodexo's participation in the Arizona StandDown was coordinated by its military employee business resource group called HONOR (Honoring Our Nation's finest with Opportunity and Respect). The mission of the group is to provide support, guidance and resources to employees and families connected to the military. "We can accomplish this by offering development opportunities, providing a forum to recognize and celebrate contributions made to our country, and establishing partnerships with community groups that support veterans, active duty, National Guard and military reserve," said Michael Genco, national chair for Sodexo HONOR.
Sodexo delivers more than 100 services across North America that enhance organizational performance, contribute to local communities and improve quality of life. The Fortune Global 500 company is a leader in delivering sustainable, integrated facilities management and foodservice operations.
Learn more about Sodexo at its corporate blog, Sodexo Insights.
Contact: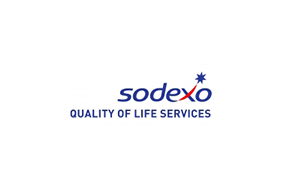 Sodexo
Sodexo
Sodexo, Inc. (www.sodexoUSA.com ) is a leading integrated facilities management services company in the U.S., Canada, and Mexico, with $7.7 billion (USD) in annual revenue and 120,000 employees. Sodexo serves more than ten million customers daily in corporations, health care, long term care and retirement centers, schools, college campuses, government, and remote sites. Sodexo, Inc., headquartered in Gaithersburg, Md., is a member of Sodexo Group, and funds all administrative costs for the Sodexo Foundation (www.sodexofoundation.org ), an independent charitable organization that, since its founding in 1999, has made more than $11 million in grants to fight hunger in America.
More from Sodexo