Published 02-07-17
Submitted by Ray C. Anderson Foundation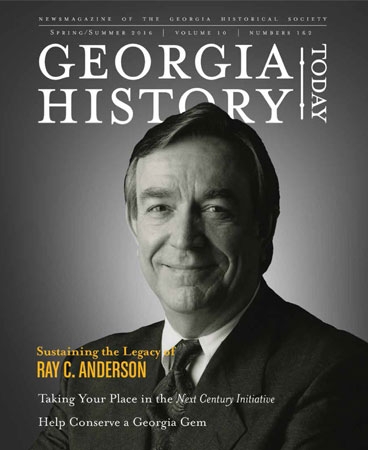 The Georgia Historical Society (GHS) is pleased to announce that the collection of the late Ray C. Anderson, the visionary industrialist, environmentalist, and founder of Interface, Inc., is now available for research at the GHS Research Center in Savannah and online through the GHS online finding aids. The collection was donated to GHS by the Ray C. Anderson Foundation and Interface, Inc. in late 2015.
"Ray Anderson was a pioneer in the sustainability movement, and his compelling journey from industrialist to environmentalist will have a lasting impact on future generations," said Dr. W. Todd Groce, President and CEO of the Georgia Historical Society. "We are pleased to preserve this collection at the Georgia Historical Society and make it accessible to researchers, students, teachers, and historians who want to explore the life and legacy of this extraordinary Georgian whose impact has been felt around the world."
Ray C. Anderson founded Interface, Inc. in 1973 with a vision to provide flexible floor coverings for modern office buildings.  By 1983 the company was posting sales of $11 million annually, and following the 1987 acquisition of Heuga Holdings B.V. it became the undisputed world leader in carpet tile manufacturing.
A 1956 graduate of Georgia Tech, Anderson experienced an environmental epiphany in 1994 and challenged the company, which at the time was heavily dependent on petrochemicals, to become environmentally sustainable without loss of profits.  In 1997, Ray described his vision for his company, then nearly a quarter-century old, that remains true today: "If we're successful, we'll spend the rest of our days harvesting yester-year's carpets and other petrochemically derived products, and recycling them into new materials; and converting sunlight into energy; with zero scrap going to the landfill and zero emissions into the ecosystem. And we'll be doing well . . . very well . . . by doing good. That's the vision."
The Ray C. Anderson Papers (MS 2603) are available at the GHS Research Center in Savannah.  The online finding aid can be found at http://ghs.galileo.usg.edu/ghs/view?docId=ead/MS%202603-ead.xml. Consisting of over 200 boxes and covering the years 1947 to 2012, the collection contains biographical materials, business records, correspondence, organizational records, photographs, presentations, speeches, writings, travel files, books, journals, and over 200 artifacts documenting Anderson's life. It includes correspondence with colleagues and significant environmental and political figures such as Paul Hawken, Jimmy Carter, and Bill Clinton.  
Ray Anderson's papers were donated to the Georgia Historical Society in 2015. Accompanying the donation was a gift from the Ray C. Anderson Foundation to process and endow the collection.
ABOUT GEORGIA HISTORICAL SOCIETY
Georgia Historical Society (GHS) is the premier independent statewide institution responsible for collecting, examining and teaching Georgia history. GHS houses the oldest and most distinguished collection of materials related exclusively to Georgia history in the nation. To learn more, go to georgiahistory.com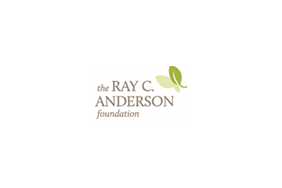 Ray C. Anderson Foundation
Ray C. Anderson Foundation
The Ray C. Anderson Foundation was created in honor of the late Ray C. Anderson (1934-2011), founder of Interface, Inc. During his time at Interface, Ray championed the notion of businesses doing well by doing good. It's these noble qualities of advancing knowledge and innovation around environmental stewardship and sustainability that recognized Ray as a pioneer in industrial ecology.
The purpose of the Foundation is to perpetuate these shared values and continue the legacy that Ray left behind. Through research and funding, the Foundation aims to help create a better world for future generations—tomorrow's child. Join us as the story of the Foundation continues to unfold.
More from Ray C. Anderson Foundation