Published 11-17-16
Submitted by Centre for Sustainability & Excellence (CSE)

The Centre for Sustainability and Excellence (CSE) announces its ground breaking report: Sustainability Trends in Silicon Valley.  While much has been made about whether Silicon Valley corporations, start-ups and tech giants are or are not models of sustainability, CSE provides the first systematic research on the true picture of sustainability efforts by analyzing the current state of sustainability and corporate social responsibility reporting by Silicon Valley-based  companies and organizations.  The report provides insight for investors, business leaders, company boards, CSR and sustainability professionals, NGOs, customers, academics and students and other stakeholders.  This research examines 100 companies ranging from small and medium-sized businesses (SMBs) to large businesses with 1000 to over 100,000 employees. The research reports on company or organization size, type, industry, and it tracks if organizations follow best practices for sustainability and whether or not they are sustainability role models to other sectors.
Some of the 100 companies examined are global leaders in their field such as Adobe, AMD, Apple, Cisco, Dolby, eBay, Facebook, FICO, Google, Intel, Intuit, PayPal, Oracle, SunPower, Tesla, Twitter and Zynga.  Industries covered include automotive, computer and internet, entertainment, financial services, medical, renewables and telecommunications.  The findings outline trends and various analyses ranging from which particular focus areas are emphasized more heavily than others to which type of companies generally produce the highest number of comprehensive sustainability practices, have the highest percentage of sustainability professionals or sustainability reporting, if any.
The report notes that 61% of companies have a sustainability professional, weighted in favor of large companies over SMBs.  Even though more than half of the companies studied have sustainability professionals, only 29% have sustainability reporting.  Companies choose instead to vaguely display what sustainability practices they have, often with slick online promotion.  The report breaks down sustainability practices into five categories: community, environment, employee, ethics, supply chain and philanthropy.  Only 21% of the companies studied address all six practices, each showing greater or lesser emphasis on particular categories.  Finding Google on the list is no surprise, while Apple is notably absent.
While many of the companies examined are leaders in their field, they are not necessarily leaders in Sustainability as many people expect! Overall, the companies to do not appear to have a clear strategy to address stakeholder concerns or expectations.  With the exception of those strongest companies at the top of the scale such as Adobe, Applied Materials and Cisco, corporate strategy seems to be focused on one or two elements of sustainability, rather than a systems approach.  
While the report offers many insights, one surprising finding is the focus on Ethics, with 95% practicing ethical governance.  What are the implications for due diligence, investors or community watchdogs?  In this political climate where ethical behavior is gravely in question, the computer industry, across the board, as well as entertainment, financial services and telecommunications demonstrate a heavy emphasis on Ethics.  This contradicts perceived malfeasance and reported unethical behavior.   The report raises the question of how an industry can show significant ethical conduct in-house (governance) while having a reputation for misconduct toward customers and consumers at large.
This report is the first of its kind to delve into corporate behavior in Silicon Valley.  CSE also has reports  on Sustainability Reporting Trends in North America  for the mining, energy, food and retail industries.  CSE's research furthers its commitment to providing the highest caliber training in sustainability for corporate executives and sustainability managers worldwide.  Its Sustainability Academy, a global initiative with the mission to train 100,000 sustainability professionals by 2020, provides rigorous education to sustainability professionals, entrepreneurs and graduates needing the latest resources to advance in this ever evolving field.   See CSE's lineup for 2017. 
Certified Sustainability Practitioner (CSR) Program. Leading program for qualifying Sustainability Professionals that want a career in this field:
The Sustainability Academy offers the following specialized Online Programs for continues education :
Online Certificate on ESG performance for Investors and Sustainability Professionals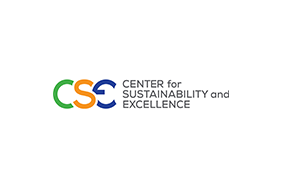 Centre for Sustainability & Excellence (CSE)
Centre for Sustainability & Excellence (CSE)
CSE is a global Leading network providing Sustainable Development Solutions to organizations & a Think Tank with offices in Brussels Athens & Dubai. CSE cooperates with international organisations, such as the EFQM (European Foundation for Quality Management), GRI (Global Reporting Initiative), UN Global Compact (United Nations Global Compact), EBEN (European Business Ethics Network), Forum for International Communications and the European Commission. CSE supports, on their journey towards sustainability, leading organizations such as Lloyds TSB, Eurocontrol, Dell, BP, DHL, Lafarge (Aget Heracles), Mc Cain, Bank of Cyprus and many others including the European Investment Bank, the largest financial Investment Institution of the European Union and the Government of Dubai (Dubai Center for Corporate Values ,DIFC, TECOM, DAFZA). The global presence of CSE is enhanced by numerous activities carried out in many countries/regions including the United Kingdom, Belgium, Luxemburg, Germany, Spain, Italy, Cyprus, Bulgaria, Romania, Turkey, Russia, China and the Middle East.