Published 10-19-16
Submitted by Global Reporting Initiative
Today, GRI launched the world's first global standards for sustainability reporting, giving companies a common language for disclosing non-financial information. The GRI Sustainability Reporting Standards will enable companies around the world to be more transparent about their impacts on the economy, the environment and society. They will also help organizations make better decisions and contribute to the United Nations Sustainable Development Goals (SDGs).
The GRI Standards are the latest evolution of GRI's reporting disclosures, which have been developed through more than 15 years of a robust multi-stakeholder process. The Standards are based on the GRI G4 Guidelines, the world's most widely used sustainability reporting disclosures, and feature an improved format and new modular structure.[1] The new GRI Standards definitively replace the G4 Guidelines, which will be phased out by 1 July 2018.
"The GRI Standards make it much easier for companies to report non-financial information, using a well-understood shared language," said GRI Interim Chief Executive Eric Hespenheide. "The Standards are more straightforward, making them accessible to potentially millions of businesses worldwide. Sustainability reporting, using the GRI Standards, is the best way for a company to disclose its economic, environmental and social impacts, thus providing insights into its contributions – positive or negative – toward sustainable development."

According to research published in the MIT Sloan Management Review[2], 75 percent of senior executives in investment firms agree that a company's sustainability performance is important to consider when making investment decisions. Most of the world's biggest companies publish this information and with the new GRI Standards many more organizations – including small companies – will be able to provide investors, consumers, employees and other stakeholders with the performance information they need.
With input from business, labor, government, investors, civil society, academia and sustainability practitioners, the Global Sustainability Standards Board (GSSB), a fully independent standard-setting body, developed the GRI Standards in the public interest. This multi-stakeholder process is a critical element of GRI's commitment to making sustainability considerations integral to every company's decision-making process.

"The GRI Standards empower companies to effectively understand and communicate their environmental and social impacts," said Vice Chair of the GSSB Michael Nugent. "Collaborating across the public and private sector, we designed these standards to guide sustainability reporting for any company, in any industry, for decades to come."
The GRI Standards are a set of 36 modular Standards that facilitate corporate reporting on topics such as greenhouse gas emissions, energy and water use, and labor practices. The new format allows GRI to update individual topics based on market and sustainability needs, without requiring revisions to the entire set of GRI Standards. The GRI Standards are centered on materiality – focusing on the topics that represent the most significant impacts of the organization and are most important to organizations' stakeholders – which supports sustainability reporting that is tailored to each individual company. A company can prepare a sustainability report in accordance with the GRI Standards at Core or Comprehensive level, or disclose individual topics to meet specific reporting needs.
GRI is organizing free launch events around the globe in November: in North America on the 2nd, 16th and 29th, in Africa on the 10th, in Australia on the 15th and 17th, in Asia on the 21st. For more information or to register for a launch event visit the GRI website here.

The GRI Standards are available for free download on the GRI Standards hub on the GRI website, along with detailed mapping documents that show all of the changes from G4 to GRI Standards. 

For more information the new GRI Standards please contact GRI Media Relations Manager Davion Ford at ford@globalreporting.org. 

About GRI
GRI is an international independent organization that has pioneered corporate sustainability reporting since 1997. GRI helps businesses, governments and other organizations understand and communicate the impact of business on critical sustainability issues such as climate change, human rights, corruption and many others. With thousands of reporters in over 90 countries, GRI provides the world's most trusted and widely used standards on sustainability reporting, enabling organizations and their stakeholders to make better decisions based on information that matters. Currently, 40 countries and regions reference GRI in their policies. GRI is built upon a unique multi-stakeholder principle, which ensures the participation and expertise of diverse stakeholders in the development of its standards. GRI's mission is to empower decision-makers everywhere, through its standards and multi-stakeholder network, to take action towards a more sustainable economy and world.

About the Global Sustainability Standards Board
Established as an independent standard-setting body, the Global Sustainability Standards Board (GSSB) is comprised of 15 members, who represent the best combination of technical expertise, diversity of experience and multi-stakeholder perspective. The GSSB performs its work according to a formally defined due process, exclusively in the public interest and according to the vision and mission of GRI.
---
[2] G. Unruh, D. Kiron, N. Kruschwitz, M. Reeves, H. Rubel, and A.M. zum Felde, "Investing For a Sustainable Future," MIT Sloan Management Review, May 2016.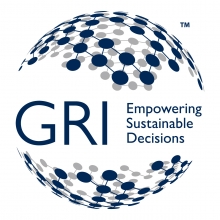 Global Reporting Initiative
Global Reporting Initiative
The Global Reporting Initiative's (GRI) vision is that reporting on economic, environmental, and social performance by all organizations becomes as routine and comparable as financial reporting. GRI accomplishes this vision by developing, continually improving, and building capacity around the use of its Sustainability Reporting Framework.
An international network of thousands from business, civil society, labor, and professional institutions create the content of the Reporting Framework in a consensus-seeking process.
More from Global Reporting Initiative