Published 09-10-15
Submitted by Trillium Asset Management
Trillium Asset Management (Trillium) is pleased to announce that Jack Robinson has joined the firm as Vice Chair and Portfolio Manager.  Mr. Robinson has over three decades of experience working in the field of sustainable and responsible investing (SRI), most recently at Brown Advisory.
"I have known Jack Robinson for over two decades. When we worked together at Winslow Management, I learned that his long-standing commitment to SRI is built on a foundation in fundamental research, quantitative techniques, and a deep understanding of climate solutions," said Matthew W. Patsky, Trillium's CEO. "Jack's experience is the perfect complement to our existing team."
In 1983, Robinson founded Winslow Management with the mission of providing green investment services to individual and institutional clients. Winslow began to focus exclusively on green investing in 1991. Under his leadership, the firm developed a unique growth investing style and became widely recognized as a leader in the green investing field. In March 2009, Winslow merged with Brown Advisory, where Robinson served as Partner, Portfolio Manager, and Head of Sustainability Strategies before joining Trillium.
"Trillium's first-rate investment performance, combined with its reputation for moving companies toward more sustainable business practices — along with the opportunity to work with Matt Patsky again — made this an easy decision for me," said Mr. Robinson. "As interest in SRI and fossil fuel free investing grows, Trillium is in an enviable position of being a pioneer in the industry.  I am excited to have the opportunity to use my experience in sustainable investing to contribute to the firm's continued growth."
Mr. Robinson serves on the Board of Abengoa Yield (NASDAQ: ABY) and as a Trustee of Suffield Academy, where he chairs the Investment Committee. He also serves on the advisory boards of Bambeco LLC, E|F|W (Energy, Food & Water) LLP, The American Council for Renewable Energy (ACORE), Rhode Island Governor Gina Raimondo's Sustainability Working Group, and the Brown University Library.
###
ABOUT TRILLIUM ASSET MANAGEMENT: Founded in 1982, Trillium is the oldest independent investment advisor focused exclusively on sustainable and responsible investing. Trillium manages over $2.2 billion in assets for clients including individuals, foundations, endowments, religious institutions, and other non-profits. To learn more, please visit www.trilliuminvest.com. 
FOR MORE INFORMATION:  Randy Rice, Trillium Asset Management, rrice@trilliuminvest.com, (617) 515-6889.
The views expressed are those of the authors as of the date referenced and are subject to change at any time based on market or other conditions. These views are not intended to be a forecast of future events or a guarantee of future results. These views may not be relied upon as investment advice. The information provided in this material should not be considered a recommendation to buy or sell any of the securities mentioned. It should not be assumed that investments in such securities have been or will be profitable. To the extent specific securities are mentioned, they have been selected by the authors on an objective basis to illustrate views expressed in the commentary and do not represent all of the securities purchased, sold or recommended for advisory clients. The information contained herein has been prepared from sources believed reliable but is not guaranteed by us as to its timeliness or accuracy, and is not a complete summary or statement of all available data. This piece is for informational purposes and should not be construed as a research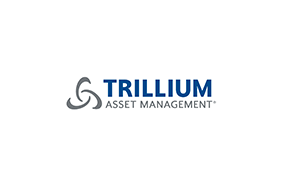 Trillium Asset Management
Trillium Asset Management
Trillium Asset Management, LLC is the oldest investment advisor exclusively focused on sustainable and responsible investing (SRI). Founded in 1982, we believe that environmental, social, and governance (ESG) factors play an integral role in the investment process, which can lower portfolio risk and help identify the best-managed companies. For investors seeking ethical and mission-related investing strategies, Trillium is a leader in shareholder advocacy and public policy work. Our goal is to deliver both impact and performance to our private and institutional investors.
More from Trillium Asset Management