Published 09-01-15
Submitted by Trillium Asset Management
Trillium Asset Management's Small/Mid Cap Core investment strategy is now available to institutional investors as a mutual fund (Ticker: TSMDX), adding to the Portfolio 21 Global Equity Fund (Retail Ticker: PORTX / Institutional Ticker: PORIX) that the firm acquired at the end of 2014.
Since its founding in 1982, Trillium has been integrating Environmental, Social, and Governance (ESG) factors into the investment process as a way to identify the companies that may be positioned to deliver strong long-term performance. Historically, Trillium has offered its investment products as separately managed accounts; typically to institutional and individual clients, who own individual securities outright. 
Trillium's Small/Mid Cap Core (SMID) strategy, which is benchmarked to the S&P 1000, was launched as a separate account product in 2001 and invests in small and mid-cap stocks that are well-diversified across economic sectors.
"There is increasing interest in impact and sustainable and responsible investing – especially among millennials", said Trillium's CEO, Matthew W. Patsky, CFA. "Additionally, we know that a significant percentage of investment dollars are in retirement plans – often in mutual funds. The launch of this new fund, along with our recent acquisition of the Portfolio 21 Global Equity Fund, helps Trillium achieve its goal of providing more investment products that meet investor needs." 
Laura McGonagle, CFA, who has been involved in the management of Trillium's SMID strategy since its inception, added "In launching Trillium's SMID strategy as a mutual fund, we have broadened access to the strategy to Sustainable and Responsible Investors (SRI) investors who are looking for exposure to equities down the market capitalization spectrum, as we only initiate positions in companies with a market capitalization below $10 billion." 
Trillium's investment process is focused on finding companies with strong growth prospects that are attractively priced. Our analysts conduct bottom-up fundamental analysis on the companies they cover; simultaneously reviewing both traditional financial metrics and ESG metrics that we believe can add value to the investment process.
For more information visit www.trilliummutualfunds.com or contact Randy Rice, Corporate Communications, at rrice@trilliuminvest.com or 617-515-6889.
The fund's investment objectives, risks, charges and expenses must be considered carefully before investing. The statutory and summary prospectuses contain this and other important information about the investment company, and it may be obtained by calling 866-209-1962, or visiting trilliummutualfunds.com. Read it carefully before investing.
Trillium's Small / Mid Cap Fund may invest in foreign securities, which are subject to the risks of currency fluctuations, political and economic instability and differences in accounting methods. Investing in foreign securities is riskier than investing in domestic securities. The Fund invests in smaller companies, which involve additional risks such as limited liquidity and greater volatility. Trillium's Small / Mid Cap Fund environmental policy could cause it to make or avoid investments that could result in the portfolio underperforming similar funds that do not have an environmental policy. There are no assurances that the fund will achieve its objective and/or strategy. Diversification does not guarantee a profit or protect from loss in a declining market.
The S&P Indices are widely recognized, unmanaged indices of common stock. It is not possible to invest directly in an index. The S&P 1000 combines the S&P MidCap 400 and the S&P SmallCap 600, to form a benchmark for the small-mid cap universe of the U.S. equity market. Returns reported reflect the net total return index, which reinvests dividends after the deduction of withholding taxes, using a tax rate applicable to non-resident institutional investors who do not benefit from double taxation treaties. 
Trillium's Small / Mid Cap Fund is distributed by Quasar Distributors, LLC. Trillium Asset Management is the advisor to the Funds.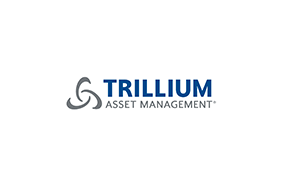 Trillium Asset Management
Trillium Asset Management
Trillium Asset Management, LLC is the oldest investment advisor exclusively focused on sustainable and responsible investing (SRI). Founded in 1982, we believe that environmental, social, and governance (ESG) factors play an integral role in the investment process, which can lower portfolio risk and help identify the best-managed companies. For investors seeking ethical and mission-related investing strategies, Trillium is a leader in shareholder advocacy and public policy work. Our goal is to deliver both impact and performance to our private and institutional investors.
More from Trillium Asset Management