Published 10-03-13
Submitted by BBMG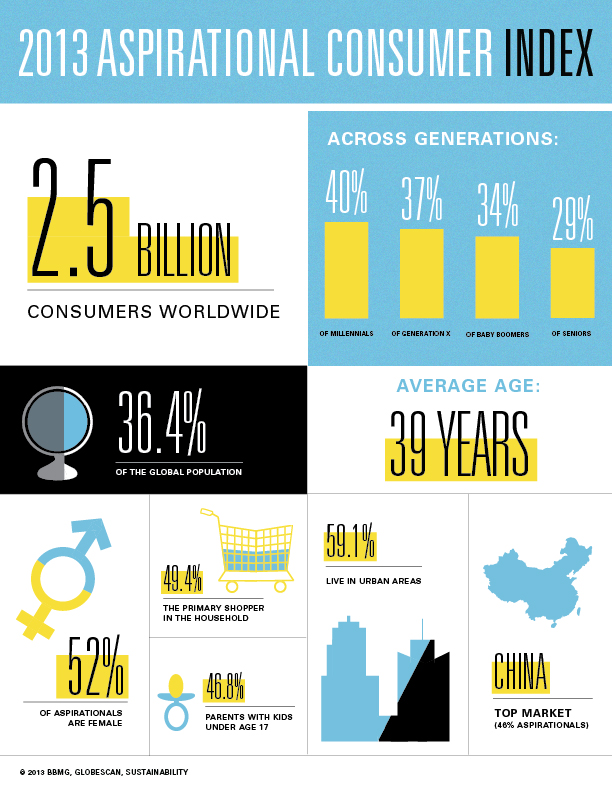 A new global consumer study by BBMG, GlobeScan and SustainAbility confirms the rise of nearly 2.5 billion consumers globally who are uniting style, social status and sustainability values to redefine consumption. According to the report, The 2013 Aspirational Consumer Index, more than one-third of consumers globally (36.4%) identify as Aspirationals, defined by their love of shopping (78%), desire for responsible consumption (92%) and their trust in brands to act in the best interest of society (58%). The study draws from a telephone and in-person survey of 21,492 consumers across 21 international markets conducted in April 2013.
"Driven by young, optimistic consumers in emerging markets and amplified by technology and social media's influence, Aspirationals represent a powerful shift in sustainable consumption from obligation to desire," said Raphael Bemporad, co-founder and chief strategy officer at brand innovation consultancy BBMG. "With Aspirationals, the sustainability proposition has changed from being the 'right thing to do' to being the 'cool thing to do,' and brands have a profound opportunity to harness sustainable design and societal values to inspire the next generation of commerce and create positive impact in the world."
"Aspirationals are materialists who define themselves in part through brands and yet they believe they have a responsibility to purchase products that are good for the environment and society," said Eric Whan, Sustainability Director at GlobeScan. "By engaging Aspirational consumers, brands can further the shift toward more sustainable consumption and influence behavior change at scale."
Key characteristics of Aspirational consumers include:
Empowered Shoppers: Nearly eight in ten Aspirational consumers say "shopping for new things excites me" (78%), compared to 48% of all consumers, and believe they "can change how a company behaves based on my purchase decisions" (78%), compared with 66% of all consumers;
Trust in Brands: Nearly six in ten Aspirational consumers globally say they "trust global companies to act in the best interest of society" (58%), compared with 52% of all consumers;
Seek Style and Status: Three-fourths of Aspirational consumers say "I want to stand out by the way I look, my style" (73%), compared to 53% of all consumers;
Positive Influencers: Nearly nine in ten Aspirational consumers say "I encourage others to buy from socially and environmentally responsible companies" (88%), compared to 63% of all consumers;
Responsible Consumers: Nine in ten Aspirational consumers say "I believe we need to consume less to preserve the environment for future generations" (92%), compared to 75% of all consumers, and that they are "willing to pay more for products produced in a socially and environmentally responsible way" (91%) compared to 64% of all consumers;
Young and Urban: Demographically, Aspirational consumers make up the largest percentage of Millennial (40%) and GenX (37%) generations, compared to 32% and 33% in the general population, respectively, and nearly six and ten (59%) live in cities; and
Strength in Emerging Markets: Countries with the largest populations of Aspirational consumers include China (46%), Nigeria (45%), Pakistan (44%), India (42%), Australia (41%), Canada (40%), Indonesia (38%), Greece (37%), France (36%), USA (36%), Turkey (35%) and the UK (34%).
The 2013 Aspirational Consumer Index explores the intersection of consumer values, motivations and shopping behaviors and deepens understanding of four consumer segments on the sustainability spectrum, including highly committed Advocates (16.8%); style and social status-seeking Aspirationals (36.4%); price and performance-minded Practicals (22.6%) and less engaged Indifferents (24.2%).
"For decades, green marketers have been speaking to the wrong consumers, assuming that by engaging the most committed 'advocates' we would create significant business growth, cultural relevance and change at scale," Bemporad added. "What makes Aspirationals so compelling is that they combine an authentic commitment to sustainability with a love of shopping, design and social status, aligning economic, cultural and social forces to shift the way we shop."
"With 2.5 billion consumers worldwide, Aspirationals offer an important opportunity to redefine sustainable consumption," said Mark Lee, Executive Director at SustainAbility. "Like never before, brands can engage Aspirationals to pioneer new models and practices that can deliver economic growth while reducing negative impacts on the environment."
By the Numbers: Aspirational Consumers At a Glance:
2.5 billion consumers worldwide, representing 36.4% of the global population
52% female and 48% male
Average Age: 39
Generations: 40% of Millennials, 37% of GenX, 34% of Baby Boomers and 29% of Seniors are Aspirationals
46.8% are parents with kids under age 17
59.1% live in urban areas
49.4% are the primary shopper in the household
Top Market: China (46% Aspirationals)
Background and Methodology:
The 2013 Aspirational Consumer Index is an in-depth survey of consumer attitudes, motivations and behaviors relating to sustainable consumption among participants across 21 international markets. In total, 21,492 citizens in Argentina, Australia, Brazil, Canada, China, France, Germany, Ghana, Greece, India, Indonesia, Mexico, Nigeria, Pakistan, Peru, Russia, South Korea, Spain, Turkey, the United Kingdom and the United States were interviewed face-to-face or by telephone between December 10, 2012 and April 9, 2013. Polling was conducted by GlobeScan and its research partners in each country. National representative samples were used in all the countries except in Brazil, China, Indonesia and Turkey, where the surveys were conducted in urban areas. The margin of error per country ranges from +/- 3.0 to 4.9 per cent. Population of Aspirationals globally is based on the integration of census data and the percentage of Aspirational consumers reflected across the 21 markets surveyed.
About BBMG
Founded in 2003, New York-based BBMG is a globally recognized brand innovation firm dedicated to creating disruptive business solutions and delightful brand experiences that help clients drive revenue and create positive social impact. By integrating branding with sustainability expertise and innovation strategies, BBMG helps organizations identify growth opportunities, forge new markets, create new brands and drive real culture change. Recent clients include adidas, Earthbound Farm, eBay, Eileen Fisher, Johnson & Johnson, L'Oréal Paris, MillerCoors, NBCUniversal, Ocean Conservancy, Samsung, Seventh Generation and Target. For more information, visit www.bbmg.com.
About GlobeScan
For 25 years, GlobeScan has helped clients measure and build value-generating relationships with their stakeholders. Uniquely placed at the nexus of reputation, brand and sustainability, we partner with clients to build trust, drive engagement and inspire innovation within, around and beyond their organizations. For more information, visit www.GlobeScan.com.
About SustainAbility
SustainAbility is a think tank and strategic advisory firm working to inspire transformative business leadership on the sustainability agenda. Established in 1987, SustainAbility delivers illuminating foresight and actionable insight on sustainable development trends and issues. For more information, visit www.SustainAbility.com.

BBMG
BBMG
BBMG is a brand and social innovation consultancy dedicated to creating business growth and positive social impact. We're strategic creatives and creative strategists, culture experts and design thinkers. We build brands with purpose that are relevant to a new generation and resilient for the fast, transparent and volatile world we live in today. To learn more about how we build brands for humans, visit www.bbmg.com.
More from BBMG