Published 08-13-13
Submitted by 3BL CSRwire
The Foundation for Enterprise Development (FED) has recently published a paper titled, "Sustained Innovation through Shared Capitalism and Democratic Governance,"
in the eminent Journal of the British Interplanetary Society.
The paper, co-authored by the FED and its collaborators – CSRwire CEO Joe Sibilia; Joseph Blasi, Professor, School of Management and Labor Relations, Rutgers University; and Thomas Zurbuchen, Associate Dean for Entrepreneurial Programs at University of Michigan – explores the roots of representative structures and how these lend to innovation.
Necessary Elements for Global Development
Among the paper's explorations: the role of research, innovation, organizational structures and associated issues in addressing the long-term focus required for development—both material and human.
With technology rapidly evolving and offering new ways to innovate, collaborate and solve global challenges, the writers answer key questions like:
How do innovative organizations evolve and maintain focus for 100 years or more?
What models support long-term technology development without significant state ownership?
What resources and financial structures sustain "new worlds?"
Is it the case that entities with meaningful staff ownership are most desirable?
Highlighting the inventions of computer hardware, software and internet-related innovations for their global impact because of the organizations' democratic process, the authors emphasize that long term development will suffer if not aligned with a democratic approach within business organizations:
"The book, In the Company of Owners, recounts in detail how broad ownership by the technical and other staff played a key role in the development of these three industries. Intel and Microsoft are central to this story. Google, which combined various hardware and software platforms, carries this approach forward as well."
From Value Based Solutions to Responsible Capital Deployment
While the core of the Starship entity itself remains unclear – and may likely emerge as a hybrid containing a non-profit entity that "owns" a number of "for profit" entities – the authors cite several key organizational elements necessary for any business looking to participate in global development:
Entrepreneurial systems that are highly participative, transparent, ethical and accountable
Value-based solutions that address profit and shareholder value and go beyond these to include sustainability values so that we do not compromise future generations
Investments in inter-disciplinary education, research and technology that build future knowledge and capability for the 100 Year Starship™, while seeking applications to improve life on Earth
Responsible capital deployment and returns that map to the range of investment benefits/risks
And important glue elements like:
Fair investor-citizen-employee ownership so that those that create value are incentivized and fairly compensated
Democratic governance and decision-making that reaches from boards to work practices throughout the constellation
"It is unlikely that a single ownership type would be sufficient for the kinds of investments needed to map the range of capital requirements, risk and returns, and commercialization durations. Fundamental to shared capitalism principles is that ownership is broad and linked to contribution and interests, rather than narrowly distributed to only top-level executives or investors."
Also discussed in the paper:
Long-term innovation through inter-disciplinary education, research and applications
The role of Impact Investing in a growing need for multidisciplinary approach to development and sustainable economies
The conclusions drawn from the articulately written Sustained Innovation through Shared Capitalism and Democratic Governance speak loudly and clearly to placing a high priority on education, research, arts, business and society. As the authors succinctly sum it up:
"Is there such a thing as a single optimal organizational design for long-term innovation? Not likely, but what can be said is that top-down management, exclusiveness, narrowness of mission and short-term profiteering mechanisms would severely limit the potential for a long-distance space program to succeed in a dynamic, global environment."
The same could not be any less true for our journey toward a more sustainable existence. Or as Sibilia puts it, "Planet Earth is the spaceship we are traveling on through the universe – its sustainability is up to us."
Download a copy here.
About the 100 Year Starship
The FED is a non-profit foundation dedicated to exploring the application of democratic representative governance models for long-term interdisciplinary research and interstellar travel in the 100-year timeframe – as outlined by the 100 Year Starship™.
For more than 25 years, the FED has advanced entrepreneurship, innovation and broad-based ownership models through research, education and consulting services to executive, managers, non-profits, universities and government. With this paper, the FED reaches out to experts in investments, research and development and education to share a philosophical approach, which can serve as a foundation for design and operational elements of the 100 Year Starship™.
The Defense Advanced Project Agency (DARPA) with the National Aeronautics and Space Administration's (NASA) Ames Research Center as their contracting arm has expressed another grand challenge—long distance manned space travel. Their challenges include committing ourselves to spending the next century tackling the key technological, socio-political and economic problems to develop a viable and sustainable non-governmental organization for persistent, long-term, private-sector investment into the myriad of disciplines needed to make long-distance space travel viable [1]. In short, they are seeding a 100 Year Starship™.
About the Authors
Sustained Innovation through Shared Capitalism and Democratic Governance by Mary Ann Beyster1, Joseph Blasi2, Joe Sibilia3, Thomas Zurbuchen4 and Anu Bowman1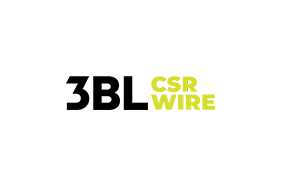 3BL CSRwire
3BL CSRwire
Respected and relied on by journalists, bloggers, business leaders and academics around the world, 3BL CSRwire is a dedicated, real-time source for major news and updates from within the worlds of ESG, corporate social responsibility and sustainability.
3BL CSRwire offers a-la-carte press release distribution to a global network of influential stakeholders and mainstream audiences—perfect for organizations just getting started in CSR or for those looking to get the most out of their corporate communications.
More from 3BL CSRwire