Published 02-05-13
Submitted by 3BL CSRwire
Noble Profit, the premier source of clean tech and sustainability content, announced today the availability of its unique media series and that it has formed a distribution partnership with digital media platform CSRwire.
Noble Profit publishes articles and produces video interviews on the latest news, views and trends with thought leaders who are setting standards in the emerging fields of clean technology and sustainable business.
Noble Profit content will now be available as a channel on CSRwire and available for any publisher to use at no charge.
"We are proud to bring the impressive library of video interviews compiled by Noble Profit to our audience," said Aman Singh, Editorial Director of CSRwire. "As the market for sustainability and clean tech expands, there will be increased demand for well-produced content like the media series
compiled by Noble Profit."
With more than 75 high quality video interviews already produced, Noble Profit is the only library of its kind on sustainability, containing insights from some of the most influential clean tech and sustainability leaders of our time, including investors, entrepreneurs, CEOs, corporate sustainability leaders and other expert. Accompanying each short-form interviews will be articles by a solicited network of category experts and writers.
"There is simply no better partner than CSRwire to bring attention to our media series on the technologies, innovations and emerging trends in sustainable business, triple bottom line best practices and clean tech investing," said Amy Seidman, founder of Noble Profit. "They hold authority in this space.
Who's Included?

Highly influential, global-minded innovators from organizations like:

Apollo Group
Applied Materials
Arizona State University
Bellwether Materials
Bio-Based-Solutions
Biosyntia, Intel Business Challenge Winner
Bloom Energy
Chipolte Mexican Grill
Chrysalix
Claremont Creek Ventures
Commercial Energy
Cool Planet Bio Fuels
Cradle to Cradle
Deloitte USA
eBay
Environmental Defense Fund
Ford Motor Company
Frito Lay
GAP Adventures
Greenopolis
HEVT, CleanTechOpen Winner
HIP Investor
Hoover Institution
Stanford University
Inquiring Systems
ISPBC
Kejriwal
KPMG

LaFarge North America
MacGillivary Freeman Films
Magna-e-Car, MDV
Microsoft
Natural Logic
OAT Shoes
One Percent For the Planet
One World One Ocean
People Power, Poly Plus Battery
Red Ox Systems
Relay Rides
Renew
Rentricity
Rotary Wing Engine
SAP
Sierra Energy
Silicon Valley Leadership Group
Source 44
Sustainable Business Institute
The Sustainability Consortium
The Nature Conservancy
UGS
University of California, San Diego
University of Phoenix
US Green Chamber
VIA Motors
Walmart
World Wildlife Fund

 
To syndicate Noble Profit content, please contact Amy Seidman at http://nobleprofit.org/about/contact/.
About Noble Profit
Noble Profit bridges the concept of making money and doing good.
Noble Profit is an online platform and syndicated media series presenting valuable information and thought leadership around technologies and best practices in the emerging field of sustainable business. Featuring in-depth subject matter (articles and video interviews) with inventors, investors and sustainable business executives, Noble Profit provides education and insight vital to creating awareness of triple bottom line businesses and new technologies.
Noble Profit is a publishing property of Creative Entity, a socially responsible media production, publishing and licensing company based in San Francisco, California. Creative Entity is a social venture hybrid with a non-profit organization creating digital media to educated, inspire and connect around nature and culture. Creative Entity is also the creator of Incredible Places, Into Outside and other digital media experiences.
More about Noble Profit: visit www.NobleProfit.com, www.Creative-Entity.com and www.CreativeEntity.org. Connect wih Noble Profit online at Facebook, YouTube and Twitter.
About CSRwire
CSRwire is a digital media platform and the leading global source of corporate social responsibility (CSR) and sustainability news. Founded in 1999 to advance the movement towards a more economically just and environmentally sustainable society and away from single bottom line capitalism, CSRwire has paved the way for new standards of corporate citizenship, earning the international respect of thought leaders, business leaders, academics, philanthropists, activists and the media community. Through innovative techniques and strategic partnerships, CSRwire continues to expand its content, communication technology and distribution channels exponentially.
CSRwire is a Certified B Corp, United Nations Global Compact Signatory, member of Social Venture Network, and supporter of the Gasoline Alley Foundation. In 2012, CSRwire supported over 250 non-profit organizations worldwide.
Find CSRwire on LinkedIn, Facebook and Twitter, and get up-to-date with the CSRwire Talkback blog.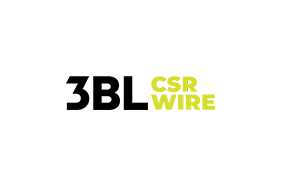 3BL CSRwire
3BL CSRwire
Respected and relied on by journalists, bloggers, business leaders and academics around the world, 3BL CSRwire is a dedicated, real-time source for major news and updates from within the worlds of ESG, corporate social responsibility and sustainability.
3BL CSRwire offers a-la-carte press release distribution to a global network of influential stakeholders and mainstream audiences—perfect for organizations just getting started in CSR or for those looking to get the most out of their corporate communications.
More from 3BL CSRwire