Published 01-31-13
Submitted by 3BL CSRwire
Human capital. My career. My job.
In a game of word association, how many times would 'corporate social responsibility' elicit any of the above phrases? We'll hazard a guess and say maybe one out of 10 times.
Because most of the analysis and commentary on the importance of CSR and sustainability in recent years has leaned toward discussing the greener aspects of sustainability: it's good for the environment, a sustainable business strategy leads to profits with performance, etc.
Until recently, when Elaine Cohen, CEO of Beyond Business Ltd and a regular contributor to Talkback, published a persuasive argument for connecting CSR with a company's human resources function with CSR for HR: A Necessary Partnership for Advancing Responsible Business Practices. Having spent
over 20 years in leadership positions with companies like Procter & Gamble and Unilever, Cohen's narratives come from experience and a strong belief that corporate social responsibility must begin internally--with your company's primary stakeholders: employees.
CSR for HR: A New Webinar Series
Now, in partnership with Cohen, CSRwire has launched a new webinar series to demonstrate how that can be done and provide a practical way forward. Through educational webinars focusing on skills building, implementation challenges, and connecting employee engagement with business opportunities, Cohen will lead CSR and HR practitioners through several critical issues, including:
The business case for advancing Sustainable Human Resources Management in your business, large or small.
The key issues that form the CSR/HR agenda and ways of addressing these in different organizations.
The employee engagement aspects of CSR – what works, what doesn't work and how to leverage engagement through CSR.
The measurable business benefits of a CSR-HR approach –quantifying the financial benefit to the organization through implementing CSR-HR tools
The CSR for HR Roadmap and Scorecard - what you can (and should) do next, and in what order.
"The CSR-HR partnership is a business imperative for organizations today.  Forming this partnership is not a natural evolution in most companies, and needs to be driven in a proactive manner. These sessions will give CSR and HR leaders practical tools to take back to their organizations for the benefit of sustainable business, people and planet.  It is time for HR to wake up to CSR, and for CSR Managers to engage with HR," says Cohen.
Each webinar will last for 90 minutes and focus on how CSR and HR managers can work more effectively together to advance corporate sustainability, do better business and satisfy stakeholder expectations. They will be recorded for future viewing and pre-webinar materials will be available for all participants to enable a real-time discussion.
"For jobseekers, employees, recruiters as well as HR managers, CSR is a critical value proposition that so far has suffered from being widely misunderstood and therefore, ignored. We are proud to offer our over 8,000 members an opportunity to train with the best and partner with Elaine on this important series. The value of human capital in growing a business and ensuring its sustainability is critical and the sooner you learn how to align the two, the better for your career and organization," says Aman Singh, Editorial Director at CSRwire.
Along with leading CSR and HR corporate practitioners joining Cohen, the webinars promise to be lively, interactive, and insightful sessions, leaving you with a desire to try out new tools and processes in your organization. We will use examples of good practice from global companies and suggest practical tools for implementation.
Register Now!
If you are a CSR Manager, a Sustainability Officer, an Organizational or Talent Development Lead or a Human Resources Manager, this mini-series is for you. Seats are limited so grab the details below and register before we sell out! 
Details:
Session 1: Talking the Same Language: Making the CSR-HR Partnership Work: March 13, 2013; 1:00-2:30pm ET
[Guest Practitioner: Amy Hall, Social Consciousness Director, EILEEN FISHER]
Session 2: Scorecards & Implementation: Making the CSR-HR Partnership Work: March 20, 2013; 1:00-2:30pm ET
[Guest practitioner: Shannon L. Schuyler, Corporate Responsibility Leader, PwC]
Price: $100/session; $175/series
Work at a CSRwire member or Beyond Business client company? Use code "CSRwire" to shave off 10%!
Want to register as a team? Email ann@csrwire.com for special company discounts!
Register now!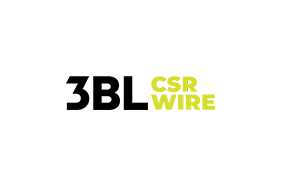 3BL CSRwire
3BL CSRwire
Respected and relied on by journalists, bloggers, business leaders and academics around the world, 3BL CSRwire is a dedicated, real-time source for major news and updates from within the worlds of ESG, corporate social responsibility and sustainability.
3BL CSRwire offers a-la-carte press release distribution to a global network of influential stakeholders and mainstream audiences—perfect for organizations just getting started in CSR or for those looking to get the most out of their corporate communications.
More from 3BL CSRwire