Published 10-11-12
Submitted by Points of Light
Building on the momentum of World Food Day this October, A Billion + Change and CSRwire are organizing a free webinar to spotlight the innovative ways that businesses are helping to fight hunger
and support food security at home and in developing countries through skills-based volunteering.
Whether it's lending the know-how to improve food aid distribution systems in Japan, giving technical assistance to small farmers and food processors in east Africa, or teaching students in the U.S. about healthy eating habits, how are businesses stepping up to end hunger and malnutrition through pro bono service at home and around the world?
Is skills-based volunteerism emerging as a key element in solving global crises and collaborating with public and private enterprise? Moderated by CSRwire's Editorial Director Aman Singh, the webinar will be held on Tuesday, October 23, 2012 at 12:00pm EST and will feature a thought-provoking dialogue between:
Donna Svendsen, Associate Director of Community Action for General Mills, Inc. and Jeff Dykstra, Executive Director of Partners in Food Solutions: More than 300 General Mills employees have volunteered thousands of hours through Partners in Food Solutions, a nonprofit that transfers technology and support to small African farmers and food processors. By using big company food science and lending the professional expertise of its employees, General Mills has helped food producers, like SoyAfric, develop fortified and locally-sourced food products for infants, seniors and people living with HIV/AIDS.
Gina Goff, Senior Director of Community Involvement for C&S Wholesale Grocers: She will discuss her company's commitment to skills-based volunteering, like when it lent a team of logistics experts to work with Second Harvest Japan Alliance on a supply-chain assessment to improve distribution systems for food banks in Japan. The assessment's recommendations will help improve services provided by food banks for the needy in areas affected by the tsunami and nuclear disaster in Japan last year.
Sue Stephenson, Vice President of Community Footprints for The Ritz-Carlton Hotel Company, LLC: Even the restaurant staff at The Ritz-Carlton has a passion for giving back to their communities. As part of Succeed Through Service, the company's skills-based volunteer program aimed at addressing the high school dropout crisis, restaurant teams and chefs teach students the importance of healthy eating habits and how to safely handle food. This is part of a broader mentoring and life-skills training program that has reached more than 9,000 children globally.
Increasingly, companies are integrating skills-based volunteer programs into their community involvement strategies as a way to engage their employees and allow them to use their professional skills to help nonprofits improve and sustain their operations. In many cases, the value of these services in areas such as general operations, technology and professional services can be 500 percent greater than the value of traditional volunteerism.
To date, more than 235 companies have pledged to create or expand pro bono programs as part of A Billion + Change, a national campaign to mobilize billions in skills-based volunteer services from corporate America by 2013. These pledges reflect a total commitment of nearly $1.9 billion worth of pro bono services given to nonprofit organizations.
Register for the free webinar and since the session will emphasize interactive dialogue, don't forget to send in your questions in advance to Aman Singh.
To learn more about A Billion + Change, please visit www.abillionpluschange.org. For questions and comments about the webinar, please contact Aman Singh.
About A Billion + Change
A Billion + Change is a national campaign to mobilize billions of dollars of pro bono and skills-based volunteer services by 2013. It was launched by the Corporation for National and Community Service in 2008 and continues as an initiative of the federal agency. Reinvigorated in 2011 with expanded leadership under the honorary chairmanship of Senator Mark Warner, it is now housed and managed by Points of Light. The initiative is powered by the support of Deloitte, HP, the Case Foundation, IBM and Capital One with additional founding support from State Farm, McKenna Long & Aldridge LLP and Morgan Stanley. Learn more at: www.abillionpluschange.org.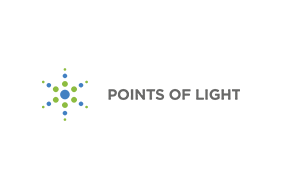 Points of Light
Points of Light
Points of Light is a nonpartisan, global nonprofit organization that inspires, equips and mobilizes millions of people to take action that changes the world. We envision a world in which every individual discovers the power to make a difference, creating healthy communities in vibrant, participatory societies. Through 177 affiliates across 38 countries, and in partnership with thousands of nonprofits and corporations, Points of Light engages 5 million volunteers in 16 million hours of service each year. We bring the power of people to bear where it's needed most.
More from Points of Light