Published 01-19-11
Submitted by Strategic Sustainability Consulting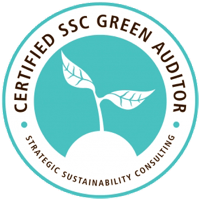 Our originally in-person, event-based, 3-day Certified SSC Green Auditor training is now available for purchase and completion online! This new offering will allow you and/or your team to complete the training from the convenience of your own home or office, saving you time, money and CO2!
The certification is designed to prepare you to perform SSC Green Audits for small and medium-sized businesses (our area of expertise) that operate out of an office setting. While the training does focus on office-based businesses, it covers options for customizing processes for manufacturing, retail, tourism, etc. The steps incorporated into SSC Green Audits reflect the success of our own business. As such, our training covers, how to solicit employee feedback from clients, find building information, perform carbon footprinting, conduct onsite visits, and results-driven feedback.
Once you complete this online course, you'll receive:

Tactical tools to make your green audits consistent, including a copy of Sustainability 101: A Toolkit for Your Business


Access to our collection of recommendations and results


Authorization to use our SSC Audit methodology and tools, with licensing feels paid to SSC on a per-client basis


Unlimited free support from SSC staff as questions arise throughout the process


Listing on our website as a certified SSC Auditor


Use of "Certified SSC Green Auditor" logo


Preferential status for our local auditor contracting


Please feel free to contact us for more information, or click here to get started today!

Strategic Sustainability Consulting
Strategic Sustainability Consulting
Strategic Sustainability Consulting provides organizations with the tools and expertise they need to actively manage their social and environmental impacts. We specialize in helping under-resourced organizations implement sustainable solutions usually reserved for large, multinational companies. Visit our website at www.sustainabilityconsulting.com for more information.
More from Strategic Sustainability Consulting