Published 11-01-10
Submitted by Maala - Business for Social Responsibility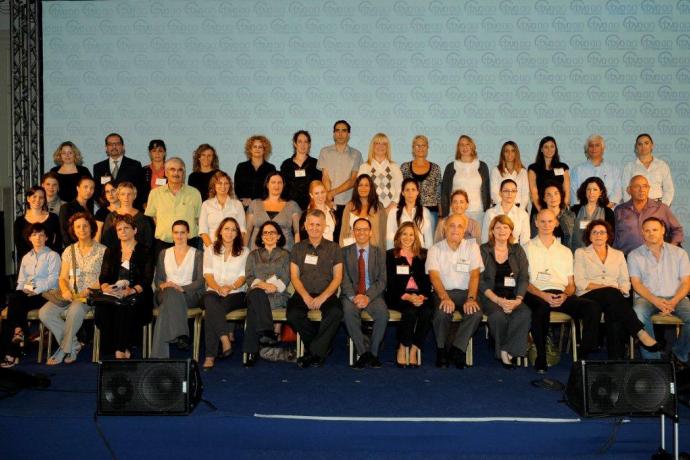 CSR managers from various companies pose for a group photo at the conference. The number of corporate responsibility managers at Israeli companies has increased significantly in recent years.
Maala's annual CSR conference, considered the central platform for discussion of corporate governance and citizenship in Israel, drew an audience of 1,000 businesspeople, government officials and representatives of the nonprofit sector yesterday. The event, which marked a decade of CSR in Israel, was meant to draw lessons from the past decade, while looking ahead to some of the key trends over the coming decade.
The conference was opened by Ofra Strauss, Chairperson of The Strauss Group, Israel's second largest food producer, and newly appointed Chairperson of Maala. "Doing business and doing good are not mutually exclusive," said Strauss, "and it is our responsibility is to prove this every day anew." In her remarks, Strauss touched on some of the changes in the Israeli business landscape, including a greater emphasis on transparency, sustainability and diversity in the workplace.
Strauss was followed by Momo Mahadav, Maala's CEO, who recounted some of the paradigm shifts that are occurring in the global and Israeli business communities. Mahadav noted that increasingly, rather than relating to corporate responsibility as an afterthought, companies are integrating the principles of CSR into their core business models. In addition, he said, companies are beginning to align their business aims with national social goals, as well as forming partnerships with government and nonprofit groups.
Rony Hizkiyahu, Israel's Supervisor of the Banks, told the large audience that the global financial crisis has exposed weaknesses in the system, including faulty risk assessment and insufficient regulation and oversight. In light of the crisis, he added, reforms have been initiated which will strengthen regulation and improve corporate governance.
Zion Keinan, CEO of Bank Hapoalim, said that high unemployment rates in the West which resulted from the crisis are "not only an economic problem, but a social, political and human problem as well." Keinan noted that unemployment in Israel, currently around 6%, is relatively low compared to Western countries.
Galia Maor, CEO of Bank Leumi, enthusiastically described social media as a new tool for transparency and direct communication between companies and consumers. Explaining her company's decision to utilize social media, Maor said: "We came to understand that whoever is not there will be left behind."
One of the conference's major themes was diversity in the workplace. Orna Segal, CEO of Manpower Israel, said that, while the situation today is better than what it was a few years ago, members of minority groups still face "very serious obstacles" when applying for employment at Israeli companies. She called on the business community to take a fresh look at members of minority sectors, not just because it is the socially responsible thing to do, but because it will ultimately benefit their bottom lines. She also called on HR managers to commit to hiring a certain percentage of the workforce from these groups.
The conference marked the inauguration of the Israeli Forum for Diversity in Hiring, a new initiative by TEVET, and featured a panel discussion in which successful young people from a minority background shared their stories with the audience. The novelist and screenwriter Sayed Kashua was also on hand to share some amusing thoughts on diversity in the Israeli workplace.
In the course of the breakout sessions, a number of parallel sessions dealt with themes such as sustainability, business and social media, public-private partnerships and implementation of CSR. In a panel discussion on transparency, senior businesspeople and nonprofit sector representatives agreed that business and government alike now find themselves in an era of increased transparency, in which information can no longer be hidden - a development which they welcomed.
"Transparency in business is not only the right thing to do," said Siemens Israel CEO Eliezer Tokman, "it is also good for business."
Yehuda Porat of Motorola Israel agreed, noting that Israel, which was recently accepted as a member state of the OECD, must do more to meet OECD standards on a range of issues, including corruption.
Awards were given to 21 companies and 1 municipality in recognition of their decision to join the UN Global Compact, and a Lifetime Achievement Award was given to Talia Aharoni, the founder of Maala. In her acceptance speech, Aharoni called on the business community to show leadership in staking out moral positions on the major issues of the day.
The conference's carbon emissions were to be offset by retrofitting public buildings for energy efficiency, in cooperation with the Good Energy Initiative.
About Maala
Maala is the leading advocate for corporate responsibility and good corporate citizenship in Israel. An umbrella organization for companies dedicated to CSR, Maala serves as an advocate, consultant, educator and facilitator, helping Israeli companies integrate social, environmental and ethical values into their business strategies.
Maala publishes the annual "Maala Corporate Social Responsibility Index," a ranking of public and private companies in Israel based on their performance in the field of CSR, as well as the "Code for Social Management in Companies."
For more information on Maala, visit us at www.maala.org.il/eng and on Facebook at Maala CSR.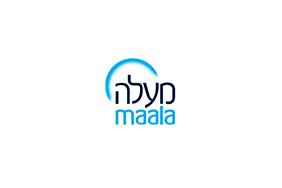 Maala - Business for Social Responsibility
Maala - Business for Social Responsibility
Maala is a non-profit corporate membership organization promoting ESG and corporate social responsibility (CSR) in Israel. Founded in 1998, Maala is considered as the ESG standards-setting organization in Israel. Presently, the membership organization is comprised of some 130 members, Israel's largest companies.
Maala publishes the Maala ESG indexes annually on the Tel Aviv Stock Exchange, and as of 2016 organizes an annual international conference in Tel Aviv.
Our Mission
Helping companies increase their social and environmental impact
Sharing practices & mutual learning
Flagging priorities & developing joint initiatives
Setting voluntary standards for business in Israel
Driving Change through
A network of 120 member companies, Israeli and global companies operating in Israel 2. A hub for sustainable business practices, solutions and cross-sector collaboration.
An annual CSR index rating 153 companies, also traded on the Tel Aviv Stock Exchange.
Maala ESG Index Facts & Figures
Over 150 companies rated. (vs. 47 when the index was launched in 2006)
- Approx. half are of Israel's large companies, rated on the Maala Advanced Index
- Approx. half are of Israel's mid-size companies, rated on the Maala Basic Index
Aggregate revenue: $137 billion; over 350,000 employees
TA Maala Index includes half of the total market value traded on the TASE.
Maala ESG Index Main Features
National based index – a prestigious Israeli business club
Local adaptation of global ESG and sustainability standards
A guidebook for local expectations and priorities
Reflects local market business culture