Published 10-21-10
Submitted by 3BL CSRwire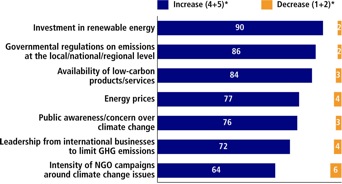 On Friday, October 22, David Mager and Joe Sibilia's new book, Street Smart Sustainability: The Entrepreneur's Guide to Profitably Greening Your Organization's DNA, will hit the streets. In the book, Sibilia and Mager examine the ways to transform a business to ensure its environmental footprint is as small as possible -- and if you are starting a business, it provides practical steps to put your business on the path to sustainability. Street Smart Sustainability will help boost productivity, reduce environmental impacts, and help you make more money. This book has stand-alone chapters that offer a wealth of "tips of the trade."
Click here to purchase Street Smart Sustainability.
Co-author Joe Sibilia is a pioneer in the corporate sustainability movement. Sibilia is the founder of Meadowbrook Lane Capital and Gasoline Alley Foundation and current CEO of CSRwire, which was founded in 1999 and acquired by Sibilia and a group of partners in 2005. He and Mager wrote the book as a roadmap for businesses that want to be green, but have felt financially daunted in doing so.
"We were inspired to write this book because there are so many books written about why you should be green, but not how to be green and do it in a profitable, not just cost-effective, manner," says co-author David Mager, President of Major Environmental Solutions. "This book is for the 17 million small- and medium-sized business owners and organization leaders who want to be sustainable but don't know how to do it in a way that won't cost them anything."
Mager should know. He has worked with over 300 Fortune 500 companies helping them make green by being green and was an advisor on the Obama USDA Transition Team in the area of sustainability. Mager also served as Director of Standards at Green Seal and has represented the US in the creation of ISO 14000. As a boy, he organized high school students for the first Earth Day.
Street Smart Sustainability has received the highest accolades in the industry:
"This is essential reading for any business leader--and anyone who wants to become one." -Joel Makower, Executive Editor, GreenBiz.com, and author of Strategies for the Green Economy
"A GPS for steering your business in a green and profitable direction way ahead of the curve with insight, innovation, integrity and passion." -Paulette Mae Cole, CEO and Creative Director, ABC Home
"This book makes the path to sustainability feel truly achievable." -Eileen Fisher, Chief Creative Officer, Eileen Fisher, Inc.
"No one has tried harder to quantify 'good beyond profit.'" -John Stossel, Fox News correspondent
"It's like having a private staff of top environmental consultants take your company where it needs to go." -Jeffrey Hollender, Cofounder and Chief Inspired Protagonist, Seventh Generation
"Provides an essential outline and all the creative new ideas to make any business greener." -Denise Hamler, Director, Green Business Network of Green America
This much awaited book will be launched at the 2010 Social Venture Network (SVN) Fall Conference. The conference brings together a vibrant community of social entrepreneurs to explore new ways to create a just economy, strengthen our collective impact, and share resources and experiences in leading sustainable enterprises.
You can also find Joe Sibilia signing books at these upcoming events:
Tues. - Wed., Oct. 26-27 - Aspen in NYC: Business and Society Annual Forum. The Aspen Institute and its media partner, Bloomberg Television, will explore the criteria used to measure progress--as individuals, business people and a society. Leaders from business, government, academia and the global community will participate in a series of discussions that explore the way we think about and measure success, looking at issues that range from the validity of GDP as an indicator of how well a country is doing to the purpose of the firm and its relation to its stakeholders and to societal challenges such as healthcare, the environment and building a sustainable future. Sibilia will be speaking Wed., Oct. 27.
Thurs., Nov. 4 - BSR Conference 2010. This year's Business for Social Responsibility (BSR) Conference will provide the insights and connections needed for defining the business models essential for future success in the new economy. Sibilia will be attending the BSR party Thurs. evening.
Sun., Nov. 7 - Green Festival, San Francisco. This year's Green Festival theme is 'Engagement', which is the topic Joe will be addressing on Nov. 7.
Thurs. - Sun., Nov. 18-21 - SRI in the Rockies. Along with Steve Schueth, CEO of First Affirmative Financial Network CEO, Sibilia has conducted a series of 12 speaker interviews for this event. See 2010 Speaker Interview Series.
For more information on book signings and appearances by co-authors David Mager and Joe Sibilia, please contact Natalie Thomas at 802-251-0110 ext. 1108 or Natalie@csrwire.com.
About CSRwire
CSRwire is the leading global source of corporate social responsibility and sustainability news. Founded in 1999 to advance the movement towards a more economically-just and environmentally-sustainable society and away from single bottom line capitalism, CSRwire has paved the way for new standards of corporate citizenship, earning the international respect of thought leaders, business leaders, academics, philanthropists, activists and the media community. Through innovative techniques and strategic partnerships, CSRwire continues to expand its content, communication technology and distribution channels exponentially.
CSRwire content reaches a broad and highly-engaged audience in the international CSR market through syndication partners, members, subscribers, visitors, mobile technology, databases, newsrooms, social media networks, search engines, financial portals, websites and online communities. As the exclusive distributor of CSR news and information for PR Newswire, CSRwire offers more visibility than any other newswire in the world.
Viewership includes 250,000 page views each month. In 2009, there were 1.4 million unique visitors from 224 countries and territories. Over 14,500 referral sites link to CSRwire.com and its news alerts reach nearly 50,000 subscribers - plus viral distribution. CSRwire is also distributed through a partnership network comprised of multiple leading organizations within the CSR and sustainability sector. The RSS feeds are packaged into two handy widgets making it possible for sites to display CSRwire news and information.
The service offers more than the traditional newswire service with its Daily Alerts, events calendar, thought-provoking editorials, popular Talkback blog, CSRlive, CSR book reviews, special report distribution, CSR directory, CSRwire Member Spotlights and searchable archives. For members distributing news, CSRwire offers analytics dashboards displaying headline impressions, content views, conversion rates, distribution, demographics, global reach and other features.
"¨Find CSRwire on LinkedIn, Facebook and Twitter @CSRwire.
Walking the Talk:
CSRwire is a Certified B Corp, United Nations Global Compact Signatory, member of Social Venture Network, and supporter of the Gasoline Alley Foundation. In 2009, CSRwire supported 135 non-profit organizations.
Editor's Note: View Joe Sibilia's Talkback post on Street Smart Sustainability here.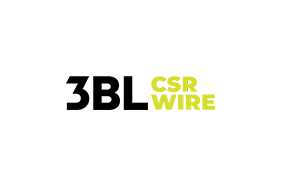 3BL CSRwire
3BL CSRwire
Respected and relied on by journalists, bloggers, business leaders and academics around the world, 3BL CSRwire is a dedicated, real-time source for major news and updates from within the worlds of ESG, corporate social responsibility and sustainability.
3BL CSRwire offers a-la-carte press release distribution to a global network of influential stakeholders and mainstream audiences—perfect for organizations just getting started in CSR or for those looking to get the most out of their corporate communications.
More from 3BL CSRwire