Published 09-21-10
Submitted by Deloitte
Deloitte today announced key findings from a recently conducted survey on President Barack Obama's administration's emphasis on a greener and more sustainable federal government. Developed by the Government Business Council (GBC) in conjunction with Deloitte, the survey reveals the hurdles faced by federal agencies in making green government a reality, including lack of resources and leadership. The results are of particular importance given the significant push the Obama administration has made to drive federal agencies to become greener.
"The study provides some encouraging findings about workforce support for green government mixed with negative perceptions on the level of agency efforts and progress to date," said Bryan Klopack, director of research for GBC. "In sum, federal executives agree that sustainability is a critical goal, but feel they lack the tools necessary to fully achieve it."
Key findings from the study include:

Support for green government initiatives is high -- more than 95 percent of federal executives consider it important that their agency implements sustainable practices.


Federal executives do not believe sustainability is receiving the attention it deserves -- 58 percent of respondents described the level of effort and resources dedicated to sustainability as "inadequate."


Executives are critical of the overall progress of the federal government on sustainability, with more than 50 percent of respondents categorizing progress to-date as "lacking" or "terrible."


Executives cite better education and training, and more employee engagement, as keys to achieving true sustainability. About half of respondents also identified the need for clearer goals and increased funding.


"The federal government has already made a commitment to sustainability and this survey shows that federal workers are personally on board with those efforts and ready to do more," said David J. Fornari, a principal with Deloitte Consulting LLP and leader of Deloitte's federal energy management and sustainability practice. "The benefit to fostering a culture of energy savings is the positive impact it will have on agency operating budgets. The savings will allow more money to be made available for agency and department missions."

The survey findings will be explored in detail on Wednesday, September 22nd at 2:00 p.m. EST, in a complimentary webinar presented by Deloitte and GBC. Hosted by GBC's Bryan Klopack, the webinar also will feature Deloitte's Dave Fornari. To register for this webinar, visit www.govexec.com/events.
For more information about Deloitte's federal government services, please visit http://www.deloitte.com/view/en_US/us/industries/US-federal-government/index.htm.
As used in this document, "Deloitte" means Deloitte LLP and its subsidiaries. Please see www.deloitte.com/us/about for a detailed description of the legal structure of Deloitte LLP and its subsidiaries.
About Government Business Council
As Government Executive Media Group's research intelligence division, Government Business Council (GBC) is dedicated to advancing the business of government through analysis, insight and analytical independence. As an extension of Government Executive's 40 years of exemplary editorial standards and a commitment to the highest ethical values, GBC studies influential decision-makers from across the federal government to produce intelligence-based research and analysis.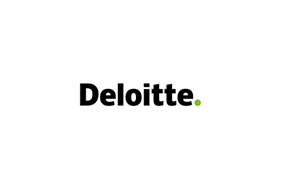 Deloitte
Deloitte
"Deloitte" is the brand under which 165,000 dedicated professionals in independent firms throughout the world collaborate to provide audit, consulting, financial advisory, risk management, and tax services to selected clients. These firms are members of Deloitte Touche Tohmatsu ("DTT"), a Swiss Verein. In the United States, Deloitte LLP is the member firm of DTT. Like DTT, Deloitte LLP does not provide services to clients. Instead, services are primarily provided by the subsidiaries of Deloitte LLP, including Deloitte & Touche LLP, Deloitte Consulting LLP, Deloitte Financial Advisory Services LLP and Deloitte Tax LLP.

Corporate Responsibility at Deloitte starts with the shared values that form the foundation of our culture: integrity, outstanding value to markets and clients, commitment to each other, and strength from cultural diversity. The focus areas that make up Corporate Responsibility at Deloitte include Ethics & Compliance, Talent, Community Involvement, Sustainability, Internal Operations, as well as the services we provide clients.

As used in this profile, "Deloitte" means Deloitte LLP. Please see www.deloitte.com/about for a detailed description of the legal structure of Deloitte LLP and its subsidiaries. Deloitte.com
More from Deloitte