Published 09-09-10
Submitted by International Business Leaders Forum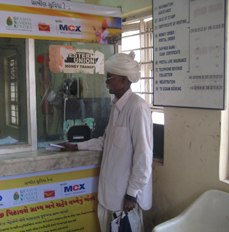 A farmer from the 'Gramin Suvidha Kendra' initiative by MCX and India Post gets market prices for his goods (Image courtesy MCX)
Facilitated by the International Business Leaders Forum (IBLF), the Multi Commodity Exchange of India Ltd (MCX) has become a member company of the Business Call to Action (BCtA), with the goal to create 50 new rural service centres in the country. This will transform as many as 60,000 small farmers from producers to informed marketers who trade their products on the MCX platform.
The Business Call to Action (BCtA) is a multi-stakeholder platform that challenges and encourages companies to develop innovative business models that meet both development and business goals. As a BCtA partner, IBLF has been responsible for reaching out to companies in India and getting them on board as members and hence facilitated MCX's involvement in the BCtA.
Graham Baxter, Acting CEO of IBLF said: "This is an excellent demonstration of the innovation that Indian companies can bring to help create inclusive growth domestically, and another example for businesses operating in any market of how inclusive business models can have development impact and create commercial success."
MCX aims to mobilize $950,000 over 5 years, of which MCX's contribution will be 23%. IBLF believes that this initiative has the potential to create a new competitive sector that will increase MCX's stakeholders, membership and business.
Sarita Bahl, Group CSO of MCX said: "We realize that despite the rapid growth of the Indian economy since the 1990s, agriculture is a sector that has been left behind. One of the most important issues for farmers is the lack of access to crucial information, which limits their ability to obtain fair prices for their produce. Moreover, they have to deal with unscrupulous agents who often cheat them, and take advantage of their lack of knowledge as well as education. Lack of information on the weather, pests and disease infestation also affects their ability to make a profit. Coming on board with the BCtA as a member company will equip up to 60,000 farmers to trade their produce knowledgeably."
MCX provides a nation-wide electronic platform for market players to buy or sell commodity futures contracts, facilitating efficient price discovery mechanism. Their futures prices show a very high degree of efficiency in reflecting current supply and demand conditions. The Exchange has one of the world's best systems for polling spot prices, thus improving the quality of decision-making of all commodity chain participants.
About MCX
Headquartered in the financial capital of India, Mumbai, MCX (www.mcxindia.com) is a demutualised nationwide electronic futures exchange with permanent recognition from Government of India. MCX offers the benefit of fair price discovery and price risk management to the commodity market ecosystem. Various commodities across segments are traded on MCX. These include bullion, energy, metals and agri commodities. The Exchange has forged strategic alliances with various Indian and International commodity exchanges, trade associations, education institutions and CSR partners to facilitate overall improvement of the commodity futures market.
About GSK
In June 2006, India Post and MCX came together to form a strategic alliance known as 'Gramin Suvidha Kendra' (GSK), which resulted in the establishment of rural service centres. The objective of this initiative has been to ensure benefits of commodity exchanges in the recesses of rural India, through a single-window service for all the pre-harvest and post-harvest requirements of the farming community. GSK is a unique, innovative, marketing and public private partnership (PPP) model, based on trust and credibility. It works on the principle of bringing open markets to the doorsteps of farmers, thereby offering them a basket of services and providing the much needed market linkages.
International Business Leaders Forum
International Business Leaders Forum
The International Business Leaders Forum (IBLF) is an independent, not-for-profit organisation working with business leaders and their companies to manage sustainabile programmes worldwide. Headquartered in London, IBLF has regional offices spanning Asia-Pacific, Russia and North America.
More from International Business Leaders Forum