Published 07-27-10
Submitted by Deloitte
A new Deloitte report released today and a corresponding podcast suggests that large companies in the United States continue to be interested and involved in sustainability, and most companies see a clear alignment between sustainability and their overall business strategy.
However, the Deloitte report, "Sustainability in Business Today: A Cross-Industry View," and podcast, "Three Things Your Chief Sustainability Officer Won't Tell You," also note that many companies have a clear gap between their leaders' aspirations with regards to sustainability and the way that sustainability is enabled within their organizations.
Deloitte conducted phone interviews with sustainability leaders of 48 large companies in the United States with revenues of more than $1 billion across five major industry sectors: automotive, consumer products, process and industrial, technology and telecommunications.
"Overall, our survey highlights a clear recognition among respondents of the importance of sustainability to the future of their businesses, as well as some of the challenges that sustainability leaders face in their efforts to align their organizations' sustainability practices with the principles companies often espouse," said Chris Park, principal, Deloitte Consulting LLP and national co-leader of Deloitte's sustainability & climate change services.
"Our hope is that these findings shed some light on the evolving nature of the relationship between business and sustainability - and help point the way to a future in which business embraces sustainability not only as a guiding principle, but on a fundamental operational, cultural and strategic level as well," Park added.
Among survey respondents, all but three said their sustainability priorities were at least partially aligned with their organizations' business priorities. However, a number of respondents qualified their responses with the observation that alignment was an ongoing process that occurred at different rates in different areas of the business.
"We believe sustainability is a strategic business issue and, to be successful, companies need to consider integrating it into their core business models. Our experience indicates that companies approaching sustainability through ad hoc programs or isolated initiatives do not achieve their desired outcomes and goals as effectively as companies that take an integrated approach," said Kathryn Pavlovsky, principal, Deloitte Financial Advisory Services LLP, and national co-leader of Deloitte's sustainability & climate change services.
Pavlovsky continued, "In our view, the goal should be to embed sustainability considerations into a company's strategy and operations in such a way as to enhance business value and derive a competitive advantage."
The Deloitte report and podcast can be accessed via www.deloitte.com/us/sustainability.
About Deloitte
As used in this document, "Deloitte" means Deloitte LLP and Deloitte Services LP, a subsidiary of Deloitte LLP. Please see www.deloitte.com/us/about for a detailed description of the legal structure of Deloitte LLP and its subsidiaries.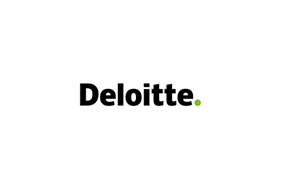 Deloitte
Deloitte
"Deloitte" is the brand under which 165,000 dedicated professionals in independent firms throughout the world collaborate to provide audit, consulting, financial advisory, risk management, and tax services to selected clients. These firms are members of Deloitte Touche Tohmatsu ("DTT"), a Swiss Verein. In the United States, Deloitte LLP is the member firm of DTT. Like DTT, Deloitte LLP does not provide services to clients. Instead, services are primarily provided by the subsidiaries of Deloitte LLP, including Deloitte & Touche LLP, Deloitte Consulting LLP, Deloitte Financial Advisory Services LLP and Deloitte Tax LLP.

Corporate Responsibility at Deloitte starts with the shared values that form the foundation of our culture: integrity, outstanding value to markets and clients, commitment to each other, and strength from cultural diversity. The focus areas that make up Corporate Responsibility at Deloitte include Ethics & Compliance, Talent, Community Involvement, Sustainability, Internal Operations, as well as the services we provide clients.

As used in this profile, "Deloitte" means Deloitte LLP. Please see www.deloitte.com/about for a detailed description of the legal structure of Deloitte LLP and its subsidiaries. Deloitte.com
More from Deloitte