Published 05-24-10
Submitted by The David Pakman Show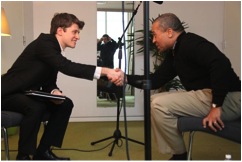 The nationally syndicated Midweek Politics with David Pakman has made national headlines during the Spring of 2010 with a number of corporate responsibility and human rights experts, combined with a denial-of-service attack coming as the result of a controversial interview.

Within hours of interviewing racist Missouri Senate candidate Glenn Miller, who on Midweek Politics referred to host David Pakman as a "jew liar," malicious hacking attempts made against the program website, MidweekPolitics.com -- which continued for over one week -- eventually brought down the website entirely for close to two days. Midweek Politics producer Louis Motamedi indicated that "we don't know for sure the individuals responsible for the attacks. However, we do know that the timing, combined with the location of the computers used for the attacks, are suspicious given the recent interviews on the program." The interview with Miller is available Part 1 | Part 2.
ACLU Attorney Bill Newman joined the program to discuss human rights issues with the recent Arizona immigration law, as well as the Supreme Court's expected hearing of the first free-speech case involving the "God Hates Fags" Westboro Baptist Church from Kansas (recent interview on Midweek Politics with their leader here).
Prior to Newman's appearance, Cooley Dickinson Hospital CEO Craig Melin appeared live on Midweek Politics to discuss the ethics of a healthcare system where the more procedures a hospital performs on a patient, the more they are paid, regardless of that patient's health outcomes. Additionally, Melin discussed what levels of medical error are acceptable, if any, and a number of other fascinating insider views on the healthcare reform bill recently passed by Congress. The interview is available online: Part 1 | Part 2.
Additionally, prison expert and insider David Chura was a live guest on the program, revealing many of the unbelievable conditions at American jails and prisons, and the further poor treatment of children sentenced to time at adult lockup facilities (Part 1 | Part 2).
Further, discussions on Midweek Politics related to the BP Deepwater Horizon oil spill, Republicans' defense of slavery as a way to criticize Supreme Court nominee Elena Kagan, and of a possible murder related to the passing of the Arizona immigration law have all been popular segment receiving acclaim and drawing criticism across the internet. As a result, the Midweek Politics Membership Program, the subject of much discussion at a recent Grassroots Radio Conference presentation by David Pakman in northern California, has been enjoying rapid and immediate success, coinciding with Midweek Politics surpassing the 80 affiliate station mark early last week.
Midweek Politics is a multi-facet media talk show hosted by David Pakman. Midweek Politics is a political program, focusing on the politics and news of the week, with regular interviews of liberal, conservative, and non-political guests. Midweek Politics can be heard on over 80 radio and television stations (listed here), recently adding Atlanta, Hartford, Tampa, and Philadelphia, and also seen/heard in Charlotte, Nashville, Grand Rapids, Dayton, Olympia, Anchorage, Winnipeg, and over 50 others.

Midweek Politics is currently the largest program in the country originating in Massachusetts, as well as the largest program hosted by an individual as young as Pakman, currently 26. Midweek Politics first aired in August 2005 on WXOJ in Northampton, Massachusetts. While an undergraduate student at the University of Massachusetts, during his time as an intern at the Media Education Foundation, Pakman began the evolution of a local version of Midweek Politics on WXOJ that would soon become a national success. Since June 2009 Pakman has been working with nationally syndicated progressive talk radio host Thom Hartmann, Pakman has partnered and distributed Thom's radio program to Pacifica Radio Network and other public radio stations, and established distribution of Thom's half hour TV show, The Big Picture, on television stations throughout the country. Midweek Politics online: www.midweekpolitics.com and on Facebook and Twitter

The David Pakman Show
The David Pakman Show
The David Pakman Show is a radio, Internet and television talk show hosted by David Pakman, currently airing on Pacifica Radio, YouTube, on public access television stations nationwide and via Internet podcast. The program first aired in August 2005 on WXOJ-LP ("Valley Free Radio"), located in Northampton, Massachusetts, and has since been syndicated to over 70 radio and television stations nationwide as of April 2010. Midweek Politics is a political talk program, focusing on the politics and news of the week, with regular interviews of both liberal, conservative and non-political guests. As a weekly show, it airs throughout the week on both radio and television affiliates around the US and across the world.
More from The David Pakman Show