Published 01-19-10
Submitted by Deloitte
The Deloitte Foundation, a not-for-profit arm of Deloitte LLP, today announced the recipients of its 2010 Doctoral Fellowship in Accounting grants. Ten students from academic institutions across the country were awarded $250,000 to help support the completion of their Ph.D. programs. Joining the more than 1,000 doctoral candidates who have received this prestigious award over the last two decades, each fellow will be given $5,000 during their final year of coursework and $20,000 to complete their doctoral dissertation the following year.
This year's recipients and the institutions they attend are:


Elizabeth A. Blankespoor, University of Michigan


Timothy J. Brown, Cornell University


Joao Granja, University of Chicago


Mark G. Maffett, University of North Carolina - Chapel Hill


Patrick R. Martin, University of Pittsburgh


Michael P. McLaughlin, Washington University - St. Louis


Ziaojing Meng, Columbia University


Eric C. So, Stanford University


Xiaoli Tian, University of Iowa


Rahul Vashishtha, University of Pennsylvania


"Through our Doctoral Fellowship program, the Deloitte Foundation proudly provides financial support to Ph.D. candidates in accounting who plan to pursue careers in academia at a time in the educational process when additional funding is crucial," said Shaun Budnik, president of the Deloitte Foundation and partner, Deloitte LLP. "Also, these grants enable us to ensure that there are future teachers in the pipeline as our profession grapples with the shortage of Ph.D. qualified accounting faculty. To that end, we believe that this year's award recipients will play an important role in developing the next generation of accounting leaders."
Nearly 100 universities nationwide are invited to apply for the Fellowship annually, and the students nominated by their school's accounting faculty are the top doctoral candidates. This year's recipients were chosen by a selection committee composed of three eminent accounting educators: Professors, Michelle Hanlon of the Massachusetts Institute of Technology, Douglas Skinner of the University of Chicago and Kathryn Kadous of Emory University.
"The Deloitte Foundation's longstanding support of doctoral accounting education for emerging new faculty is exceptional," said Michelle Hanlon, outgoing member of the Faculty Selection Committee. "As a previous recipient of this prestigious fellowship, I know first-hand of the tremendous benefit it provides at a critical time in the Ph.D. student's program. The greater accounting community benefits from this grant program as well, and it has been a distinct honor and a great pleasure to serve on the Fellowship committee for the last three years."
About the Deloitte Foundation
The Deloitte Foundation is a not-for-profit organization that supports teaching, research, and curriculum innovation in aaccounting, business, and related fields within the U.S. The Foundation, founded in 1928, supports an array of national programs, which are relevant to a variety of professional services, and which benefit middle/high school students, undergraduates, graduate students, and faculty. For more information, please visit the Deloitte Foundation web page at www.deloitte.com/us/df.
About Deloitte
As used in this document, "Deloitte" means Deloitte LLP and Deloitte Services LP, a subsidiary of Deloitte LLP. Please see www.deloitte.com/about for a detailed description of the legal structure of Deloitte LLP and its subsidiaries.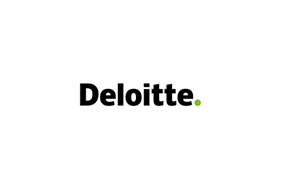 Deloitte
Deloitte
"Deloitte" is the brand under which 165,000 dedicated professionals in independent firms throughout the world collaborate to provide audit, consulting, financial advisory, risk management, and tax services to selected clients. These firms are members of Deloitte Touche Tohmatsu ("DTT"), a Swiss Verein. In the United States, Deloitte LLP is the member firm of DTT. Like DTT, Deloitte LLP does not provide services to clients. Instead, services are primarily provided by the subsidiaries of Deloitte LLP, including Deloitte & Touche LLP, Deloitte Consulting LLP, Deloitte Financial Advisory Services LLP and Deloitte Tax LLP.

Corporate Responsibility at Deloitte starts with the shared values that form the foundation of our culture: integrity, outstanding value to markets and clients, commitment to each other, and strength from cultural diversity. The focus areas that make up Corporate Responsibility at Deloitte include Ethics & Compliance, Talent, Community Involvement, Sustainability, Internal Operations, as well as the services we provide clients.

As used in this profile, "Deloitte" means Deloitte LLP. Please see www.deloitte.com/about for a detailed description of the legal structure of Deloitte LLP and its subsidiaries. Deloitte.com
More from Deloitte