Published 12-09-09
Submitted by Deloitte
Online social networks have become so central to teens' lifestyles that they would consider their ability to access them during working hours when weighing a job offer. This is according to the seventh annual Junior Achievement/Deloitte Teen Ethics Survey, which focused on the ethical implications of the popularity of social networking.
Nearly nine-in-10 (88 percent) teens surveyed use social networks every day, with 70 percent saying they participate in social networking an hour or more daily. More than half (58 percent) said they would consider their ability to access social networks at work when considering a job offer from a potential employer. This comes as many organizations have begun implementing policies that limit access to social networks during the workday due to concerns about unethical usages, such as time theft, spreading rumors about co-workers or managers and leaking proprietary information, among other reasons.
Most of the teens surveyed feel prepared to make ethical decisions at work (82 percent) and a significant majority of teens say they do not behave unethically while using social networks (83 percent). Yet, despite this confidence in the integrity of their online behavior, significant numbers of teens do not consider the reactions of specific groups of influencers in their lives when posting content on social networks. Specifically, 40 percent do not consider the potential reactions of college admissions officers, 38 percent do not consider the reactions of present or future employers, and 30 percent do not consider their parents reactions. Moreover, 16 percent readily admitted to behavior that included posting content embarrassing to others, spreading rumors and pretending to be someone other than themselves. Ultimately, more than half of those who did admit to posting this type of content about others (54 percent) said they later regretted doing so.
The data have heightened meaning in light of the findings of another Ethics & Workplace Survey, also conducted recently by Deloitte. The survey showed that more than a third of adult respondents also rarely, if ever, consider what their bosses, colleagues or clients would think when they post comments, photos or videos online.
"The contemplation of how one's actions will be received by others is a hallmark of emotional and ethical maturity," said Professor David W. Miller, ethicist and director of the Princeton University Faith & Work Initiative. "A lack of consideration of how one's behavior will impact others suggests that teens need to be more mindful of the ramifications of their actions. If this lack of reflection continues into adulthood, it's a signal to employers that the workplace implications could be considerable. Even though teens may have a higher threshold than adults for what constitutes an 'embarrassing' posting, these future employees need to understand that behavior deemed appropriate in one's personal life may not be acceptable or even ethical in one's professional life."
To provide teens with ethics education and decision-making tools, Junior Achievement and Deloitte have collaborated to create JA Business Ethics, an in-classroom ethics program for high school students, and on Excellence through Ethics, a series of free, downloadable ethics lessons for students in grades 4-12 available at www.ja.org/ethics.
Ainar D. Aijala, global managing partner, Consulting, Deloitte Touche Tohmatsu and immediate past chairman of JA Worldwide, added: "From an employer's perspective, it's clear that organizations need enhanced training and communication relative to social networking. This is particularly the case when more than half of the future talent pool feels so strongly about social networking, that their ability to access those sites at work would play into their decision to take a job. Teens who will soon be entering the workforce must understand the value of their 'personal brand,' that their online postings live in perpetuity, and also need ethical decision-making tools to help them understand the importance of behaving with integrity on- and offline."
The Junior Achievement/Deloitte Teen Ethics Survey also revealed some positive findings. Many teens are harnessing social networking platforms to promote causes of importance to them or to help others. Specifically, slightly more than half (51 percent) of teens surveyed had used social networking sites to help others, and nearly as many (44 percent) had used social networks to encourage or support others. Nearly three-in-10 (29 percent) had used social networks to create awareness for a cause.
Jack Kosakowski, president, Junior Achievement USA, noted, "It's encouraging to see teens leveraging the power of social networking to promote good causes. Yet the results of our survey indicate that teens need to continue to build on this foundation as the need is very real for more ethics education and decision-making tools to help them understand the ramifications of their online behavior. The Junior Achievement/Deloitte curricula can help students be better ethically prepared to enter the workforce so that they're adding value in the workplace."
Additional resource:
Deloitte Ethics & Workplace Survey
Methodology:
The 2009 Junior Achievement/Deloitte Teen Ethics Survey was conducted by Opinion Research Corporation the week of September 21, 2009. A total of 1,000 U.S. teens ages 12-17 were surveyed by telephone; the survey's margin of error is +/- 3.2 percent.
About Junior Achievement® (JA)
Junior Achievement is the world's largest organization dedicated to inspiring and preparing young people to succeed in a global economy. Through a dedicated volunteer network, Junior Achievement provides in-school and after-school programs for students which focus on three key content areas: work readiness, entrepreneurship, and financial literacy. Today, 129 individual area operations reach more than four million students in the United States, with an additional 5.7 million students served by operations in 121 other countries worldwide. For more information, visit www.ja.org.
About Deloitte
As used in this document, "Deloitte" means Deloitte LLP and Deloitte Services LP, a subsidiary of Deloitte LLP. Please see www.deloitte.com/us/about for a detailed description of the legal structure of Deloitte LLP and its subsidiaries.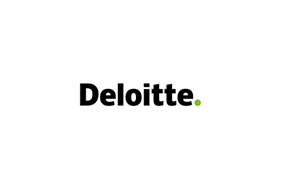 Deloitte
Deloitte
"Deloitte" is the brand under which 165,000 dedicated professionals in independent firms throughout the world collaborate to provide audit, consulting, financial advisory, risk management, and tax services to selected clients. These firms are members of Deloitte Touche Tohmatsu ("DTT"), a Swiss Verein. In the United States, Deloitte LLP is the member firm of DTT. Like DTT, Deloitte LLP does not provide services to clients. Instead, services are primarily provided by the subsidiaries of Deloitte LLP, including Deloitte & Touche LLP, Deloitte Consulting LLP, Deloitte Financial Advisory Services LLP and Deloitte Tax LLP.

Corporate Responsibility at Deloitte starts with the shared values that form the foundation of our culture: integrity, outstanding value to markets and clients, commitment to each other, and strength from cultural diversity. The focus areas that make up Corporate Responsibility at Deloitte include Ethics & Compliance, Talent, Community Involvement, Sustainability, Internal Operations, as well as the services we provide clients.

As used in this profile, "Deloitte" means Deloitte LLP. Please see www.deloitte.com/about for a detailed description of the legal structure of Deloitte LLP and its subsidiaries. Deloitte.com
More from Deloitte