Published 11-12-09
Submitted by Global Reporting Initiative
Two new reports released this week examine trends in corporate measurement and reporting on human rights performance and provide practical guidance for companies engaging on this emerging area of corporate citizenship and accountability.
As part of a collaborative project "Human Rights: A Call to Action" launched last year to mark the 60th anniversary of the Universal Declaration of Human Rights, the Global Reporting Initiative, the United Nations Global Compact and Realizing Rights: The Ethical Globalization Initiative commissioned two studies to advance efforts on human rights reporting. The first, a survey of recent sustainability reports by over 50 leading companies, examines trends in current corporate disclosures on human rights and highlights good practice examples as well as ongoing shortcomings in reporting in this area. The second report offers a practical guide for companies on steps they can take to improve their coverage of human rights as part of their sustainability reports and was developed through extensive expert consultation over the past year.
Mary Robinson, President of Realizing Rights: The Ethical Globalization Initiative said: "My colleagues and I at Realizing Rights have been pleased to collaborate with GRI and the Global Compact on improving guidance for corporate reporting on human rights issues. We believe our findings and recommendations will be of significant help to companies and other stakeholders working to improve sustainability reports as a key tool in enhancing transparency and accountability around the world."
Georg Kell, Executive Director of the United Nations Global Compact, said: "As companies everywhere are developing a better understanding of the relevance of human rights to their strategies and operations, these new reports will be of great value in improving corporate reporting and ultimately help companies on their path to continuous performance improvement."
A final output of this important initiative is a set of recommendations on updates to the human rights elements of the Global Reporting Initiative's G3 Guidelines - the world's most widely-used sustainability reporting framework. Published today, the recommendations will form the basis for stakeholder consultation in early 2010.
Ernst Ligteringen, Chief Executive of the Global Reporting Initiative, said: "The GRI Guidelines were designed to evolve alongside our collective knowledge of the field of sustainability. In recent years the work of UN Special Representative John Ruggie and greater understanding of business' role in human rights have increased this collective knowledge. These developments informed the Human Rights Working Group who have proposed a particularly insightful set of recommendations on changes to the GRI Guidelines. I now look forward to that knowledge being shared with a wider public, to receive feedback from the many stakeholders for whom the measurement, management and reporting of human rights is a key business issue."
Download the reports from: http://www.globalreporting.org/HumanRights
About The Global Reporting Initiative
The Global Reporting Initiative has pioneered the development of the world's most widely used sustainability reporting framework and is committed to its continuous improvement and application worldwide. This framework sets out the principles and indicators that organizations can use to measure and report their economic, environmental, and social performance.
www.globalreporting.org
About the United Nations Global Compact
Launched in 2000, the UN Global Compact brings business together with UN agencies, labour, civil society and governments to advance ten universal principles in the areas of human rights, labour, environment and anti-corruption. Through the power of collective action, the Global Compact seeks to mainstream these ten principles in business activities around the world and to catalyze actions in support of broader UN goals. With over 7,000 signatories based in more than 135 countries, it is the world's largest voluntary corporate citizenship initiative,. www.unglobalcompact.org
About Realizing Rights: The Ethical Globalization Initiative
Founded by Mary Robinson, former President of Ireland and former UN High Commissioner for Human Rights, Realizing Rights convenes key stakeholders in new alliances to integrate human rights, gender equality and enhanced accountability into efforts to address global challenges and governance shortcomings. www.realizingrights.org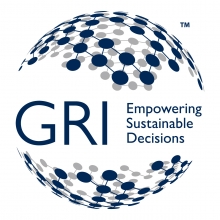 Global Reporting Initiative
Global Reporting Initiative
The Global Reporting Initiative's (GRI) vision is that reporting on economic, environmental, and social performance by all organizations becomes as routine and comparable as financial reporting. GRI accomplishes this vision by developing, continually improving, and building capacity around the use of its Sustainability Reporting Framework.
An international network of thousands from business, civil society, labor, and professional institutions create the content of the Reporting Framework in a consensus-seeking process.
More from Global Reporting Initiative