Published 09-23-09
Submitted by BBMG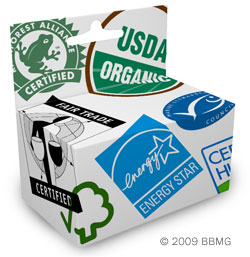 Good Housekeeping now has a green seal of approval. So does UL, the global product safety tester. They join some 400 certifications now vying to validate social and environmental claims on behalf of companies targeting consumers who care about issues like whether a product is truly organic, can be recycled or pays producers fair prices.
But how effective are certification seals in enhancing brand awareness and driving actual purchases?
As part of its annual survey of the nation's increasingly conscious consumers, brand innovation firm BBMG tested a battery of 13 certification seals with 2,000 respondents.
Not surprisingly, a majority of U.S. consumers are unfamiliar with all labels tested, except for Recyclable (89% familiar), Energy Star (87% familiar) and USDA Organic (62% familiar). The next most familiar seal (Smart Choice, 45% familiar) lags 17 points behind USDA Organic. All three leading seals are sponsored by federal agencies. Consumers are much less familiar with seals sponsored by nonprofits and non-governmental organizations (NGOs), such as LEED or Green Building Certified (12% familiar) and Forest Stewardship Council (FSC) Certified (6% familiar).
Regarding impact on intent to purchase, only two seals are sought out by consumers with any real frequency -- Energy Star (31% always) and Recyclable (20% always). USDA Organic (8% always) and Smart Choice (7% always), both food industry seals, rank next in driving intent to purchase. The remaining seals do not drive consumer purchasing, which is not surprising as the vast majority
of Americans has no recollection of ever seeing these trustmarks.
"While the majority of U.S. consumers are unfamiliar with most trustmarks today, we believe that certifications can work for forward-looking brands in several ways," said Mitch Baranowski, founding partner of BBMG. "Trustmarks help ensure companies follow best practices by setting clear and transparent standards. They serve as important proof points for overall brand messages and stories. And they can provide an objective, third-party stamp of approval that demonstrates how companies are following through on their social and environmental claims."
For more analysis of the researching findings, please visit BBMG's blog (http://www.itshowwelive.com) where you will find a related article on "The Aesthetics of Trust," as well as complete information on the BBMG Conscious Consumer Report.
The annual BBMG Conscious Consumer Report explores the attitudes, preferences, values and experiences that shape consumer purchasing behavior, brand loyalty and peer-to-peer influence. Conducted by BBMG, in conjunction with research partners Global Strategy Group and Bagatto, the report combines ethnographic research in two U.S. markets with a national survey of 2,000 adults. The survey margin of error is +/- 2.2 percentage points.
About BBMG: With offices in New York City and San Francisco, BBMG is a nationally-recognized firm dedicated to creating innovative brands that reach, engage and inspire today's increasingly conscious consumers. Recent clients include CLIF Bar, Eileen Fisher, ShoreBank, Ceres, Green America and Social Venture Network. For more information, visit www.bbmg.com

BBMG
BBMG
BBMG is a brand and social innovation consultancy dedicated to creating business growth and positive social impact. We're strategic creatives and creative strategists, culture experts and design thinkers. We build brands with purpose that are relevant to a new generation and resilient for the fast, transparent and volatile world we live in today. To learn more about how we build brands for humans, visit www.bbmg.com.
More from BBMG