Published 06-21-00
Submitted by Fifth Third Bancorp
Fifth Third ranks as the 7th best place to work for IT professionals according to Computerworld Magazine! Fifth Third is the highest rated bank in the country and the only Tristate bank to earn inclusion in the report.
Computerworld's ranking of U.S. based companies that had revenue of $500 million or more was based on a company's benefits, training and development, average salary increases, percentage of staff promoted, and percentage of women and minority employees in IT management positions. In addition, the survey also considered the availability of mentoring programs, flex time and stock options. Fifth Third received particularly high marks for involving over 70% of its staff in cross-functional teams and for its investment in employee training.
Fifth Third Executive Vice President James J. Hudepohl offers, "It's exciting to be included in Computerworld's ranking for the second year in a row! This recognition of Fifth Third Bank as being a premier place to work is a perfect complement to our expertise in the technology arena, which was affirmed by PC Week's ranking of us as the #1 e-business innovator in the financial services industry."
He continues, "Our innovative e-business initiatives, like the processing of 4.8 billion e-commerce transactions annually, combined with the benefits and flexibility we offer employees, sets us apart. This ranking further demonstrates that people are the #1 asset of Fifth Third. Our emphasis on training and education for employees makes our investment in technology pay off!"
Take for example Julie Elberfeld, Assistant Vice President & Project Manager, and an eight-year employee in Fifth Third's Data Processing department. The manager of a team responsible for back-office payment applications, she offers, "Fifth Third is a great place to work! For IT professionals looking for a rewarding job with an industry leader, they should look no further than Fifth Third. The bank has an excellent package of benefits—competitive wages, profit sharing that is 14% over and above your salary, paid vacation time and flexible schedules. Fifth Third gives you the freedom to have a successful career and a balanced family life. I'd highly recommend working at Fifth Third!"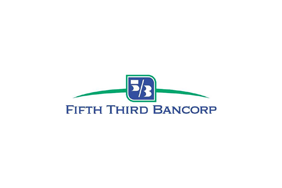 Fifth Third Bancorp