Published 09-23-03
Submitted by 3BL CSRwire
BRATTLEBORO, VT - CSRwire is proud to announce the launch of the CSR Directory: Resources for Promoting Global Business Principles and Best Practices, a directory of worldwide organizations working on all aspects of corporate social responsibility. The directory is located at www.csrwire.com/directory and was created in partnership with Michael Kane. This interactive, web-based tool provides contact information for more than 700 organizations, with listings of the senior leaders and websites for each organization.
"Since the early 1990s, the business community and many organizations around the world have taken up the challenges and opportunities of working together," noted Michael Kane. "Users of this directory will find hundreds of organizations promoting business principles and best practices across a wide range of issues from 62 countries in all regions of the world."
CSRwire and SRI World Group's technology team have developed a searchable, online version of Mr. Kane's directory. With the administrative tools developed by SRI World Group, Mr. Kane will be able to provide real-time online updates and CSRwire will provide free public access to this directory. Searchable by organization and key contact, the directory provides cross-referenced entries in 25 categories and a listing of all organizations by country.
"The scope and depth of Michael Kane's directory is truly impressive," commented Georg Kell, Executive Head, Global Compact. "The directory is extremely valuable as a resource and tool, allowing people and organizations from all over the world to learn about one another and build important connections and alliances. The fact that the directory is also continuously updated makes it all the more meaningful."
Aron Cramer, Vice President of Business for Social Responsibility, said, "This directory is a valuable tool for mapping the stakeholder world in which we live. This directory has long been a resource for anyone working in the field of CSR, and its wider availability undoubtedly will help to spark more dialogue and collaboration."
"Mr. Kane and CSRwire have provided an unprecedented gift to concerned investors, academics, the corporate world, and nongovernmental organizations through the publication of this remarkable reference guide," noted Timothy Smith, Senior Vice President of Walden Asset Management and President of the Social Investment Forum.
CSRwire is a service of SRI World Group of Brattleboro, Vermont. SRI World Group provides resources and tools for socially responsible investors and corporations.
CSRwire is a targeted newswire service distributing corporate social responsibility news releases through a global syndication network and direct delivery to journalists, investment professionals, organizations, and corporate leaders. CSRwire also maintains an online database of corporate sustainability, citizenship, EHS, and similar reports. CSRwire's online news feed is located at www.csrwire.com.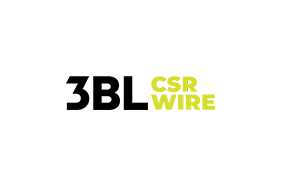 3BL CSRwire
3BL CSRwire
Respected and relied on by journalists, bloggers, business leaders and academics around the world, 3BL CSRwire is a dedicated, real-time source for major news and updates from within the worlds of ESG, corporate social responsibility and sustainability.
3BL CSRwire offers a-la-carte press release distribution to a global network of influential stakeholders and mainstream audiences—perfect for organizations just getting started in CSR or for those looking to get the most out of their corporate communications.
More from 3BL CSRwire