Published 10-15-02
Submitted by Alliant Energy Corporation
CEDAR RAPIDS, Iowa - The Cogenex division of Alliant Energy Integrated Services and HR Textron are the recipients of a 2002 Energy User News Efficient Building Award for their energy conservation work at HR Textron in Valencia, Calif. The award was presented in conjunction with the World Energy Engineering Congress in Atlanta on Thursday, Oct. 10.
Energy User News magazine recognizes select industry projects throughout North America that exemplify excellence and innovation in energy efficiency and building management each year. The energy conservation initiative at HR Textron was named this year's "Best Manufacturing Project."
Amidst the California energy crisis, Alliant Energy Integrated Services' staff worked to implement a variety of energy conservation measures at the HR Textron facility -- enhanced pumping strategies, new chillers, back-up generation, lighting control systems and more. The work was completed in December 2001.
"In addition to mitigating unscheduled shutdowns, reliability issues and exposure to extreme price volatility, the project is paying for itself with savings of about $312,000 per year," says Chuck Castine, president of Alliant Energy Integrated Services. "It's all a matter of knowing how to uncover energy-saving opportunities and understanding where to apply them to gain the greatest advantage. We're pleased that our expertise in this area is making a difference for our customers and that our work is being recognized for being the best in the industry."
Collectively, the energy conservation measures implemented at HR Textron are considered a Shared-Savings initiative. The equipment upgrades and process improvements were made and financed by Alliant Energy Integrated Services--Cogenex. HR Textron pays for them with the realized and measured energy savings over a predetermined period of time. This arrangement allows companies to implement energy -- and ultimately money-saving projects, without increasing their operating or capital expenditures.
A write-up on the HR Textron project will be featured in the December 2002 issue of Energy User News. Alliant Energy Integrated Services--Cogenex also received the "Best Process Project" award for work done at Dupont Canada, Inc.
HR Textron is a high tech aerospace and defense manufacturer in Southern California. The company is highly regarded for its competence in electromechanical, pneumatic, fuel and motion control systems and components as well as hydraulic systems.
Alliant Energy Integrated Services, headquartered in Cedar Rapids, Iowa, is a diversified energy and environmental engineering company of Alliant Energy (NYSE:LNT), a growing energy company based in Madison, Wis. Alliant Energy Integrated Services provides energy consulting, on-site generation and energy infrastructure, energy procurement and environmental engineering and construction management services for commercial, industrial, institutional, educational and government customers. For more information about the company, contact Jeanine Penticoff at 1-877-725-6611. Information about Alliant Energy Integrated Services is available on-line at www.alliantenergyisco.com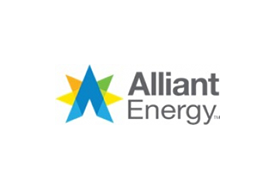 Alliant Energy Corporation
Alliant Energy Corporation
Alliant Energy Corporation (NASDAQ: LNT) provides regulated energy service to 965,000 electric and 415,000 natural gas customers across  Iowa  and  Wisconsin .  Alliant Energy's  mission is to deliver the energy solutions and exceptional service customers and communities count on – safely, efficiently and responsibly.  Interstate Power and Light Company  and  Wisconsin Power and Light Company  are  Alliant Energy's  two public energy companies.  Alliant Energy  is a component of the Nasdaq CRD Sustainability Index,  Bloomberg's  2019 Gender-Equality Index, and the  S&P  500. For more information, visit alliantenergy.com and follow us on LinkedIn, Facebook, Instagram and Twitter.
More from Alliant Energy Corporation