Published 04-16-07
Submitted by Deloitte
NEW YORK,NY - April 16, 2007 "" Companies that help their employees volunteer their professional skills to non-profit organizations could have a leg up when it comes to recruiting Gen Y talent, a new survey of 18-26 year-olds shows. Nearly two-thirds of the respondents (62 percent) in the 2007 Volunteer IMPACT survey by Deloitte & Touche USA LLP (Deloitte) said they would prefer to work for companies that give them opportunities to contribute their talents to nonprofit organizations.
"Several studies have shown that Gen Y employees want to make a positive difference in society and, at the same time, nonprofits need help dealing with business and organizational issues in order to better deliver their social missions," said James H. Quigley, CEO of Deloitte & Touche USA LLP. "Companies that connect these two important realities, and encourage their people to contribute knowledge and experience to nonprofits, will make a difference by giving back to the community "" and at the same time build the skills and morale of their people."
According to Deloitte's 2007 Volunteer IMPACT Survey, four out of five respondents (80 percent) identified themselves as volunteers and 97 percent of respondents believed companies should offer their employees opportunities to volunteer their work-related skills or talents to non-profit organizations.
"This generation expects to make a difference. They give of themselves and they want their employers to help them contribute as well," said Stan Smith, national director of Next Generation Initiatives at Deloitte & Touche USA LLP. "Companies that facilitate meaningful community involvement opportunities for their people will be very attractive employers."
While there are many reasons people volunteer, a vast majority of volunteers surveyed by Deloitte (74 percent) said they do it to have a meaningful impact on their communities or to fulfill a personal desire to give back. Most Gen Y volunteers (80 percent) are also confident that non-profits could benefit from their professional skills and talents.
The fact that volunteerism can also help them advance their careers is not lost on this generation. Four out of five respondents who volunteer (82 percent) believe it helps them develop leadership and other important workplace skills.
"Volunteering with non-profits is important for the community, but it also greatly benefits the volunteer," said Evan Hochberg, National Director of Community Involvement, Deloitte Services LP. "Skills-based volunteering, in particular, can give younger employees a chance to develop their management, teamwork, communication and leadership skills, as well as their technical skills."
Deloitte's survey also found that companies can do more to leverage their community involvement and corporate volunteerism programs to attract employees. While many companies offer volunteer programs, only 26 percent of employed respondents said their company's community efforts were mentioned when they were recruited.
Additionally, while 97 percent of Gen Y volunteers believe companies should provide opportunities for their employees to volunteer their work-related skills or talents to non-profits, only 39 percent of Gen Y employees say their companies currently provide those types of opportunities. And fewer still (30 percent) found the existing volunteer opportunities to be compelling. Hochberg considers those findings missed opportunities by employers.
"Many companies have community involvement and volunteerism programs, but they have to resonate with employees if they are truly going to deliver both social and business outcomes," he said. "Potential recruits want to know they will have the chance to make a valuable difference, and this should be communicated early and often during the recruiting process."
Last year Deloitte modified its approach to community involvement and employee volunteerism by introducing a long-term initiative to achieve meaningful social and business outcomes. This new approach enables employees to contribute their workplace skills and talents to non-profits to help them overcome their strategic, operational and financial challenges.
As one example of its ongoing commitment to its communities, on June 8, Deloitte is encouraging its nearly 40,000 employees to make the community their client and participate in the eighth-annual IMPACT Day. Many of the events that take place on IMPACT Day allow Deloitte employees to volunteer their professional skills to non-profits in their communities.
2007 Volunteer IMPACT Survey Methodology
Opinion Research Corporation (ORC) conducted a national online survey among a sample of 1,000 adults between the ages of 18 and 26. ORC maintains a web-based data collection operation, Web Services, which is responsible for programming and the output of data collected via the web. The sample for the study came from the Research Now online panel. There was a 3.2% margin of error for questions asked of all respondents and a 3.6% margin of error for questions asked of only those who are employed. (However, this does not take other sources of error into account. This online survey is not based on a probability sample and therefore no theoretical sampling error can be calculated.) Data collection commenced on February 21st and concluded on February 27th.
About Deloitte
Deloitte refers to one or more of Deloitte Touche Tohmatsu, a Swiss Verein, its member firms and their respective subsidiaries and affiliates. As a Swiss Verein (association), neither Deloitte Touche Tohmatsu nor any of its member firms has any liability for each other's acts or omissions. Each of the member firms is a separate and independent legal entity operating under the names "Deloitte", "Deloitte & Touche", "Deloitte Touche Tohmatsu" or other related names. Services are provided by the member firms or their subsidiaries or affiliates and not by the Deloitte Touche Tohmatsu Verein.
Deloitte & Touche USA LLP is the US member firm of Deloitte Touche Tohmatsu. In the US, services are provided by the subsidiaries of Deloitte & Touche USA LLP (Deloitte & Touche LLP, Deloitte Consulting LLP, Deloitte Financial Advisory Services LLP, Deloitte Tax LLP and their subsidiaries), and not by Deloitte & Touche USA LLP.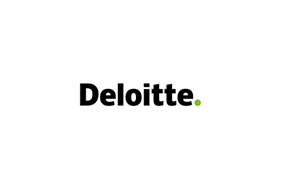 Deloitte
Deloitte
"Deloitte" is the brand under which 165,000 dedicated professionals in independent firms throughout the world collaborate to provide audit, consulting, financial advisory, risk management, and tax services to selected clients. These firms are members of Deloitte Touche Tohmatsu ("DTT"), a Swiss Verein. In the United States, Deloitte LLP is the member firm of DTT. Like DTT, Deloitte LLP does not provide services to clients. Instead, services are primarily provided by the subsidiaries of Deloitte LLP, including Deloitte & Touche LLP, Deloitte Consulting LLP, Deloitte Financial Advisory Services LLP and Deloitte Tax LLP.

Corporate Responsibility at Deloitte starts with the shared values that form the foundation of our culture: integrity, outstanding value to markets and clients, commitment to each other, and strength from cultural diversity. The focus areas that make up Corporate Responsibility at Deloitte include Ethics & Compliance, Talent, Community Involvement, Sustainability, Internal Operations, as well as the services we provide clients.

As used in this profile, "Deloitte" means Deloitte LLP. Please see www.deloitte.com/about for a detailed description of the legal structure of Deloitte LLP and its subsidiaries. Deloitte.com
More from Deloitte