Published 03-26-07
Submitted by Deloitte
WILTON, CT "" March 26, 2007 "" The Deloitte Foundation, a not-for-profit arm of Deloitte & Touche USA LLP, and the Management Education Alliance (MEA) today announced the first education grant recipients of its jointly-sponsored Minority Faculty Executive Education Program. The new program was designed to provide professional development opportunities to minority professors on real-world business issues and management trends.
The $25,000 grant from the Deloitte Foundation will send thirteen minority faculty chosen from schools that are members of the MEA to Executive Business Training programs to be held at either Harvard Business School or the Harvard Kennedy School of Government's Executive Education Programs. The program will run from May through October 2007.
The targeted executive training classes are designed to familiarize minority educators with key business developments, with instruction in a range of topics including human capital management, marketing strategy, mergers and acquisitions, leadership development, performance management and financial analysis.
"Our involvement as a sponsor of this program demonstrates our continuing commitment to education and diversity," said Shaun Budnik, president of the Deloitte Foundation. "Importantly, the program is designed to familiarize faculty with the types of business issues that are faced outside the classroom with the hopes of better educating future business leaders."
"The MEA acknowledges the important work of the Deloitte Foundation in supporting the professional development of minority professors, a common goal that we each share," said Francis Aguilar, Executive Director of the MEA and Harvard Business School Professor Emeritus.
Added Aguilar, "The thirteen outstanding professors selected for this year represent a diverse team of academicians who bring their own unique perspectives to this important educational experience. They will be exposed to new concepts and emerging developments in their fields of specialization. They will observe world-class teachers in action and experience new teaching methods and materials. And possibly most important, they will make valuable contacts with experienced managers in their field that can lead to continuing interaction with the business community."
The faculty members who have been selected for this program include:
Jamie Pleasant, Ph.D. - Clark Atlanta University

Constant Beugre, Ph.D. - Delaware State University

Rajiv Parikh, Ph.D. - Delaware State University

Christopher Ngassam, Ph.D. - Florida A&M University

Hudson Nwakanma, Ph.D. - Florida A&M University

DeAnne Butchey, Ph.D. - Florida International University

Denver D'Rozario, Ph.D. - Howard University

Fikru Boghassian, Ph.D. - Morgan State University

Davi Zoogah, Ph.D. - Morgan State University

Alice Stewart, Ph.D. - North Carolina A&T State University

Alexander Deshkovski, Ph.D. - North Carolina Central University

Bijoy Sahoo, Ph.D. - North Carolina Central University

Orion Welch, Ph.D. - St. Mary's College University

About the Management Education Alliance

The MEA is dedicated to fostering professional growth and development among business educators in schools serving African-Americans and Hispanic-Americans. For more information, please visit the MEA web site at www.mgteducationalliance.org.

About the Deloitte Foundation

The Deloitte Foundation is a not-for-profit organization that supports teaching, research, and curriculum innovation in accounting, business, and related fields within the U.S. The Foundation, founded in 1928, supports an array of national programs, which are relevant to a variety of professional services, and which benefit undergraduates, graduate students, and faculty. For more information, please visit the Deloitte Foundation web page at www.deloitte.com/us/df.

About Deloitte

Deloitte refers to one or more of Deloitte Touche Tohmatsu, a Swiss Verein, its member firms and their respective subsidiaries and affiliates. As a Swiss Verein (association), neither Deloitte Touche Tohmatsu nor any of its member firms has any liability for each other's acts or omissions. Each of the member firms is a separate and independent legal entity operating under the names "Deloitte," "Deloitte & Touche," "Deloitte Touche Tohmatsu," or other related names. Services are provided by the member firms or their subsidiaries or affiliates and not by the Deloitte Touche Tohmatsu Verein.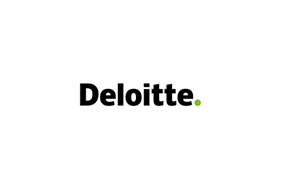 Deloitte
Deloitte
"Deloitte" is the brand under which 165,000 dedicated professionals in independent firms throughout the world collaborate to provide audit, consulting, financial advisory, risk management, and tax services to selected clients. These firms are members of Deloitte Touche Tohmatsu ("DTT"), a Swiss Verein. In the United States, Deloitte LLP is the member firm of DTT. Like DTT, Deloitte LLP does not provide services to clients. Instead, services are primarily provided by the subsidiaries of Deloitte LLP, including Deloitte & Touche LLP, Deloitte Consulting LLP, Deloitte Financial Advisory Services LLP and Deloitte Tax LLP.

Corporate Responsibility at Deloitte starts with the shared values that form the foundation of our culture: integrity, outstanding value to markets and clients, commitment to each other, and strength from cultural diversity. The focus areas that make up Corporate Responsibility at Deloitte include Ethics & Compliance, Talent, Community Involvement, Sustainability, Internal Operations, as well as the services we provide clients.

As used in this profile, "Deloitte" means Deloitte LLP. Please see www.deloitte.com/about for a detailed description of the legal structure of Deloitte LLP and its subsidiaries. Deloitte.com
More from Deloitte