Published 11-22-06
Submitted by Deloitte
Orlando, FL, November 22, 2006 - The College of William & Mary is quickly becoming synonymous with tax excellence at the collegiate level. For the second consecutive year, the Williamsburg, Virginia school has been crowned champion in both the graduate and undergraduate divisions of the Deloitte Tax Case Study National Competition.
William &Mary finished first among a field of 12 schools competing, six within each division of graduate and undergraduate teams, at the national finals, held this past weekend in Orlando, Florida. Overall, more than 40 colleges and universities throughout the country competed in this year's 2006 Deloitte Tax Case Study Regional and National Competitions. The University of Central Florida placed second in the graduate division, while Brigham Young University finished second at the undergraduate level.
The competition was sponsored by the Deloitte Foundation, a non-profit arm of Deloitte & Touche USA LLP, one of the nation's leading professional services organizations. William & Mary was awarded $28,000, including a $1,000 scholarship for each student and $20,000 for their school. The second-place teams were each awarded $500 per student and $5,000 for their school.
"The mark of a true champion is best exemplified in its ability to repeat, and the College of William & Mary, both students and their dedicated and driven faculty, clearly demonstrated this quality over the past 24 months," said Chet Wood, chairman and CEO of Deloitte Tax LLP. "Truth is, however, all of the student teams and their faculty advisors are winners in this competition. They all competed well and should be proud of their efforts."
Wood added, "Business and industry, and the tax profession, in particular, are winners today, too. Taxes are a huge corporate expenditure, the largest line item on the income statement in most cases. Companies have come to rely increasingly on tax for profit optimization or risk mitigation. Tax issues are the vanguard of business decisions, touching every aspect of our global economy, and the talent displayed throughout this competition bodes well for the profession and business."
"These students have really set the bar high for next year's competition and give merit to the tax and accounting programs of their universities," said Shaun Budnik, president of the Deloitte Foundation and partner, Deloitte & Touche USA LLP. "The Deloitte Foundation wants to thank everyone who worked to make the 5th annual Tax Competition a success."
At the national event, teams had five hours to complete a complex theoretical case study that required them to analyze information, identify issues, and consider real-world challenges to a hypothetical client situation. As part of the competition, each team prepared a solution to their case and submitted it to a panel of Deloitte judges for evaluation.
This year's national finalists in the graduate division were: Brigham Young University, University of Central Florida, University of Denver, The Ohio State University, University of Southern California, and the College of William & Mary. In the undergraduate division the finalists were: Boston College, Brigham Young University, University of Denver, The Ohio State University, College of William & Mary, and the University of Wisconsin - Madison. Students on teams not placing first or second in their division will receive a $250 individual national honorable mention award. Each school will also be awarded $2,500.
About the Deloitte Foundation
The Deloitte Foundation is a not-for-profit organization that supports teaching, research, and curriculum innovation in accounting, business, and related fields within the U.S. The Foundation, founded in 1928, supports an array of national programs, which are relevant to a variety of professional services, and which benefit undergraduates, graduate students, and faculty. For more information, please visit the Deloitte Foundation web page at www.deloitte.com/us/df.
About Deloitte
Deloitte refers to one or more of Deloitte Touche Tohmatsu, a Swiss Verein, its member firms and their respective subsidiaries and affiliates. As a Swiss Verein (association), neither Deloitte Touche Tohmatsu nor any of its member firms has any liability for each other's acts or omissions. Each of the member firms is a separate and independent legal entity operating under the names "Deloitte", "Deloitte & Touche", "Deloitte Touche Tohmatsu" or other related names. Services are provided by the member firms or their subsidiaries or affiliates and not by the Deloitte Touche Tohmatsu Verein.
Deloitte & Touche USA LLP is the US member firm of Deloitte Touche Tohmatsu. In the US, services are provided by the subsidiaries of Deloitte & Touche USA LLP (Deloitte & Touche LLP, Deloitte Consulting LLP, Deloitte Financial Advisory Services LLP, Deloitte Tax LLP and their subsidiaries), and not by Deloitte & Touche USA LLP.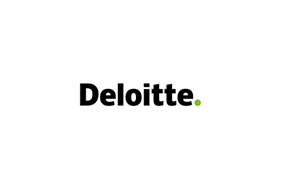 Deloitte
Deloitte
"Deloitte" is the brand under which 165,000 dedicated professionals in independent firms throughout the world collaborate to provide audit, consulting, financial advisory, risk management, and tax services to selected clients. These firms are members of Deloitte Touche Tohmatsu ("DTT"), a Swiss Verein. In the United States, Deloitte LLP is the member firm of DTT. Like DTT, Deloitte LLP does not provide services to clients. Instead, services are primarily provided by the subsidiaries of Deloitte LLP, including Deloitte & Touche LLP, Deloitte Consulting LLP, Deloitte Financial Advisory Services LLP and Deloitte Tax LLP.

Corporate Responsibility at Deloitte starts with the shared values that form the foundation of our culture: integrity, outstanding value to markets and clients, commitment to each other, and strength from cultural diversity. The focus areas that make up Corporate Responsibility at Deloitte include Ethics & Compliance, Talent, Community Involvement, Sustainability, Internal Operations, as well as the services we provide clients.

As used in this profile, "Deloitte" means Deloitte LLP. Please see www.deloitte.com/about for a detailed description of the legal structure of Deloitte LLP and its subsidiaries. Deloitte.com
More from Deloitte