Published 08-08-06
Submitted by Deloitte
WILTON, CT, - The Deloitte Foundation, a not-for-profit arm of Deloitte & Touche USA LLP, today announced the recipients of two foundation-sponsored awards in the areas of taxation and accounting. The awards - for excellence in accounting research and for innovation in teaching tax - are offered by the American Accounting Association (AAA) and the American Taxation Association (ATA), respectively.
The 2006 Wildman Medal, which has been awarded by the AAA since 1979, was presented to Professors Bill Kinney of the University of Texas - Austin; Zoe-Vonna Palmrose of the University of Southern California, who was recently named Deputy Chief Accountant for Professional Practice at the Securities and Exchange Commission; and Susan Scholz of the University of Kansas. The winning paper, entitled "Auditor Independence, Non-Audit Services, and Restatements: Was the U.S. Government Right?," discusses the impact that non-audit services fees have on auditor independence and the quality of financial reporting. Accompanied by a $7,500 honorarium, the Wildman Medal recognizes and supports exceptional research that advances the theory and practice of accounting. This year's medal was presented by Professor Jean Bedard from Bentley College, who chaired the award committee that selected the three co-authors. Shaun Budnik, President of the Deloitte Foundation and partner of Deloitte & Touche USA LLP, joined Professor Bedard in presenting the award at the AAA Annual Meeting in Washington, D.C today.
The 2006 American Taxation Association (ATA) Teaching Innovation Award, which is designed to encourage tax professors to develop new teaching methods that stimulate students' critical thinking skills, was presented to Professor Bryan Cloyd of Virginia Polytechnic Institute and State University and Professor Connie Weaver of Texas A&M University. Their winning submission, entitled "Engaging Students in the Politics of Tax Policy: The Tax Equity Survey Project," described a program for undergraduate students that offered a hands-on introduction to empirical research while exposing students to the political factors underlying current tax policy debates. Professors Cloyd and Weaver received a plaque and $5,000 check at the annual ATA luncheon on Monday.
"The Wildman Medal and the ATA Teaching Innovation Award are important not only because they honor dedicated individuals who are making a difference in their professions. They are also important because they showcase the high value that research and teaching deserve," said Ms. Budnik. "At the Deloitte Foundation, part of our mission is to support educators, students and research in accounting and tax. Today, we extend our congratulations to each recipient of the Wildman Medal and ATA Teaching Innovation Award."
The Wildman Medal is named in honor of the late John R. Wildman. Mr. Wildman was a partner of a Deloitte & Touche LLP predecessor firm, a professor of accounting at New York University, and the first president of the American Association of Accounting Instructors, which later became the AAA.
About the Deloitte Foundation
The Deloitte Foundation is a not-for-profit organization that supports teaching, research, and curriculum innovation in accounting, business, and related fields within the U.S. The Foundation, founded in 1928, supports an array of national programs, which are relevant to a variety of professional services, and which benefit undergraduates, graduate students, and faculty. For more information, please visit the Deloitte Foundation web page at www.deloitte.com/us/df.
About Deloitte
Deloitte refers to one or more of Deloitte Touche Tohmatsu, a Swiss Verein, its member firms, and their respective subsidiaries and affiliates. Deloitte Touche Tohmatsu is an organization of member firms around the world devoted to excellence in providing professional services and advice, focused on client service through a global strategy executed locally in nearly 150 countries. With access to the deep intellectual capital of approximately 135,000 people worldwide, Deloitte delivers services in four professional areas--audit, tax, consulting, and financial advisory services--and serves more than one-half of the world's largest companies, as well as large national enterprises, public institutions, locally important clients, and successful, fast-growing global growth companies. Services are not provided by the Deloitte Touche Tohmatsu Verein, and, for regulatory and other reasons, certain member firms do not provide services in all four professional areas.
As a Swiss Verein (association), neither Deloitte Touche Tohmatsu nor any of its member firms has any liability for each other's acts or omissions. Each of the member firms is a separate and independent legal entity operating under the names "Deloitte," "Deloitte & Touche," "Deloitte Touche Tohmatsu," or other related names.
In the US, Deloitte & Touche USA LLP is the US member firm of Deloitte Touche Tohmatsu and services are provided by the subsidiaries of Deloitte & Touche USA LLP (Deloitte & Touche LLP, Deloitte Consulting LLP, Deloitte Financial Advisory Services LLP, Deloitte Tax LLP and their subsidiaries), and not by Deloitte & Touche USA LLP. The subsidiaries of the US member firm are among the nation's leading professional services firms, providing audit, tax, consulting and financial advisory services through nearly 30,000 people in more than 80 cities. Known as employers of choice for innovative human resources programs, they are dedicated to helping their clients and their people excel. For more information, please visit the US member firm's web site at www.deloitte.com/us.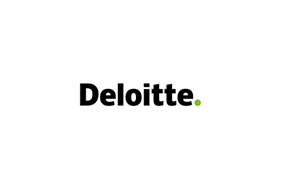 Deloitte
Deloitte
"Deloitte" is the brand under which 165,000 dedicated professionals in independent firms throughout the world collaborate to provide audit, consulting, financial advisory, risk management, and tax services to selected clients. These firms are members of Deloitte Touche Tohmatsu ("DTT"), a Swiss Verein. In the United States, Deloitte LLP is the member firm of DTT. Like DTT, Deloitte LLP does not provide services to clients. Instead, services are primarily provided by the subsidiaries of Deloitte LLP, including Deloitte & Touche LLP, Deloitte Consulting LLP, Deloitte Financial Advisory Services LLP and Deloitte Tax LLP.

Corporate Responsibility at Deloitte starts with the shared values that form the foundation of our culture: integrity, outstanding value to markets and clients, commitment to each other, and strength from cultural diversity. The focus areas that make up Corporate Responsibility at Deloitte include Ethics & Compliance, Talent, Community Involvement, Sustainability, Internal Operations, as well as the services we provide clients.

As used in this profile, "Deloitte" means Deloitte LLP. Please see www.deloitte.com/about for a detailed description of the legal structure of Deloitte LLP and its subsidiaries. Deloitte.com
More from Deloitte