Published 10-17-06
Submitted by Deloitte
Washington, D.C., -- A new "Insurance-for-All" proposal from the Deloitte Center for Health Solutions (the "Center"), part of Deloitte & Touche USA LLP, shows how the more than 45 million Americans who do not have health insurance could obtain reasonably priced coverage, improve their quality of life and generate savings for the majority of key stakeholders in the U.S. economy. Administered by a coalition of key executives, health care providers and government leaders, Insurance-for-All provides a public-private partnership model for low-cost, subsidized health insurance.
In the new study, The Catalyst for Health Care Reform: Providing More Choices and Applying Innovation to Heal the U.S. Health Care Financing System, the Deloitte Center for Health Solutions, along with Deloitte Consulting LLP and Deloitte Research, offers the Insurance-for-All model to spark a national conversation on repairing the profound problems with the U.S. health care financing system. The study is based on interviews with leaders in the health care and insurance industries, regulators, academics, and policy makers.
"Our health care system is flawed, and with persistent rising costs, we are on a path that will continue to put quality health care out of reach for an increasing number of American families," said William Copeland Jr., national managing director for Deloitte Consulting's health care and life sciences practice. "Everyone with a stake in this should join in an open-minded, frank discussion to find a new solution that emphasizes access and prevention to reduce the cost of health care."

Under the Insurance-for-All model, subscribers may purchase basic, "no-frills" coverage from a menu of benefits and cost-sharing options, with the opportunity to "buy up" to other plan designs. Insurers already serving the commercial market, as well as new entrants, will sell the Insurance-for-All policy directly to subscribers, who will pay premiums to them. The product will be administered the same by all insurers across the country.
Participating Insurance-for-All insurers will be able to pay providers at Medicare rates, without contractual relationships with those providers. This free-market driven solution points the way toward a fundamental correction in how the U.S. administers and pays for health care.
With eligibility based on income, financing for the program is comprised of subscriber premiums of $94 per month per person paid to health plans; a payroll tax of $95 per employee per month for businesses that do not provide all employees a health care insurance subsidy of at least $85 per month; and an additional federal subsidy derived from general revenue, a reallocation of funds from existing uninsured programs or other revenue sources.
"Not only does Insurance-for-All create a true choice for consumers to obtain the health care they need, but also a recognizable incentive to spend their health care dollars wisely -- and especially to consider the cost-saving and life-improving value of preventative care and healthy habits," said Copeland.
For a copy of the report The Catalyst for Health Care Reform: Providing More Choices and Applying Innovation to Heal the U.S. Health Care Financing System," please visit: www.deloitte.com/us/healthsolutions.
To listen to a related Deloitte Insights podcast,"Taking the Health Care System Off Life Support: A New Alternative for Insuring More Americans," please visit: http://www.deloitte.com/dtt/article/0,1002,sid%253D80772%2526cid%253D131916,00.html.
About the Deloitte Center for Health Solutions
The Deloitte Center for Health Solutions (the "Center"), located in Washington, D.C., is part of Deloitte & Touche USA LLP and was formed to further research on and develop solutions to some of our nation's most pressing health care and public health-related challenges. Tommy G. Thompson, former Secretary of Health and Human Services and former Governor of Wisconsin, is Independent Chairman of the Center.
About Deloitte
Deloitte refers to one or more of Deloitte Touche Tohmatsu, a Swiss Verein, its member firms, and their respective subsidiaries and affiliates. Deloitte Touche Tohmatsu is an organization of member firms around the world devoted to excellence in providing professional services and advice, focused on client service through a global strategy executed locally in nearly 150 countries. With access to the deep intellectual capital of approximately 135,000 people worldwide, Deloitte delivers services in four professional areas--audit, tax, consulting, and financial advisory services--and serves more than one-half of the world's largest companies, as well as large national enterprises, public institutions, locally important clients, and successful, fast-growing global growth companies. Services are not provided by the Deloitte Touche Tohmatsu Verein, and, for regulatory and other reasons, certain member firms do not provide services in all four professional areas.
As a Swiss Verein (association), neither Deloitte Touche Tohmatsu nor any of its member firms has any liability for each other's acts or omissions. Each of the member firms is a separate and independent legal entity operating under the names "Deloitte," "Deloitte & Touche," "Deloitte Touche Tohmatsu," or other related names.
In the US, Deloitte & Touche USA LLP is the US member firm of Deloitte Touche Tohmatsu and services are provided by the subsidiaries of Deloitte & Touche USA LLP (Deloitte & Touche LLP, Deloitte Consulting LLP, Deloitte Financial Advisory Services LLP, Deloitte Tax LLP and their subsidiaries), and not by Deloitte & Touche USA LLP. The subsidiaries of the US member firm are among the nation's leading professional services firms, providing audit, tax, consulting and financial advisory services through nearly 30,000 people in more than 80 cities. Known as employers of choice for innovative human resources programs, they are dedicated to helping their clients and their people excel. For more information, please visit the US member firm's web site at www.deloitte.com/us.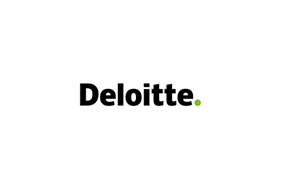 Deloitte
Deloitte
"Deloitte" is the brand under which 165,000 dedicated professionals in independent firms throughout the world collaborate to provide audit, consulting, financial advisory, risk management, and tax services to selected clients. These firms are members of Deloitte Touche Tohmatsu ("DTT"), a Swiss Verein. In the United States, Deloitte LLP is the member firm of DTT. Like DTT, Deloitte LLP does not provide services to clients. Instead, services are primarily provided by the subsidiaries of Deloitte LLP, including Deloitte & Touche LLP, Deloitte Consulting LLP, Deloitte Financial Advisory Services LLP and Deloitte Tax LLP.

Corporate Responsibility at Deloitte starts with the shared values that form the foundation of our culture: integrity, outstanding value to markets and clients, commitment to each other, and strength from cultural diversity. The focus areas that make up Corporate Responsibility at Deloitte include Ethics & Compliance, Talent, Community Involvement, Sustainability, Internal Operations, as well as the services we provide clients.

As used in this profile, "Deloitte" means Deloitte LLP. Please see www.deloitte.com/about for a detailed description of the legal structure of Deloitte LLP and its subsidiaries. Deloitte.com
More from Deloitte