Published 06-09-06
Submitted by Deloitte
NEW YORK- Today thousands of employees from Deloitte & Touche USA LLP kicked off IMPACT Day, the organization's national day of volunteer service, by heading out into their communities to help local non-profits address important social issues. Many volunteers will engage in hands-on volunteer projects, while others will contribute their business expertise to help local non-profit organizations solve some of their strategic, operational and financial business challenges.
"Contributing our professional skills and intellectual capital through volunteering is a new approach to community involvement for us," said James H. Quigley, chief executive officer of Deloitte & Touche USA LLP. "Skills-based volunteering is part of our long-term strategy to have a deeper and more meaningful involvement in our communities. We have 34,000 accountants, consultants and other professionals in the United States. Imagine the impact we can have by channeling our knowledge and expertise into our surrounding neighborhoods."
The recently released 2006 Deloitte / Points of Light Volunteer IMPACT study found that more than three-quarters of non-profit leaders believe their organization's business practices could significantly improve if volunteers donated their professional skills. Yet only 12 percent of non-profits use their volunteers in this way. Deloitte believes skills-based volunteerism can bridge some of this gap.
"Non-profit organizations often face the same strategic, financial and operational issues as for-profit businesses," said Evan Hochberg, national director of community involvement at Deloitte & Touche USA LLP. "Although past IMPACT Days that involved hands-on volunteerism were successful, we believe we can make a longer-lasting impact on our communities by combining it with our professional expertise to help non-profits address some of their business challenges."
Making A Greater IMPACT
Deloitte volunteers across the country will be participating in a range of IMPACT Day activities that combine traditional volunteering and this new skills-based approach.
In Norwalk, Conn., for example, Deloitte volunteers will be working with STAR, an organization that helps people with developmental disabilities from birth through old age. In addition to painting and refurbishing a house for seven adult STAR residents, a team of human capital consultants, along with CEO Quigley, will conduct a workshop with STAR's job placement staff to help the non-profit develop new strategies to encourage more local employers to hire people with disabilities.
Upwards of 250 Deloitte volunteers in Atlanta will be working with KIPP Academy on a series of skills-based and traditional volunteer projects. In addition to landscaping and building a fence to keep drug users out of the playground of this inner city school, a group of volunteers will help teachers and administrators improve the school's grade-tracking system.
In Dallas, Deloitte professionals will help Catholic Charities thrift stores with a revenue optimization project. The volunteers will analyze the layout, product assortment, pricing and promotions at three local stores, whose proceeds benefit the community. They will also create a Retail 101 training presentation for the non-profit to use as curriculum for the job readiness programs the organization provides to local refugees from Sudan, Ethiopia, Mexico, Somalia, Congo, Liberia, Rwanda, Burundi, Vietnam, Iran, Sierra Leon and Cuba.
About Deloitte
Deloitte refers to one or more of Deloitte Touche Tohmatsu, a Swiss Verein, its member firms and their respective subsidiaries and affiliates. As a Swiss Verein (association), neither Deloitte Touche Tohmatsu nor any of its member firms has any liability for each other's acts or omissions. Each of the member firms is a separate and independent legal entity operating under the names "Deloitte", "Deloitte & Touche", "Deloitte Touche Tohmatsu" or other related names. Services are provided by the member firms or their subsidiaries or affiliates and not by the Deloitte Touche Tohmatsu Verein.
Deloitte & Touche USA LLP is the US member firm of Deloitte Touche Tohmatsu. In the US, services are provided by the subsidiaries of Deloitte & Touche USA LLP (Deloitte & Touche LLP, Deloitte Consulting LLP, Deloitte Financial Advisory Services LLP, Deloitte Tax LLP and their subsidiaries), and not by Deloitte & Touche USA LLP.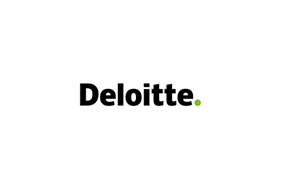 Deloitte
Deloitte
"Deloitte" is the brand under which 165,000 dedicated professionals in independent firms throughout the world collaborate to provide audit, consulting, financial advisory, risk management, and tax services to selected clients. These firms are members of Deloitte Touche Tohmatsu ("DTT"), a Swiss Verein. In the United States, Deloitte LLP is the member firm of DTT. Like DTT, Deloitte LLP does not provide services to clients. Instead, services are primarily provided by the subsidiaries of Deloitte LLP, including Deloitte & Touche LLP, Deloitte Consulting LLP, Deloitte Financial Advisory Services LLP and Deloitte Tax LLP.

Corporate Responsibility at Deloitte starts with the shared values that form the foundation of our culture: integrity, outstanding value to markets and clients, commitment to each other, and strength from cultural diversity. The focus areas that make up Corporate Responsibility at Deloitte include Ethics & Compliance, Talent, Community Involvement, Sustainability, Internal Operations, as well as the services we provide clients.

As used in this profile, "Deloitte" means Deloitte LLP. Please see www.deloitte.com/about for a detailed description of the legal structure of Deloitte LLP and its subsidiaries. Deloitte.com
More from Deloitte