Published 04-28-06
Submitted by Deloitte
Colorado Springs, Colo. -- Ainar D. Aijala Jr., vice chairman and deputy chief executive officer of Deloitte Consulting LLP, the $2 billion U.S. presence of the global Deloitte Consulting organization, has been named chairman of the board of directors of JA Worldwide™ (Junior Achievement), the world's largest and fastest-growing organization dedicated to educating young people about business, economics, and free enterprise.
As chairman, Aijala will lead the organization by overseeing the development of a strategic vision for the organization's future, and increasing the impact of the organization globally. Currently, approximately seven million students are involved in Junior Achievement's business and economic programs annually around the world.

"As a former JA student myself, I know first hand that JA Worldwide is a terrific organization of people who are passionate about inspiring kids to learn and reach their potential," said Aijala. "I am proud to serve as its worldwide chairman, and look forward to leading JA Worldwide's ongoing effort to provide students with the skills they need to be successful in their future careers and lives."
"Through his extraordinary experience and leadership, Ainar Aijala will help us develop into a more vital and impactful organization," said David S. Chernow, president and chief executive officer of JA Worldwide. "His commitment to the youth of the world will help JA Worldwide, through free enterprise education, inspire the world's young people to create a life that enriches us all."
Aijala has been with the Deloitte U.S. Firms since 1982 and was admitted to the partnership in 1985. He has held numerous roles within the organization during his career and is a specialist in both consulting and technical issues surrounding U.S. employee benefits plans from design through implementation. As a leader of a significant practice that has grown rapidly for more than 10 years while attracting, developing, and retaining top intellectual capital, he is also well-versed in the Human Resource issues facing today's business leaders.
The Deloitte U.S. Firms are one of JA Worldwide's top providers of volunteers; last year the organization provided more than 2,000 volunteers to Junior Achievement markets in the U.S. In 2002, Deloitte donated $1 million to sponsor JA Worldwide's business ethics curriculum "Excellence through Ethics," the third edition of which was released last fall. The goals of the curriculum include bringing the issue of business ethics to the forefront of students' minds, providing students the tools and training they need to become ethical business leaders, and having a positive impact on the business leaders of tomorrow and on society. It is used in all JA Worldwide programs for grades 4-12 in the United States.
Aijala currently serves on the JA Worldwide board as chairman of the Development Committee, a member of the Executive Committee, and a member of both the Board Governance Task Force and Strategic Planning Committee. His chairmanship will begin on July 1, 2006.
Aijala serves as a Trustee of The Actuarial Foundation, and is an Enrolled Actuary, a Member of the American Academy of Actuaries, and received a Bachelors degree in Actuarial Mathematics from the University of Michigan. He resides with his wife and son in New York City, where they are active in many charities, including the Central Park Conservancy. Photo available upon request.
About JA Worldwide™ (Junior Achievement)
JA Worldwide is the world's largest organization dedicated to educating young people about business, economics and entrepreneurship. Through a dedicated volunteer network, JA Worldwide provides in-school and after-school programs for students in grades K-12. JA Worldwide offers educational programs that focus on seven key content areas: business, citizenship, economics, entrepreneurship, ethics/character, financial literacy, and career development. Today, 142 offices reach approximately four million students in the United States, with more than three million students served by operations in 96 countries worldwide. For more information, visit www.ja.org.
About Deloitte
Deloitte refers to one or more of Deloitte Touche Tohmatsu, a Swiss Verein, its member firms and their respective subsidiaries and affiliates. As a Swiss Verein (association), neither Deloitte Touche Tohmatsu nor any of its member firms has any liability for each other's acts or omissions. Each of the member firms is a separate and independent legal entity operating under the names "Deloitte", "Deloitte & Touche", "Deloitte Touche Tohmatsu" or other related names. Services are provided by the member firms or their subsidiaries or affiliates and not by the Deloitte Touche Tohmatsu Verein.
Deloitte & Touche USA LLP is the US member firm of Deloitte Touche Tohmatsu. In the US, services are provided by the subsidiaries of Deloitte & Touche USA LLP (Deloitte & Touche LLP, Deloitte Consulting LLP, Deloitte Financial Advisory Services LLP, Deloitte Tax LLP and their subsidiaries), and not by Deloitte & Touche USA LLP.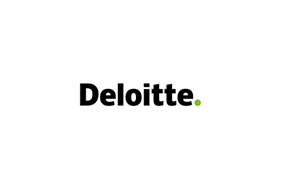 Deloitte
Deloitte
"Deloitte" is the brand under which 165,000 dedicated professionals in independent firms throughout the world collaborate to provide audit, consulting, financial advisory, risk management, and tax services to selected clients. These firms are members of Deloitte Touche Tohmatsu ("DTT"), a Swiss Verein. In the United States, Deloitte LLP is the member firm of DTT. Like DTT, Deloitte LLP does not provide services to clients. Instead, services are primarily provided by the subsidiaries of Deloitte LLP, including Deloitte & Touche LLP, Deloitte Consulting LLP, Deloitte Financial Advisory Services LLP and Deloitte Tax LLP.

Corporate Responsibility at Deloitte starts with the shared values that form the foundation of our culture: integrity, outstanding value to markets and clients, commitment to each other, and strength from cultural diversity. The focus areas that make up Corporate Responsibility at Deloitte include Ethics & Compliance, Talent, Community Involvement, Sustainability, Internal Operations, as well as the services we provide clients.

As used in this profile, "Deloitte" means Deloitte LLP. Please see www.deloitte.com/about for a detailed description of the legal structure of Deloitte LLP and its subsidiaries. Deloitte.com
More from Deloitte