Published 04-20-06
Submitted by Deloitte
Colorado Springs, Colo. - Maria Monks, age 17, of Hazleton, Pa., was selected as the winner of a $5,000 college scholarship in the "Excellence through Ethics" essay contest sponsored by Deloitte & Touche USA LLP (Deloitte) and JA Worldwide (Junior Achievement). Contestants were asked to compose an original, 500-word essay in response to an ethical dilemma about a teenage girl who runs a lawn care business and is possibly overpaid by one of her clients. JA Worldwide received more than 8,900 submissions from U.S. high school seniors during the second annual contest, part of a $1 million effort by JA Worldwide and Deloitte to promote ethics education amongst young people.

The "Excellence through Ethics" essay contest entries were judged by the Junior Achievement Blue Ribbon Panel on Ethics, an advisory group composed of corporate ethics officers and noted academics. Monks, a senior at Hazleton Area High School, plans to attend the Massachusetts Institute of Technology in the fall, majoring in mathematics and physics. She will be presented with the scholarship and honored at JA Worldwide's U.S. Business Hall of Fame event on April 27 in Milwaukee.
"JA Worldwide is thrilled to recognize Maria's outstanding achievement," said David S. Chernow, president and chief executive officer of JA Worldwide. "Today's high school seniors are tomorrow's business leaders, which underscores the urgent need for ethics education and continued dialogue. Our annual polls on teens' views of ethics show that they 'know the right answers,' but need continuous support and relevant ethics education. We are extremely proud to join Deloitte in being able to provide young people this valuable and impactful information." Results of the 2005 JA/Deloitte ethics poll indicated that while 63 percent of teens believe you don't have to bend the rules to succeed, 35 percent would likely lie to their boss to cover up a mistake.
"It is important to ask for help and to weigh alternatives when making an important decision, and Maria's essay reflected that well," said Harold Tinkler, chief ethics and compliance officer of Deloitte & Touche USA LLP and a member of the JA Blue Ribbon Panel on Ethics.
"It is an honor to have been selected as the winner in this essay contest," said Maria. "Fair, well-organized scholarship contests such as this make it possible for hardworking students to attend the college of their choice. The 'Excellence in Ethics' scholarship will greatly reduce the burden of my college tuition, and I appreciate the aid."
Junior Achievement programs are delivered by a classroom volunteer from the community, and teach K-12 students important concepts such as personal financial literacy, entrepreneurship, ethics and character, and economics. The "Excellence through Ethics" initiative is composed of supplemental lessons for Junior Achievement programs in grades 4-12, and was underwritten by Deloitte. The goals of the curriculum include bringing the issue of business ethics to the forefront of students' minds and providing them the tools and training they need to become ethical business leaders. The lessons are available for download at www.ja.org/ethics. Through independent evaluation of "Excellence through Ethics," JA Worldwide has found there is a significant opportunity to reach high school students more effectively; this essay contest provided one mechanism that reached thousands of high school seniors and facilitated the application of their critical thinking as it relates to ethical decision-making.
About JA Worldwide (Junior Achievement)
JA Worldwide is the world's largest organization dedicated to educating young people about business, economics and entrepreneurship. Through a dedicated volunteer network, JA Worldwide provides in-school and after-school programs for students in grades K-12. JA Worldwide offers educational programs that focus on seven key content areas: business, citizenship, economics, entrepreneurship, ethics/character, financial literacy, and career development. Today, 142 offices reach approximately four million students in the United States, with more than three million students served by operations in 96 countries worldwide. For more information, visit www.ja.org.
About Deloitte
Deloitte refers to one or more of Deloitte Touche Tohmatsu, a Swiss Verein, its member firms and their respective subsidiaries and affiliates. As a Swiss Verein (association), neither Deloitte Touche Tohmatsu nor any of its member firms has any liability for each other's acts or omissions. Each of the member firms is a separate and independent legal entity operating under the names "Deloitte", "Deloitte & Touche", "Deloitte Touche Tohmatsu" or other related names. Services are provided by the member firms or their subsidiaries or affiliates and not by the Deloitte Touche Tohmatsu Verein.
Deloitte & Touche USA LLP is the US member firm of Deloitte Touche Tohmatsu. In the US, services are provided by the subsidiaries of Deloitte & Touche USA LLP (Deloitte & Touche LLP, Deloitte Consulting LLP, Deloitte Financial Advisory Services LLP, Deloitte Tax LLP and their subsidiaries), and not by Deloitte & Touche USA LLP.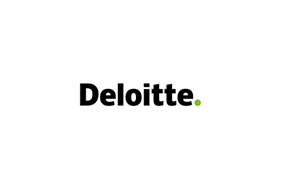 Deloitte
Deloitte
"Deloitte" is the brand under which 165,000 dedicated professionals in independent firms throughout the world collaborate to provide audit, consulting, financial advisory, risk management, and tax services to selected clients. These firms are members of Deloitte Touche Tohmatsu ("DTT"), a Swiss Verein. In the United States, Deloitte LLP is the member firm of DTT. Like DTT, Deloitte LLP does not provide services to clients. Instead, services are primarily provided by the subsidiaries of Deloitte LLP, including Deloitte & Touche LLP, Deloitte Consulting LLP, Deloitte Financial Advisory Services LLP and Deloitte Tax LLP.

Corporate Responsibility at Deloitte starts with the shared values that form the foundation of our culture: integrity, outstanding value to markets and clients, commitment to each other, and strength from cultural diversity. The focus areas that make up Corporate Responsibility at Deloitte include Ethics & Compliance, Talent, Community Involvement, Sustainability, Internal Operations, as well as the services we provide clients.

As used in this profile, "Deloitte" means Deloitte LLP. Please see www.deloitte.com/about for a detailed description of the legal structure of Deloitte LLP and its subsidiaries. Deloitte.com
More from Deloitte