Published 10-20-05
Submitted by Deloitte
New York - Evan Hochberg has been named the national director of community involvement for Deloitte & Touche USA LLP (Deloitte).
Hochberg will oversee Deloitte's national corporate citizenship and community involvement initiative by providing strategic direction for philanthropy, volunteerism and workplace giving. This includes oversight of the organization's investment in ethics education for young people, its national day of volunteer service known as IMPACT Day and its award-winning United Way campaign, among several other initiatives.
"At Deloitte, community involvement is one of the ways we deliver on our values," says James H. Quigley, CEO of Deloitte & Touche USA LLP. "We are delighted to have Evan directing our commitment to corporate citizenship and are confident that under his guidance our community involvement will become even more focused and effective."
Hochberg joins Deloitte from Community Wealth Ventures (CWV), where he was Managing Director and consulted with a variety clients that included cutting-edge socially responsible corporations such as Timberland, Ben & Jerry's and Alcoa as well as leading nonprofits such as AARP, City Year and the Case Foundation. Prior to joining CWV, Evan was an Associate at Booz-Allen and Hamilton, where he provided strategic advice and technical assistance to large public and private organizations. His other experiences include working as Division Director for the March of Dimes and serving as Director of Melwood's Recreation and Travel program for developmentally disabled adults.
"Having worked with many nonprofits and socially responsible companies, I am very excited to join an organization that not only has the ability to help the community solve complex problems, but firmly believes there is value in doing so." says Hochberg. "I'm so impressed with Deloitte's commitment and look forward to extending it even further as we best determine how we can use our unique skills and assets to address community needs."
Deloitte is widely recognized as a leader in groundbreaking human resource programs and community involvement. Known as a place where the best choose to be, Deloitte fosters a culture that is inclusive, diverse, open and flexible. Deloitte considers community involvement a business imperative and encourages its people to volunteer their time and talent.
About Deloitte
Deloitte refers to one or more of Deloitte Touche Tohmatsu, a Swiss Verein, its member firms and their respective subsidiaries and affiliates. As a Swiss Verein (association), neither Deloitte Touche Tohmatsu nor any of its member firms has any liability for each other's acts or omissions. Each of the member firms is a separate and independent legal entity operating under the names "Deloitte", "Deloitte & Touche", "Deloitte Touche Tohmatsu" or other related names. Services are provided by the member firms or their subsidiaries or affiliates and not by the Deloitte Touche Tohmatsu Verein.
Deloitte & Touche USA LLP is the US member firm of Deloitte Touche Tohmatsu. In the US, services are provided by the subsidiaries of Deloitte & Touche USA LLP (Deloitte & Touche LLP, Deloitte Consulting LLP, Deloitte Financial Advisory Services LLP, Deloitte Tax LLP and their subsidiaries), and not by Deloitte & Touche USA LLP.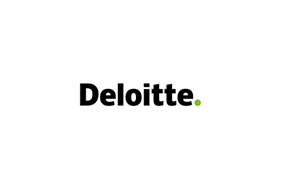 Deloitte
Deloitte
"Deloitte" is the brand under which 165,000 dedicated professionals in independent firms throughout the world collaborate to provide audit, consulting, financial advisory, risk management, and tax services to selected clients. These firms are members of Deloitte Touche Tohmatsu ("DTT"), a Swiss Verein. In the United States, Deloitte LLP is the member firm of DTT. Like DTT, Deloitte LLP does not provide services to clients. Instead, services are primarily provided by the subsidiaries of Deloitte LLP, including Deloitte & Touche LLP, Deloitte Consulting LLP, Deloitte Financial Advisory Services LLP and Deloitte Tax LLP.

Corporate Responsibility at Deloitte starts with the shared values that form the foundation of our culture: integrity, outstanding value to markets and clients, commitment to each other, and strength from cultural diversity. The focus areas that make up Corporate Responsibility at Deloitte include Ethics & Compliance, Talent, Community Involvement, Sustainability, Internal Operations, as well as the services we provide clients.

As used in this profile, "Deloitte" means Deloitte LLP. Please see www.deloitte.com/about for a detailed description of the legal structure of Deloitte LLP and its subsidiaries. Deloitte.com
More from Deloitte