Published 09-20-05
Submitted by Deloitte
An encouraging shift in teens' attitudes on ethics has emerged in a new poll released by JA Worldwide (Junior Achievement) and Deloitte & Touche USA LLP (Deloitte). As an indication that teenagers may be fine-tuning their ability to make ethical decisions, the number who say they would act unethically to get ahead if there was no chance of getting caught has dropped to 22 percent, down from 33 percent in 2003.
However, while exhibiting a strong sense of ethical principles, many teens don't have the courage of their convictions when faced with pressure from above. More than 40 percent of teens admitted they might act unethically if instructed by their boss, and more than a third of teens would likely lie to their boss to cover up a mistake they made at work.
"We believe it is incumbent upon organizations to create a culture that values personal integrity and expects ethical behavior," said James H. Quigley, CEO of Deloitte & Touche USA LLP. "When students tell us they can be swayed under pressure, it's a call for help. Supporting education and dialogue about ethical decision-making is an important way we can encourage kids who may have difficulty making the right choice, and it's a long-term investment in fostering a high standard of integrity in the marketplace."
In other findings, the poll shows that the positive relationship between business ethics and professional success continues to resonate with teens. The percentage of teens who believe "people who practice good business ethics are more successful in business than those who don't" has jumped to 69 percent this year, up from 56 percent in 2003. The number of teens who think "you have to bend the rules to succeed" has also declined.
"These poll results indicate that teens are aware of the importance of good ethics. They know the 'right answer' when faced with an ethical dilemma, but need support and ethics education to follow through on that knowledge," said David S. Chernow, president and chief executive officer of JA Worldwide. "JA Worldwide is proud to join with Deloitte -- not only to teach students about business and entrepreneurship, but to provide them with tools that will help them to be upstanding members of society."
Professor Arthur Brief, Director of the Burkenroad Institute for the Study of Ethical Leadership at Tulane University concurred. "Such findings," he said, "regrettably are consistent with what we're seeing in the workplace. Without education and a culture that encourages ethical behavior, sometimes good people can make bad decisions."
Junior Achievement's "Excellence through Ethics" is a Deloitte-sponsored business ethics curriculum, the third edition of which has just been released. The goals of the curriculum include bringing the issue of business ethics to the forefront of students' minds, providing students the tools and training they need to become ethical business leaders and having a positive impact on the business leaders of tomorrow and on society. It is used in all JA programs for grades 4-12 in the United States. Activities are designed for classroom use and contain valuable tools to teach students about ethics. Content of the lessons includes, among several topics: examining the concept of intellectual property rights, learning the importance of presenting yourself accurately and truthfully during a job search, learning why insider trading is illegal, exploring ethical accounting practices, and understanding why ethical standards are important for business people. For more information about "Excellence through Ethics," visit www.ja.org/ethics.
The survey of 777 teens between the ages of 13 and 18 was conducted in July 2005 as part of the release of the third edition of "Excellence through Ethics" curriculum, a $1 million initiative of JA Worldwide and Deloitte to promote business ethics among today's young people.
Methodology
Harris Interactive® conducted the online survey on behalf of JA Worldwide and Deloitte & Touche USA LLP between July 13 and 18, 2005 among a nationwide sample of 777 U.S. youth ages 13-18 years old, of whom 368 were male and 409 were female. Figures for age, gender, race/ethnicity, highest level of education, highest level of parents' education and region were weighted where necessary to align them with their actual proportions in the population. The margin of error is +/- 4%.
About JA Worldwide (Junior Achievement)
JA Worldwide is the world's largest organization dedicated to educating young people about business, economics and entrepreneurship. Through a dedicated volunteer network, JA Worldwide provides in-school and after-school programs for students in grades K-12. JA Worldwide offers educational programs that focus on seven key content areas: business, citizenship, economics, entrepreneurship, ethics/character, financial literacy, and career development. Today, 143 offices reach four million students in the United States, with more than 2.6 million students served by operations in 94 countries worldwide. For more information, visit www.ja.org.
About Deloitte
Deloitte refers to one or more of Deloitte Touche Tohmatsu, a Swiss Verein, its member firms and their respective subsidiaries and affiliates. As a Swiss Verein (association), neither Deloitte Touche Tohmatsu nor any of its member firms has any liability for each other's acts or omissions. Each of the member firms is a separate and independent legal entity operating under the names "Deloitte," "Deloitte & Touche," "Deloitte Touche Tohmatsu," or other related names. Services are provided by the member firms or their subsidiaries or affiliates and not by the Deloitte Touche Tohmatsu Verein.
Deloitte & Touche USA LLP is the U.S. member firm of Deloitte Touche Tohmatsu. In the U.S., services are provided by the subsidiaries of Deloitte & Touche USA LLP (Deloitte & Touche LLP, Deloitte Consulting LLP, Deloitte Tax LLP, and their subsidiaries), and not by Deloitte & Touche USA LLP.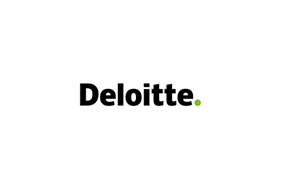 Deloitte
Deloitte
"Deloitte" is the brand under which 165,000 dedicated professionals in independent firms throughout the world collaborate to provide audit, consulting, financial advisory, risk management, and tax services to selected clients. These firms are members of Deloitte Touche Tohmatsu ("DTT"), a Swiss Verein. In the United States, Deloitte LLP is the member firm of DTT. Like DTT, Deloitte LLP does not provide services to clients. Instead, services are primarily provided by the subsidiaries of Deloitte LLP, including Deloitte & Touche LLP, Deloitte Consulting LLP, Deloitte Financial Advisory Services LLP and Deloitte Tax LLP.

Corporate Responsibility at Deloitte starts with the shared values that form the foundation of our culture: integrity, outstanding value to markets and clients, commitment to each other, and strength from cultural diversity. The focus areas that make up Corporate Responsibility at Deloitte include Ethics & Compliance, Talent, Community Involvement, Sustainability, Internal Operations, as well as the services we provide clients.

As used in this profile, "Deloitte" means Deloitte LLP. Please see www.deloitte.com/about for a detailed description of the legal structure of Deloitte LLP and its subsidiaries. Deloitte.com
More from Deloitte