Published 03-02-04
Submitted by Deloitte
NEW YORK – Deloitte & Touche USA LLP, will play host to more than 600 "at risk" high school students this Friday, March 5 as part of "School to Work Day." The program, which is designed to motivate students to stay in school and prepare for a career, will be held in more than 30 Deloitte offices across the country.
Hundreds of people from Deloitte will volunteer their time throughout the day, as instructors and mentors. In addition to participating in panel discussions and mock interviews with their hosts, students will embark on internet scavenger hunts to enhance computer literacy. They will also have the opportunity to become consultants for the day, by taking part in mock business case studies, which will be led by Deloitte consultants. Student cases focus on typical management consulting projects such as how to curtail the exodus of young, skilled professionals from a city, or how to identify the reasons for profitability differences between different amusement parks.
This is the tenth year Deloitte is conducting "School to Work Day." The program is part of a larger mentoring program offered throughout the school year. Goals of the program include exposing students to a career in consulting, encouraging students to continue their education and pursue a rewarding career, and giving underprivileged students an opportunity to interact with professionals in a business environment.
"The "School to Work Day" program is an important part of Deloitte's national community involvement activities," said Anne Rouse Sudduth, Deloitte's National Director of Community Involvement. "It provides our people with a way to volunteer their time and intellectual capital and provides students in need with a mentor in a professional career."
The firm strongly encourages its people to volunteer their time and talent, recognizes them for doing so and rewards them for encouraging others to get involved. Deloitte actively seeks new and strategic opportunities to advance the causes that are important to its people and to have a positive impact on its communities.
About Deloitte
Deloitte, one of the nation's leading professional services firms, provides audit, tax, consulting, and financial advisory services through nearly 30,000 people in more than 80 U.S. cities. Known as an employer of choice for innovative human resources programs, the firm is dedicated to helping its clients and its people excel. "Deloitte" refers to the associated partnerships of Deloitte & Touche USA LLP (Deloitte & Touche LLP and Deloitte Consulting LLP) and subsidiaries. Deloitte is the U.S. member firm of Deloitte Touche Tohmatsu. For more information, please visit Deloitte's Web site at www.deloitte.com/us.
Deloitte Touche Tohmatsu is an organization of member firms devoted to excellence in providing professional services and advice. We are focused on client service through a global strategy executed locally in nearly 150 countries. With access to the deep intellectual capital of 120,000 people worldwide, our member firms, including their affiliates, deliver services in four professional areas: audit, tax, consulting, and financial advisory services. Our member firms serve more than one-half of the world's largest companies, as well as large national enterprises, public institutions, locally important clients, and successful, fast-growing global growth companies.
Deloitte Touche Tohmatsu is a Swiss Verein (association), and, as such, neither Deloitte Touche Tohmatsu nor any of its member firms has any liability for each other's acts or omissions. Each of the member firms is a separate and independent legal entity operating under the names "Deloitte," "Deloitte & Touche," "Deloitte Touche Tohmatsu," or other, related names. The services described herein are provided by the member firms and not by the Deloitte Touche Tohmatsu Verein. For regulatory and other reasons, certain member firms do not provide services in all four professional areas listed above.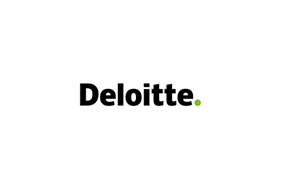 Deloitte
Deloitte
"Deloitte" is the brand under which 165,000 dedicated professionals in independent firms throughout the world collaborate to provide audit, consulting, financial advisory, risk management, and tax services to selected clients. These firms are members of Deloitte Touche Tohmatsu ("DTT"), a Swiss Verein. In the United States, Deloitte LLP is the member firm of DTT. Like DTT, Deloitte LLP does not provide services to clients. Instead, services are primarily provided by the subsidiaries of Deloitte LLP, including Deloitte & Touche LLP, Deloitte Consulting LLP, Deloitte Financial Advisory Services LLP and Deloitte Tax LLP.

Corporate Responsibility at Deloitte starts with the shared values that form the foundation of our culture: integrity, outstanding value to markets and clients, commitment to each other, and strength from cultural diversity. The focus areas that make up Corporate Responsibility at Deloitte include Ethics & Compliance, Talent, Community Involvement, Sustainability, Internal Operations, as well as the services we provide clients.

As used in this profile, "Deloitte" means Deloitte LLP. Please see www.deloitte.com/about for a detailed description of the legal structure of Deloitte LLP and its subsidiaries. Deloitte.com
More from Deloitte