Published 12-05-03
Submitted by Deloitte
NEW YORK, NY - Deloitte, one of the leading professional services firms, was presented with the US Chamber of Commerce Center for Corporate Citizenship's Citizenship in Action award in connection with the firm's decision to champion early ethics education. Deloitte CEO James H. Quigley accepted the award at the Chamber's 2003 Annual Corporate Citizenship Awards Dinner on December 4.
This was the inaugural presentation of the award. The Center for Corporate Citizenship at the U.S. Chamber plans to give the award on an annual basis to one firm that has not only shown extraordinary corporate citizenship, but has taken a courageous action that reflects the ethical values of the company. Deloitte took the honors for working with Junior Achievement, Inc. to create the Excellence through Ethics curriculum that will annually reach as many as three million students in grades 4-12 in more than 20,000 schools across the country. More than 800 Deloitte partners and employees volunteer in Junior Achievement classrooms, making Deloitte one of Junior Achievement's largest corporate volunteers.
"Deloitte, and all the award winners and nominees, represent the best of a business making a difference in its community," said Thomas J. Donohue, U.S. Chamber President and CEO. "Deloitte's leadership serves as an inspiration for others to follow."
A recent study by Junior Achievement showed that students are willing to act unethically to get ahead, underscoring the need for early ethics education. "This is an issue affecting our entire country, including the business community," said Quigley. "The very foundation of Deloitte is built upon ethics and integrity and our economic system depends on trust, so we felt it was important for us to respond."
The goal of Deloitte's program with Junior Achievement is a long-term student attitude shift. "We hope to have a significant impact; we want the future business leaders of America to recognize that doing business honestly is not only the right way, it's the only way," Quigley added.
Deloitte is widely recognized as a leader in groundbreaking human resource programs and community involvement. Known as one of the best places to work, Deloitte fosters a culture that is diverse, open, inclusive and flexible. The firm considers community involvement a business imperative and encourages its people to volunteer their time and talent.
About Deloitte
Deloitte, one of the nation's leading professional services firms, provides audit, tax, financial advisory services and consulting through nearly 30,000 people in more than 80 U.S. cities. The firm is dedicated to helping its clients and its people excel. Known as an employer of choice for innovative human resources programs, Deloitte has been recognized as one of the "100 Best Companies to Work For in America" by Fortune magazine for six consecutive years. "Deloitte" refers to Deloitte & Touche LLP and affiliated entities. Deloitte is the US member firm of Deloitte Touche Tohmatsu. Deloitte Touche Tohmatsu is a Swiss Verein (association), and, as such, neither Deloitte Touche Tohmatsu nor any of its member firms has any liability for each other's acts or omissions. Each of the member firms is a separate and independent legal entity operating under the name "Deloitte," "Deloitte & Touche," "Deloitte Touche Tohmatsu" or other related names. The services described herein are provided by the US member firm and not by the Deloitte Touche Tohmatsu Verein. For more information, please visit Deloitte's web site at www.deloitte.com/us.
About the Center for Corporate Citizenship
The U.S. Chamber of Commerce Center for Corporate Citizenship (CCC) is a 501c3 non-profit corporate public service organization that helps companies address the social issues that matter to them most, through public-private partnerships, research, and public policy development. The CCC serves as a resource center for policy makers, media, companies and the general public. Through its ongoing activities, the CCC connects public, private and nonprofit leaders with the tools they need to increase the effectiveness of corporate citizenship programs and build better relationships to address common goals.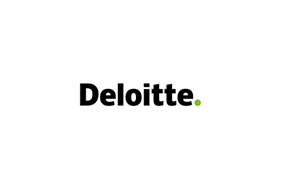 Deloitte
Deloitte
"Deloitte" is the brand under which 165,000 dedicated professionals in independent firms throughout the world collaborate to provide audit, consulting, financial advisory, risk management, and tax services to selected clients. These firms are members of Deloitte Touche Tohmatsu ("DTT"), a Swiss Verein. In the United States, Deloitte LLP is the member firm of DTT. Like DTT, Deloitte LLP does not provide services to clients. Instead, services are primarily provided by the subsidiaries of Deloitte LLP, including Deloitte & Touche LLP, Deloitte Consulting LLP, Deloitte Financial Advisory Services LLP and Deloitte Tax LLP.

Corporate Responsibility at Deloitte starts with the shared values that form the foundation of our culture: integrity, outstanding value to markets and clients, commitment to each other, and strength from cultural diversity. The focus areas that make up Corporate Responsibility at Deloitte include Ethics & Compliance, Talent, Community Involvement, Sustainability, Internal Operations, as well as the services we provide clients.

As used in this profile, "Deloitte" means Deloitte LLP. Please see www.deloitte.com/about for a detailed description of the legal structure of Deloitte LLP and its subsidiaries. Deloitte.com
More from Deloitte