Published 04-12-07
Submitted by Ben & Jerry's
BURLINGTON, VT - April 12, 2007 - Your local Ben & Jerry's has been hard at work preparing for another summer season filled with legend-dairy classics like Cherry Garcia, Phish Food and Chocolate Fudge Brownie as well as a few brand new flavors to please your palette and satisfy your soul. The company traditionally launches new flavors on Global Free Cone Day, Tuesday, April 17. Participating national and international shops will throw open their doors and scoop out free cones all day long.
Now: Free & Fair! Yes, on April 17th you can stop by your local neighborhood Scoop Shop for an absolutely FREE Ben & Jerry's cup or cone! Our 2007 line up features two of the yummiest, foodee-dessert flavors you'll ever find on a cone. So without further ado, we proudly introduce Créme Brêlée and Cinnamon Buns ice creams:
Crème Brêlée™ - A true "créme brêlée" experience with sweet custard ice cream and a crunchy caramelized sugar swirl. No blow torch necessary.
Cinnamon Buns™ "" We've been saying it forever: "Ben & Jerry's is not just for breakfast anymore!" Now this early day favorite can be enjoyed all day long! Cinnamon Buns contains caramel ice cream with cinnamon bun dough and a caramel streusel swirl.
Fair Trade Certified™ Vanilla & Fair Trade Certified™ Chocolate - Would you have noticed that these, the two best selling flavors at our Scoop Shops and around the world, have changed? The truth is they're only better! Now they're made with Fair Trade Certified™ cocoa powder and vanilla extract. The Fair Trade Certified™ program benefits farmers directly paying them more for their products and encourages farmers to work cooperatively to succeed together. These two flavors join with our Fair Trade Certified™ Coffee flavors Coffee ice cream and Coffee Coffee Buzz Buzz Buzz. Last year our Scoop Shops gave away more than 1 million free cones worldwide! For you to eat that many scoops, you'd have to eat more than 416 ice cream cones each hour for every day of your life if you lived to be 100!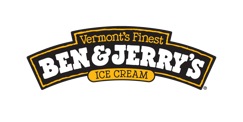 Ben & Jerry's
Ben & Jerry's
Ben & Jerry's produces a wide variety of super-premium ice cream and ice cream novelties, using high-quality ingredients including milk and cream from family farmers who do not treat their cows with the synthetic hormone rBGH. The company states its position on rBGH on its labels. Ben and Jerry's products are distributed nationwide and in selected foreign countries in supermarkets, grocery stores, convenience stores, franchise Ben & Jerry's Scoop Shops, restaurants and other venues. Ben & Jerry's, a Vermont corporation and wholly-owned subsidiary of Unilever, operates its business on a three-part Mission Statement emphasizing product quality, economic reward and a commitment to the community. Ben & Jerry's contributes a minimum of $1.1 million annually through corporate philanthropy that is primarily employee led. Contributions made via the Ben & Jerry's Foundation in 2006 totaled almost $1.6 million. Additionally, the company makes significant product donations to community groups and nonprofits both in Vermont and across the nation. The purpose of Ben & Jerry's philanthropy is to support the founding values of the company: economic and social justice, environmental restoration and peace through understanding, and to support our Vermont communities. For the full scoop on all Ben & Jerry's Scoop Shop locations and fabulous flavors, visit www.benjerry.com.
More from Ben & Jerry's