Published 11-20-07
Submitted by Global Reporting Initiative
November 20, 2007 - Amsterdam. Following the global trend in environmental awareness, paired with heightened consumer consciousness, food companies are increasingly facing new expectations and seeking to proactively communicate the economic, social and environmental performance of their businesses.
The Global Reporting Initiative (GRI) has responded to the demand for increased transparency in food production by facilitating a working group to provide sector-specific sustainability indicators for food processing activities. The resulting Sector Supplement on Food Processing will be open to a public comment period and will complement the more general GRI-developed G3 Guidelines for sustainability reporting.
The aim of the working group developing the new GRI sector-specific indicators is to enable companies and stakeholders to better measure and communicate sustainability progress. This is based on the principle that good measurement supports good management and is a prerequisite for good communication.
"We believe a comprehensive set of food sector indicators will provide for consistency and relevancy in the sustainability reporting process and increase our ability to provide in the areas of hunger relief, product quality, environmental protection, employee well-being and community support," said President and CEO Dick Bond of Tyson Foods, Inc., one of the new GRI working group members.
Consumers are becoming increasingly interested in understanding how what they eat and drink is produced. This shows the need for a voluntary initiative of companies working together with stakeholders to meet these expectations.
"As a consumer-focused company we strive to provide meaningful information about our products and how they are made. This cannot be reduced to a simplistic "carbon label" but requires a sound understanding of all significant sustainability aspects, including water, nutrition, health and wellness as a basis to create shared value for society.", stated Safety, Health and Environment Vice President Claus Conzelmann of Nestlé.
Nestlé, Bunge, Tyson Foods and Green Mountain Coffee Roasters affirm that working with GRI to develop specific sustainability reporting guidelines for the food processing sector brings value to their sustainability reporting management programs.
"Sustainability reporting creates value for our company," says Corporate Social Responsibility Vice President Michael Dupee of US-based Green Mountain Coffee Roasters. "It helps us to improve our programs, provide relevant information to the investing and consuming public, and connect to the larger community."
Sustainability reporting is becoming the way many companies are reinforcing the trust of consumers and expanding their competitive advantage against other market players.
Bunge's Corporate Communication Director Adalgiso Telles: "Bunge has operations in different stages of the food supply chain, from fields to consumers table. In Brazil we work with many partners on increasing sustainability performance, because we know that's a good way to improve business as a whole. We look forward to welcoming the working group participants in Sao Paolo at a first meeting early 2008 to develop these guidelines."
GRI, known for its multi-stakeholder approach, aims to form a complete group by early December 2007 and is currently recruiting food processing companies from emerging markets to join as working group partners. Recruitment has been opened to include investors and experts from fair-trade, labor, social and environmental, and health and well-being organizations.
1. About GRI
GRI's vision is that reporting on economic, environmental, and social performance by all organizations becomes as routine and comparable as financial reporting. GRI accomplishes its vision by continually developing, improving, and building capacity around the use of its Sustainability Reporting Framework. A network of tens of thousands of individuals from over 60 countries worldwide coming from business, civil society, labor, and professional institutions governs the organization and creates the content of the Reporting Framework through a consensus-seeking process. This network is open to those who wish to use the Reporting Framework, access information in GRI-based reports, or contribute to the GRI mission in other ways, both formal and informal. The GRI framework is the most widely used standardized sustainability reporting framework in the world.
2. About GRI Sector Supplements
GRI Sector Supplements capture the unique set of sustainability issues faced by different sectors such as mining, automotive, banking, public agencies and telecom.
Sector specific reporting indicators will be developed by a multi-stakeholder working group of 18-20 individuals in a two year process. The public will twice be offered the opportunity to provide feedback on supplement drafts. The group will be 50% sector and 50% non-sector stakeholders (e.g. fair-trade, labor, social and environmental, and health organizations) and the participants will reflect a range of constituencies, expertise, and global geographic regions. GRI is now looking for food processing companies from emerging markets, and for stakeholder experts to participate in the working group. Please let us know if you want to participate through http://www.globalreporting.org/ReportingFramework/SectorSupplements/FoodProcessing
3. About Bunge
Bunge Limited (NYSE: BG) is a leading agribusiness and food company, founded in 1818 and headquartered in White Plains, New York. Bunge has operated in Brazil since 1905, and is one of the nation's most important fertilizer, agribusiness and food companies, with integrated operations throughout the whole production chain. Through Bunge Fertilizantes and Bunge Alimentos, the company produces fertilizers and animal nutrition supplements, processes and commercializes soy and other grains, supplies raw materials for the foods and food service industries, and produces branded foods for the end consumer.
Bunge's operations and brands have a deep-rooted link with the economic history of Brazil, and have had a strong influence on the nation's customs, scientific research and technological innovation, as well as the formation of generations of its professionals.
Revenues in 2006, Brazil: R$ 18,2 billion
Headcount: around 8,500 employees
Units: more than 300 facilities, including plants, ports, distribution centers and silos, spread over 16 Brazilian states.
4. About Tyson Foods
About Tyson Foods, Inc. [NYSE: TSN], founded in 1935 with headquarters in Springdale, Arkansas, is the world's largest processor and marketer of chicken, beef, and pork, the second-largest food production company in the Fortune 500 and a member of the S&P 500. The company produces a wide variety of protein-based and prepared food products and is the recognized market leader in the retail and foodservice markets it serves. Tyson Foods provides products and service to customers throughout the United States and more than 80 countries. The company has approximately 104,000 Team Members employed at more than 300 facilities and offices in the United States and around the world. Through its Core Values, Code of Conduct and Team Member Bill of Rights, Tyson Foods strives to operate with integrity and trust and is committed to creating value for its shareholders, customers and Team Members. The company also strives to be faith-friendly, provide a safe work environment and serve as stewards of the animals, land and environment entrusted to it.
5. About Green Mountain Coffee Roasters
Green Mountain Coffee Roasters, Inc. (NASDAQ: GMCR) is recognized as a leader in the specialty coffee industry for its award-winning coffees and successful business practices. The Company sells over 100 high quality selections, including Fair Trade Certified(TM) and organic coffees under the Green Mountain Coffee Roasters(R) and Newman's Own®(R)Organics brands. While the majority of the Company's revenue is derived from its wholesale, direct mail, and e-commerce operations (www.GreenMountainCoffee.com), it also owns Keurig, Incorporated, a pioneer and leading manufacturer of gourmet single-cup brewing systems. Green Mountain Coffee Roasters has been ranked No. 1 on the list of "100 Best Corporate Citizens" for the past two years, and has been recognized repeatedly by Forbes, Fortune Small Business, and the Society of Human Resource Management as an innovative, high-growth, socially responsible company.
6. About Nestlé
Founded in 1866 in Switzerland, where it is still based, Nestlé has become the world's leading food, beverage, nutrition and wellness company with sales of CHF 98.5 billion (USD 78.7 billion / EUR 62.5 billion) in 2006. It employs 265 000 people, operates 481 factories in 87 countries and its products are on sale everywhere. Nestlé is the worldwide leader in product categories such as soluble coffee, infant nutrition, bottled water, condensed and evaporated milk, ice cream, as well as chocolate and malt drinks, and culinary. The Group is also a co-leader in pet care. Nestlé is committed to sustainable business practices and encourages its business partners along the entire products supply chain from farm to fork to also adopt such practices. For further details, see www.nestle.com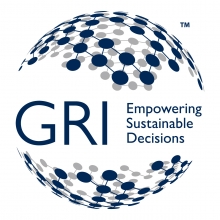 Global Reporting Initiative
Global Reporting Initiative
The Global Reporting Initiative's (GRI) vision is that reporting on economic, environmental, and social performance by all organizations becomes as routine and comparable as financial reporting. GRI accomplishes this vision by developing, continually improving, and building capacity around the use of its Sustainability Reporting Framework.
An international network of thousands from business, civil society, labor, and professional institutions create the content of the Reporting Framework in a consensus-seeking process.
More from Global Reporting Initiative