Published 11-14-23
Submitted by Whirlpool Corporation
Habitat for Humanity International announced that Whirlpool Corporation has surpassed the $125 million in-kind donated product milestone to Habitat. Over the lifetime of the relationship, which began in 1999, Whirlpool Corp. has donated more than 241,000 major home appliances to nearly 197,000 Habitat households across the U.S.
"Our long-standing relationship with Habitat for Humanity fits perfectly with our global focus on helping ensure everyone can have a place to live that is comfortable and nurturing," said Pam Klyn, executive vice president of corporate relations and sustainability for Whirlpool Corporation. "It's an honor and a privilege to help support the Habitat for Humanity mission and especially to work together on enhanced programs with a focus on energy efficient appliances which aligns perfectly with Whirlpool Corporation's sustainability efforts."
According to the U.S. Department of Energy's Low-Income Energy Affordability Data (LEAD) Tool, the national average energy burden for low-income households is 8.6%, nearly three times higher than for non-low-income households which is estimated at 3%. Through their relationship, Habitat and Whirlpool Corp. are working together to create energy efficient and sustainable housing solutions in partnership with low-income families. Through the BuildBetter with Whirlpool initiative, more than 250 climate-resilient and energy efficient homes are being built across the U.S.
In 2021, Habitat conducted a study to estimate Habitat homeowners' total energy savings and associated cost-savings generated by Whirlpool appliance donations. Across the full Habitat U.S. network, Whirlpool products donated between 2018 and 2020 generated 1.8 million kWh in energy savings per year and 16 million kWh in energy savings over the lifetime of the appliances. This created electric bill savings of $208,000 per year for a total of $1.8 million over the lifetime of the appliances.
"Time and time again over the past 24 years, Whirlpool has demonstrated a commitment that goes above and beyond partnership expectations," said Tolli Love, chief development officer at Habitat for Humanity International. "Whirlpool's sustained support has created meaningful change for nearly 200,000 families around the world. Adding to their impact, Whirlpool launched BuildBetter with Whirlpool in 2021, with a goal of building homes that are energy-efficient, resilient and sustainable, helping ensure they are affordable generation after generation. We are proud to work alongside Whirlpool and cannot wait to see what we continue to build together."
Since 1999, Whirlpool Corporation has supported Habitat for Humanity's work to build affordable homes and communities in partnership with more than 1 million families across 45 countries. In addition to financial and product donations, Whirlpool currently supports Habitat's BuildBetter with Whirlpool program, the Cost of Home national advocacy campaign and the Latin American and Caribbean Housing Forum. Whirlpool employees around the globe participate in builds.
View original content here.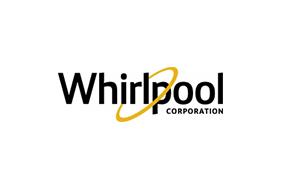 Whirlpool Corporation
Whirlpool Corporation
About Whirlpool Corporation: 
Whirlpool Corporation (NYSE: WHR) is committed to being the best global kitchen and laundry company, in constant pursuit of improving life at home. In an increasingly digital world, the company is driving purposeful innovation to meet the evolving needs of consumers through its iconic brand portfolio, including Whirlpool, KitchenAid, Maytag, Consul, Brastemp, Amana, Bauknecht, JennAir, Indesit and Yummly. In 2021, the company reported approximately $22 billion in annual sales, 69,000 employees and 54 manufacturing and technology research centers. Additional information about the company can be found at WhirlpoolCorp.com.
More from Whirlpool Corporation